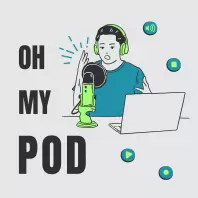 Oh My Pod | Podcast Strategy, AI, and Content Marketing
Oh My Pod hosted by Podigy, Justin J. Moore, & Celine Albertini.
31: Podcasting Is The #1 Networking Tool with John Caprani
In this podcast episode, Justin interviews copywriter and networking enthusiast, John Caprani. John shares his personal and professional experiences with networking through podcasting, emphasizing the importance of authentic conversations and building relationships without a specific agenda. They discuss the role of podcasting as a networking tool, the misuse of podcasts as a sales tool, and the benefits of delivering value and helping others. John Caprani is a Direct Marketing Consultant, Networking Expert, and now Fractional CMO. Hailing from Ireland, he's happily married with 2 kids and a PomChi dog. In 2018, John quit the construction industry to go all in on making it as a copywriter. Starting in a new sector as a complete unknown, he focused on his people skills to build connections and grow a network that now brings him weekly inbound opportunities. John believes that in a space where the truth is so often twisted, transparency is often the best way to build trust. Every year brings new hype about the latest thing, but the principles of marketing are based on the foundation of human behavior which doesn't change. Alongside consultancy, John offers transformative group training in the Cash From Connections program, teaching consultants the principles, strategy and tactics of being an effective networker and developing high value business relationships. John also provides invaluable guidance through one-on-one coaching and consultations to freelancers and business owners. What We Discuss: (00:05:41) How podcasting can be used as a networking tool, building authority and credibility, and creating opportunities for collaboration and relationship-building with guests. (00:06:52) How hosting a weekly YouTube show has provided networking opportunities, built reputation and authority and led to requests for interviews - creating a networking forum for the host. (00:08:33) Conversation about how to leverage the relationship with podcast guests including exploring potential partnerships, offering assistance and getting the most out of the interaction. (00:09:19) The value of networking and making connections with people in similar or adjacent industries. (00:10:19) The pitfalls of blurring the lines between networking and sales, such as using a podcast as a sales tool or immediately segueing into a pitch. (00:14:50) John explains how he proactively solves problems and makes connections, generating goodwill, reputation, and opportunities for himself in return. (00:18:23) The importance of not holding back when it comes to selling and offering products or services to potential customers. (00:19:36) Podcast guesting as a networking tool. John shares advice on how to reach out to potential guests and start conversations with them. (00:24:23) John talks about how his involvement in other projects, such as being a guest coach in a coaching program or hosting his own YouTube show naturally provides networking opportunities and connections with new people. (00:26:42) How podcasting provides an opportunity for free coaching and knowledge from experienced guests. (00:27:33) The benefits of being seen with successful people and how it enhances one's perceived authority. (00:28:56) Debate on whether AI will replace copywriters and the current impact of AI on productivity and pricing in the industry. (00:35:19) The benefits of using Facebook as a networking tool and connecting with people. (00:36:20) The principle of asking for help as a way to make friends and gain the attention and authority of experts. (00:37:21) The power of vulnerability in seeking help and how it can establish a position of authority and likability. Episode Resources: John Caprani | Instagram John Caprani | Facebook The Best Way To Support Us Is To Review Our Show: On Apple Podcasts | Click Link - Scroll Down - Locate The Stars - Write Your 5 Star Review On Spotify | Click Link - Locate Star - Tap To Rate with 5 Stars
30: The Best Equipment and Software for Your Video Podcast
In this podcast episode, hosts Justin and Celine share their insights on the equipment and software needed for a successful video podcast. They discuss the importance of audio quality and recommend specific microphones and headphones. They emphasize the need for soundproofing and the use of a boom arm for microphone positioning. They also recommend several platforms to use for things like virtual interviews, copywriting, hosting, media scheduling, content creation, and editing. What We Discuss: [00:01:02] Justin and Celine discuss the equipment and software they use for their video podcast, including microphones, headphones, and mic stands. [00:04:06] How to get better audio quality out of your microphone, and the common mistakes people make. [00:08:22] Does studio foam really help the sound quality in your podcast recording space? [00:10:05] Better alternatives to Zoom for recording podcasts to achieve higher recording quality and separate tracks for video and audio. [00:11:02] Justin and Celine's favorite copywriting tool for podcast transcription. [00:13:20] A simple and reliable podcast hosting platform with easy-to-use analytics and affordable pricing. [00:20:48] A list of equipment that they have found to be useful for video podcasting. [00:21:45] Justin and Celine express their goal of building a community and helping people improve their podcasts. Episode Resources: The Ultimate Video-Podcaster Tech Toolkit | Website Podigy | Website Podigy | Youtube Podigy | Facebook Podigy | Instagram Podigy | Podcast Justin Moore | Instagram Celine Albertini | Instagram
29: THIS Is How To Be A Good Podcast Host
In this podcast episode, hosts Justin and Celine share their tips and strategies for being a successful podcast host. They break down the process into three phases: preparation, during the episode, and post-episode. They let us in on some preparation secrets such as researching the guest and which scheduling tools to use. They discuss the need for confidence, active listening and making the guest the focus. There are several important steps to take post-episode, and this is where a lot of new podcasters fall short. Make sure you listen to this episode to find out all of the important details. What We Discuss: [00:00:44] How to prepare for a podcast episode. [00:05:19] Why you need to research and plan before an interview. [00:07:05] Tips for being confident and aware of your speech during the episode. [00:10:48] Tips on engaging with guests, promoting episodes, and maintaining professionalism as a podcast host. [00:12:52] The benefits of having a prior connection or familiarity with the guest before conducting an interview. [00:15:05] The importance of being fully present during interviews, avoiding distractions like phones or typing, and respecting the guest's time. Episode Resources: Guest Intake From (make sure to duplicate and save to your own google drive) Podigy | Website Podigy | Youtube Podigy | Facebook Podigy | Instagram Podigy | Podcast Justin Moore | Instagram Celine Albertini | Instagram
28: Dylan Schmidt ON: Creating Effective Call to Actions in Podcasts
In this podcast episode, host Justin Moore invites podcaster and marketer Dylan Schmidt to discuss the importance of call to actions (CTAs) in podcasts and marketing. They discuss the effectiveness of CTAs in engaging listeners and driving specific actions, such as signing up for a program or leaving a review. They also emphasize the importance of timing, context, and language in CTAs. The conversation also covers the use of CTAs in selling products or services, and the need for clear expectations and outcomes. Dylan Schmidt has been helping creatives since 2012. Dylan is a podcaster, marketer, and online business owner based in Los Angeles, California. With vast experience in audio, digital marketing, and online business. His current mission is to break down how he reached 460k+ people without paid ads or a big following. What We Discuss: [00:01:10] The importance of call to actions in podcasts, marketing in general, and content creation. [00:09:54] The significance of mentioning calls to action before listeners even get to the podcast episode. [00:10:52] How the podcast title itself can serve as a call to action and attract listeners. [00:15:31] The importance of considering the context of the listener and providing relevant calls to action within the episode. [00:19:43] The importance of building rapport and setting the context in podcast episodes and how it relates to relationships in real life. [00:21:43] The statistical likelihood of listeners returning for subsequent episodes and the importance of getting past the third episode. [00:27:05] The importance of timing and specificity when giving call to actions in podcast episodes and how it can impact the audience's response. [00:29:50] How not having a CTA can still be a call to action. [00:30:49] How to make the call to action specific and effective, using the example of Alex Romo's podcast and his focus on spreading his message. [00:31:53] How authors and coaches can use their podcasts to promote and sell their books or high-ticket coaching programs, and the importance of a clear customer journey and actionable steps. [00:40:15] The need to clearly communicate the outcomes or value that listeners can expect from engaging with a podcast or any marketing activity. [00:46:02] How to effectively communicate the value and context of a call-to-action in various content formats, such as social media posts or podcast episodes. [00:51:48] The benefits of having one clear call to action and how it allows for better explanation and understanding. [00:54:05] Dylan emphasizes the importance of creating a newsletter with a human touch, rather than relying on AI. Episode Resources: Dylan Schmidt | Website Dylan Schmidt | Instagram Dylan Schmidt | Podcast
27: Ana Xavier ON: Effective Strategies for Repurposing Podcast Content
In this podcast episode, Justin and Celine introduce Ana Xavier, founder of The Podcast Space. They discuss the importance of creating personalized content and showing one's personal life as a business owner. They talk about the benefits of repurposing podcast content for social media platforms like LinkedIn and share their own experiences with engaging with their audience. Ana emphasizes the value of being flexible and authentic in social media content creation and emphasizes the importance of putting a face to a business. Ana Xavier is the Founder of The Podcast Space. Originally from Portugal, Ana created her first podcast back in 2008 while completing her bachelor's of science in communications and journalism from the University of Porto. After almost a decade of experience in podcasting, broadcasting and digital marketing in Portugal and London, Ana moved to Dallas, Texas in 2016. As a skilled podcast producer and strategist, she saw the opportunity to help entrepreneurs get their message across, and also to create a more meaningful impact in the world. In January 2020, she founded The Podcast Space, an online podcast consulting agency where she works with female entrepreneurs who support the betterment of others and their common communities. Along the way, she mentors them to make a greater positive impact on their audience, as well as to become better hosts. Ana has helped professionals and entrepreneurs all over the world improve their podcast, double their listenership, and stand out like a true leader in their industry. Ana's superpower is the ability to help clients identify a podcast idea that accelerates their business or professional goals, establishes trust with their ideal customer, and avoids content creator overwhelm. Her weekly show, The Podcast Space, is a must follow in 2023. What We Discuss: [00:00:00] Justin discusses how the brain activates differently when creating live content compared to recorded content. [00:01:06] The importance of creating personalized content and showing personal life as a business owner on LinkedIn. [00:09:47] Discussion on the pros and cons of creating video content for podcasts and the time-saving aspect of outsourcing video editing. [00:10:54] Exploration of the success of using LinkedIn to promote podcasts through newsletters and the lack of active lead generation efforts. [00:11:47] Insights on the post and ghost method of scheduling content, the different approaches for LinkedIn and Instagram, and the importance of understanding the purpose of being on social media. [00:20:28] Discussion about the challenges of learning multiple languages and the fear of making mistakes. [00:21:57] The significance of resonating with someone's values and morals when choosing to work with them. [00:23:45] Engagement on LinkedIn VS Instagram, and the preference for direct messaging on both platforms. [00:30:50] The limitations of following a rigid content schedule and why a combination of structured and organic content creation is a better idea. [00:33:03] Guidance on promoting podcast episodes by sharing personal experiences and stories that were inspired by the podcast. [00:37:35] Emphasis on the importance of being real and authentic on social media, encouraging listeners to share their own stories and experiences to help others. Episode Resources: The Podcast Space | Website The Podcast Space | Instagram The Podcast Space | Podcast
26: Mark Savant ON: How To Attract Guests For Your Podcast
In this podcast episode, Justin and Celine interview Mark Savant, founder of Mark Savant Media and host of "After Hours Entrepreneur". Mark discusses his podcast production agency and shares his experiences with notable guests on his show. They discuss strategies for attracting big guests, the importance of a dedicated website for a podcast, and the use of AI tools in podcasting. Mark emphasizes the significance of making guests feel important and leveraging strengths to attract potential guests. Mark Savant is the founder of podcast production agency Mark Savant Media. He specializes in helping thought leaders launch and automate podcasts. He hosts the globally ranked top 1% podcast, After Hours Entrepreneur, which highlights industry disruption, such as AI, automation, and independent media. He leads dozens of entrepreneurs in his mastermind community. What We Discuss: [00:01:00] Strategies for getting notable guests on your podcast, including using underpriced attention and leveraging social media platforms. [00:02:30] Discussion on their favourite travel destinations, including Colorado and Poland, and sharing of funny anecdotes about their experiences. [00:10:15] Mark shares his strategy of connecting with potential podcast guests through Instagram threads and how he stood out among the commenters. [00:11:38] Leveraging your existing connections to secure podcast guests. [00:17:11] Emphasis on the significance of having a substantial number of iTunes reviews to establish credibility, as well as practical ways to encourage more reviews. [00:21:23] Mark discusses how having notable guests on his podcast and getting them to share the content has led to a significant increase in downloads for specific episodes. [00:22:39] Explanation on how he shares the raw content of his podcast episodes with guests, who then repurpose it for their own platforms, such as creating clips for Instagram or sharing it on their own podcast. [00:25:57] Mark emphasizes the importance of having a dedicated page for your podcast on your website, as it allows you to drive traffic to your own site, create awareness, and provide additional information about your business or offers. [00:31:15] Celine discusses the challenges of speaking English as a second language and how ChatGPT helps her communicate. [00:31:39] Explanation on how ChatGPT and Zapier can be used together to automate tasks, such as generating content and building relationships. Episode Resources: Mark Savant Media | Website Mark Savant Media | Instagram After Hours Entrepreneur | Podcast
25: Marc Ronick ON: How To Build Trust and Confidence with Your Podcast Audience
In this podcast episode, Justin interviews Marc Ronick, a seasoned podcast professional with 18 years of experience. They discuss various topics including podcasting conventions, networking, creating content with confidence, and building trust with the audience. Marc shares his personal experiences with imposter syndrome and emphasizes the importance of being authentic and passionate about the content. Marc Ronick has been running his own podcast production and consulting business, iRonick Media, for the past 4 years, where he had the privilege of working with a diverse range of clients, helping them to create compelling content and grow their audiences. His work is not just about producing podcasts; it's about telling stories that resonate, creating connections, and building communities. In March of 2023, he embarked on a new venture, co-founding NextGenPodcaster with a business partner, Nick Nalbach. Their mission is to empower the next generation of podcasters with the tools (with an emphasis on AI tools), knowledge, and support they need to succeed in this exciting and ever-evolving industry. What We Discuss: [00:02:58] Discussion on the value of attending podcast conventions for networking and connecting with fellow podcasters. [00:04:43] Marc shares his observations on the growth of podcasting conventions, particularly the Podcast Movement, over the years. [00:07:38] Explanation on the concept of Brain Dates, where podcasters can schedule one-on-one or small group sessions to have focused conversations and build connections at conventions. [00:11:07] Marc discusses his personal experience with imposter syndrome and how it affected his confidence in podcasting. [00:13:24] Emphasis on the significance of focusing on your audience and delivering content that provides value to them. [00:23:03] Tips on building connections with your audience, treating them like family, and the importance of authenticity. [00:23:57] The importance of creating connections with individuals, how word-of-mouth spreads, and the slow but effective way to grow your audience. [00:28:20] The significance of being authentic on your podcast, embracing intimacy, and speaking to your audience as if they are one person. [00:36:01] Tips on how to speak confidently and slow down to avoid filler words like "like" and "um". [00:40:17] The impact of podcasting on building trust with the audience and how it can lead to increased brand authority and consumer behavior. [00:43:23] The benefits of doing live reads and incorporating ads into the fabric of the show, as opposed to using pre-recorded commercials that are often skipped. [00:48:36] Emphasizing that there is no right or wrong way in podcasting, and the importance of paying attention to audience response. [00:49:55] Encouragement to take advice from different sources, try it out, and continue with what resonates well with your audience. Episode Resources: NextGenPodcaster | Website Marc Ronick | Instagram NextGenPodcaster | E-book iRonick Media | Facebook
24: Matt Cheney ON: 7 Tips on How Coaches Can Increase Leads using Podcasting
In this podcast episode, Justin Moore and Celine Albertini interview Matt Cheney, a podcast and content creation coach. They discuss the importance of having a clear purpose and knowing your audience when creating a podcast. Matt shares 7 tips on how coaches can increase leads and engage with their audience. They also touch on the significance of user experience, incorporating video elements into podcasts, and creating a comprehensive strategy beyond just the audio content. The episode concludes with a discussion on providing valuable content, simplifying the customer journey, and encouraging engagement within the podcasting community. Matt Cheney is a podcast and content creation coach with over 17 years of professional experience. He has delivered content for global media platforms, brands, broadcasters and apps, producing EMMY award-winning music features, BAFTA nominated animations, and iTunes chart-topping podcasts, among other projects. As the former Head of Audio for Vice Media UK and Rapid Pictures Post Production in London, Matt is well-versed in media and technology, as well as in leading and training creative teams. In his current business, KULT Media, he helps small businesses and marketing professionals develop inbound marketing strategies and grow their businesses through podcasts and content creation. What We Discuss: [00:08:19] Building trust from listeners is crucial for podcasters to generate leads and grow their businesses. [00:06:06] Podcasts have the potential to be a powerful lead generation tool, with the ability to repurpose content and create various elements from the podcast. [00:08:19] Podcasters should have a clear why or purpose behind their show, focusing on building trust and getting buy-in from listeners. [00:08:53] Matt discusses the significance of having a clear purpose and vision for the podcast, and how it differentiates the coach from others. [00:10:14] Providing advice on how to create a concise and compelling story that explains why the coach is in their current position and why someone should care. [00:13:54] The importance of curating content that resonates with the target audience and avoiding the pursuit of big-name guests who may not align with the podcast's focus. [00:18:29] Building trust and engagement with the audience by implementing two narratives - episode objective and series objective. [00:19:55] Transforming the podcast into a story with a shared goal that keeps the audience engaged throughout the series. [00:22:11] Taking into account the listener's experience, curating the content, and ensuring a smooth and pleasant audio and visual experience. [00:27:25] Discussion on a popular podcast called Psychopathy, which focuses on psychology and case studies without discussing the guests themselves. [00:28:22] Justin emphasizes the need for a comprehensive strategy for podcast success, including social media presence, email marketing, PR, and relevant calls to action. [00:30:38] Highlighting the importance of engaging with the audience and promoting content through various platforms, emphasizing the need for empathy and finding the right audience for the podcast. [00:36:34] Being consistent with your brand and providing relevant content to potential customers. [00:37:29] Matt advises coaches to focus on encouraging their audience to consume more of their content rather than immediately asking them to buy something. [00:38:27] Emphasis on the need to make it easy for people to stay engaged with your content and offers, to prevent confusion and increase the likelihood of purchase. Episode Resources: Kult Media | Website Kult Media | Instagram
23: What Is The BEST AI Tool For Podcasters?
In this podcast episode, Justin and Celine sit down with Nick Nalbach to discuss the power of AI in podcasting. They explore the many different AI tools that are available on the market today, and discuss how they help streamline workflows and unlock creative potential, such as generating shownotes, turning YouTube videos into blog posts, and even generating new podcast ideas. There is also a discussion on why famous individuals are choosing to appear on podcasts, and why this medium is only going to keep growing. Nick Nalbach - Seasoned podcaster, podcast coach, and a leader in leveraging AI technology for content creation. Having hosted the Nine-Five Podcast and worked with numerous podcasters, Nick brings firsthand knowledge of the industry's challenges and opportunities to NextGen Podcaster, a community he co-founded with Marc Ronick. The mission: helping creators harness the power of AI to streamline their work and unlock new creative potential. What We Discuss: 00:01:09 - Discussion about the mission of Next Gen Podcaster and the benefits and potential of podcasting as a platform for content creation and building authority. 00:02:01 - Exploration of why high-profile individuals are investing their valuable time in appearing on podcasts and the growing importance of podcasting as a medium for reaching a trusted and engaged audience. 00:06:59 - Introduction to Next Gen Podcaster and its focus on leveraging AI technology for content creation, along with a discussion about the potential of AI tools for podcasters and the benefits of using them. 00:13:15 - Discussion about the benefits and potential of using AI tools like ChatGPT for podcasting, including tips on how to get the most out of them. 00:20:11 - Exploration of Capsho, a tool tailored towards podcasters that automatically generates various content based on uploaded episodes, highlighting its benefits and limitations. 00:21:09 - A conversation about the flexibility of AI tools like ChatGPT compared to tools like Show, emphasizing the ability to continue the conversation and customize the output in ChatGPT. 00:22:22 - Podsqueeze is a podcast editing software with an integrated chatbot feature for editing and customization. 00:22:56 - The conversation discusses the features of different AI tools for podcasting, including Capsho and Dub Media. 00:29:40 - Opus Clip is an AI tool for creating video clips from podcast episodes, with the ability to make adjustments and provide a score for social media performance. 00:32:23 - Discussion about the impressive features of TimeBolt, a software that automatically cuts video clips with precision. 00:34:33 - Exploration of Resound, an AI tool that cuts audio files based on audio cues rather than text transcriptions, saving time and effort in the editing process. 00:40:15 - Conversation about the usefulness of chapters in YouTube videos, including their ability to improve engagement and cater to viewers' preferences for specific content. 00:42:33 - Discussion about the benefits of having a YouTube channel for podcasting and reaching a wider audience. 00:43:04 - The guest talks about the value of learning and experimenting with AI tools for podcasting, such as chatGPT, Dall-E 2, and Runway. 00:43:51 - The guest explains how runway, an AI tool, can be used to generate video content for podcasts, including turning hosts into claymation characters and creating b-roll footage. Episode Resources: Next Gen Podcaster | Website Nick Nalbach | Instagram Next Gen Podcaster | eBook
Bio of Oh My Pod | Podcast Strategy, AI, and Content Marketing
"Oh My Pod | Podcast Strategy, AI, and Content Marketing" is a comprehensive podcast designed to be your go-to resource for all things related to podcasting. 
Whether you're at the beginning stages of considering starting a podcast or you already have one in progress, this show provides the knowledge and guidance you need to navigate the world of podcasting with confidence.
Hosted by experienced podcasters Justin J. Moore and Celine Albertini, along with the support of Podigy, a prominent podcast production company, "Oh My Pod" covers a wide array of topics essential for both novice and seasoned podcasters. 
From practical equipment recommendations to effective strategies for growing your podcast audience, every episode is packed with actionable advice and expert insights.
What sets "Oh My Pod" apart is its commitment to featuring successful podcasters who have not only mastered the art of podcasting but have seamlessly integrated it into their businesses.
These guests share their journeys, challenges, and key takeaways, offering valuable real-world perspectives that can inspire and inform aspiring podcasters.