50 SaaS Podcast Guests - Bringing Exceptional Insights
Navigate the SaaS universe with ease – discover a constellation of expertise in our SaaS Podcast Guest Directory.
Each guest brings their expertise through interviews.
Sharing growth strategies, actionable marketing tips, insights on product development, scaling SaaS ventures, and much more.
Introducing our handpicked lineup of 50 SaaS Podcast expert guests – a treasure trove of industry wisdom.
Kanika Khurana boasts a decade of diverse expertise, transitioning from corporate roles at Morgan Stanley and CaaStle to entrepreneurship.
Founding KlosetEdit, an online fashion venture, showcased her entrepreneurial prowess. As Chief of Staff at Chargebee, a high-growth startup, she excels in streamlining complex issues.
Her journey encompasses:
Building from scratch: She spearheaded a division at Chargebee and launched a startup pre-MBA, revealing her process-driven mindset.
Strategic Initiatives: Collaborative projects energize her, enabling her to dissect them into measurable milestones for stakeholder success.
Empowering Women: Kanika generously devotes over 10 hours monthly to mentoring young professionals through workshops, webinars, and personalized guidance.
Kanika is driven by curiosity, thriving on innovative problem-solving and consistent value addition.
Girish Redekar is a Co-Founder at Sprinto, where his fervor for resolving intricate business challenges takes center stage.
His professional journey encompasses diverse domains including digital transformation, supply chain management, and retail. 
Outside the realm of work, Girish's interests encompass an enthusiasm for globe-trotting,
relishing the joy of discovering new destinations in the company of friends and family. 
The allure of travel is complemented by his love for music that resonates with his penchant for rhythm,
and he occasionally engages in friendly table tennis matches to fuel his competitive spirit.
Girish's multifaceted persona extends beyond his professional accomplishments,
portraying a vibrant individual who thrives on innovation and embraces life's diverse experiences. 
Abhash K, known as AabhashK, holds the role of VP-Marketing at Springworks.
With a passion for brand marketing, he excels in fostering communities and curating engaging newsletters.
His dedication to lifting others up, evident in his lifting pursuits, aligns with his love for coffee and sports such as tennis and cricket.
Abhash is a multifaceted professional who brings his enthusiasm and expertise to the realm of marketing,
while his diverse interests outside work reflect a dynamic and active persona.
Kausambi Manjita, known as Kaus, is a seasoned entrepreneur and product leader with a dynamic background.
Her journey spans from indie and solo endeavors to steering a venture-backed startup.
With over 15 years of experience in product-making and leadership, she has contributed to various ventures,
ranging from early-stage initiatives to multimillion-dollar commerce marketplaces.
Notably, her achievements include being voted among the Top 50 Product Leaders by Amplitude.
Kausambi's portfolio includes notable projects such as QUE, ModeMagic, and mason (backed by Accel), among others.
Her podcast, 'SHELF,' reflects her passion for connecting with people and exploring their motivations.
She's a strong advocate for women in tech, product, and startups.
Ruchin Kulkarni is a Co-Founder at Toplyne, contributing to the development of this dynamic venture.
His journey encompasses diverse roles across late-stage venture capital, management consulting, and quantitative trading.
Prior to his current venture, Ruchin was associated with Sequoia Capital, where he gained valuable insights into the investment landscape.
A passionate enthusiast, Ruchin enjoys both long-distance running and diving into the world of science fiction through his reading.
His professional path has equipped him with a blend of experiences that range from strategic decision-making in consulting to navigating the intricate world of trading.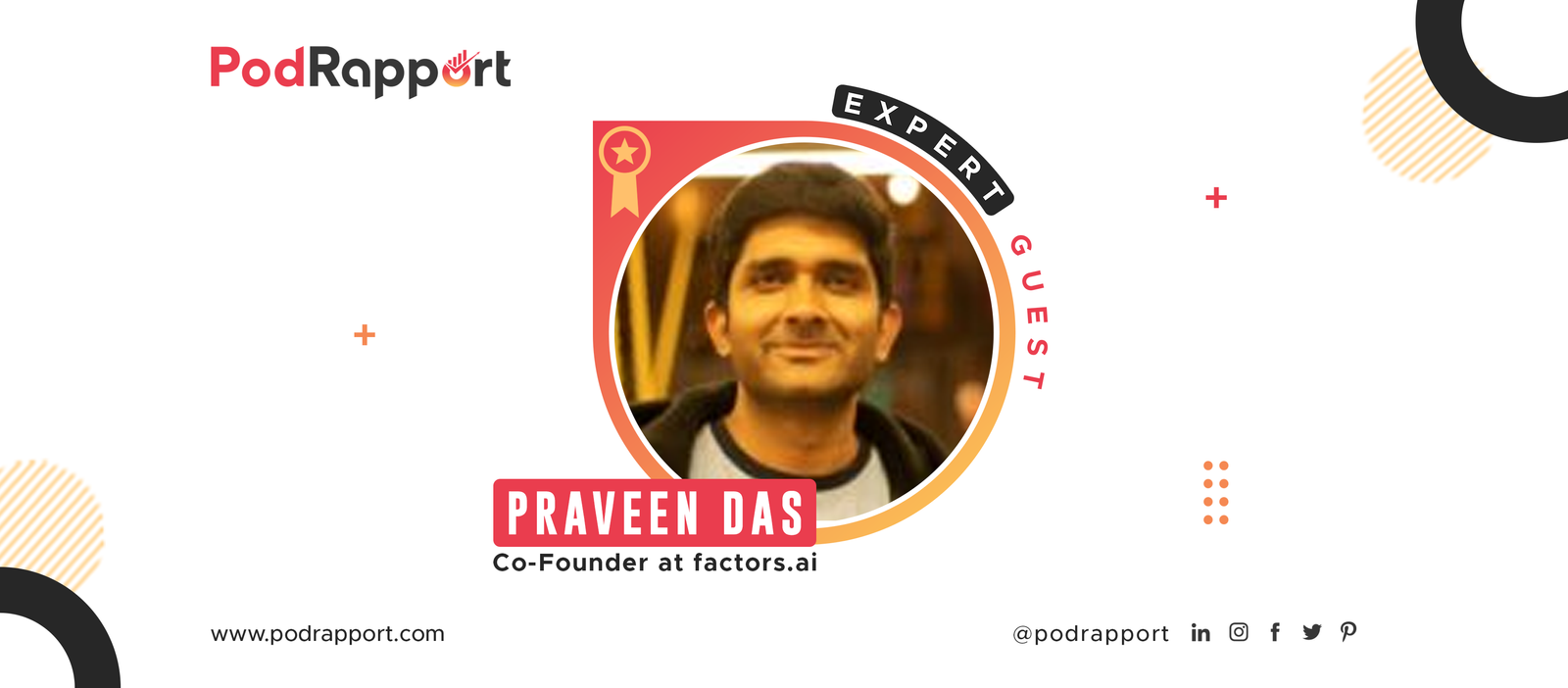 Praveen Das is a skilled professional with a diverse career journey. Having started as a banker,
specializing in cross-border acquisition finance and corporate finance, Praveen's path took a shift towards technology and product management.
With a background in banking, he transitioned into the tech industry as a Product Manager, focusing on building large-scale data platforms.
His expertise spans across adtech, martech, and analytics ecosystems.
Currently, Praveen is making waves as the Co-Founder of Factors.AI, a SaaS product in the marketing intelligence space.
Praveen's unique blend of experiences, from finance to technology, showcases his adaptability and dynamic approach to problem-solving.
His journey reflects a commitment to exploring new horizons and leveraging skills across different domains.
Arjun Pillai is a prominent figure in the realms of data, entrepreneurship, and technology.
With a background in electronics engineering, he embarked on a career journey that led him to become a recognized expert in Sales and Marketing data.
Arjun's entrepreneurial spirit shone through when he founded his first company, Profoundis, which marked the beginning of his impactful contributions to the industry.
His entrepreneurial path was shaped by a series of innovative endeavors, including the development of Vibe, a person and company B2B data provider that garnered international attention.
This success was underlined by Vibe's remarkable growth, attracting users from across the globe and culminating in its acquisition by FullContact Inc.
Arjun's dedication to data continued as he assumed pivotal roles at FullContact, where he played a critical role in shaping data strategy and forging partnerships.
His expertise extended beyond corporate boundaries, as he cultivated relationships with numerous data companies and consulted for leading entities in the field.
Sairam Krishnan is a seasoned marketing professional with an impressive track record spanning over a decade.
His expertise lies in the domains of brand strategy, content creation, and communications.
In 2022, Sairam joined the founding team of Atomicwork, a groundbreaking startup focused on redefining the landscape of employee work dynamics.
At Atomicwork, Sairam assumes the role of Head of Marketing, steering the design and execution of the brand strategy, content marketing, and PR initiatives.
His collaborative approach extends to working closely with product and sales teams to align marketing endeavors with overarching business objectives.
Sreedhar Peddineni is a passionate builder and entrepreneur who thrives on creating and growing startups, teams, and products.
With a heart set on innovation, Sreedhar's journey has been marked by a dedication to assembling great teams and collaborating with exceptional individuals who contribute to his personal and professional growth.
In return, he believes in giving back by sharing the valuable lessons he has amassed over the years.
Currently, Sreedhar serves as the CEO of GTM Buddy, where he is an integral part of an inspiring team of fellow builders and visionaries.
Sreedhar's expertise spans a range of specialties including startup development, product management, customer success, corporate performance management, business intelligence, and SaaS.
With a rich background as a co-founder of Gainsight and Planful in addition to his current role, Sreedhar has solidified his reputation as an adept entrepreneur, visionary leader, and effective team builder.
Shilpa Singh is a distinguished professional with over 18 years of experience in Sales and Go-To-Market (GTM) strategies.
Her journey encompasses roles at esteemed tech giants such as Google and Amazon, contributing to her expansive expertise in driving Cloud, SaaS, software, and digital business models.
Shilpa's tenure includes serving as a member of Amazon's prestigious T200 program, a testament to her leadership and impact.
She also carries the distinction of being a Tedx Curator, showcasing her commitment to spreading innovative ideas and fostering thought leadership.
Jess Bartos is a seasoned investor with a keen eye for innovation.
As an investor at Salesforce Ventures, she is passionate about venture capital and has a talent for identifying the next big thing in the tech industry.
Her expertise and insights make her a trusted advisor for entrepreneurs and investors alike, and her dedication to supporting innovative companies make her a valuable asset in the tech investment space.
Miguel Fernandez Larrea is the Co-Founder & CEO of Capchase, he brings non-dilutive capital, insights, and community to the table.
Accelerate SaaS growth with the help of a seasoned entrepreneur.
His vision and leadership have helped Capchase become a trusted partner for SaaS companies seeking to optimize their cash flow, extend their runway, and achieve their growth objectives.
Lars Grønnegaard: Co-founder at Dreamdata.io, solving B2B data problems, driving automation, improving customer journeys, and delivering revenue growth.
At Dreamdata, Lars and his team are on a mission to provide B2B companies with the tools and insights they need to transform raw data into valuable information
that can drive automation, improve customer journeys, and deliver revenue growth faster.
Lars is revolutionizing the B2B marketing data landscape and helping companies make data-driven decisions for sustainable growth.
Liina Laas is an award-winning speaker, educator, and co-founder of Deel.
Pioneering the future of work, advocating for remote teams, and promoting inclusivity in tech.
Liina's entrepreneurial spirit is evident in her diverse background, which includes ventures in forex trading coaching, e-commerce, and vegan food products.
She has transformed personal problems into successful businesses through diligent market analysis and hard work.
In addition to her work with Deel, Liina has been actively involved in the finance and technology sectors.
She has set up the Estonian Cryptocurrency Association and has worked with well-known projects in the areas of exchanges, payment processors, and insurance innovation.
James Mayes: Seasoned entrepreneur & product management expert. Co-founder of MindTheProduct, ProductManagement community leader.
Talent acquisition & team dynamics specialist. Non-Executive Director & Board Advisor.
Prior to his work in product management, James had a successful career in talent acquisition, building high-performance tech teams for startups to FTSE100 companies.
He brings a unique perspective to product management, drawing on his deep understanding of talent acquisition and team dynamics.
Gilles Bertaux is the visionary co-founder of Livestorm, a leading video engagement platform that enables seamless collaboration and actionable insights at scale.
With Livestorm's browser-based, end-to-end video engagement solution, businesses can easily host on-demand, live, or pre-recorded events, and manage all aspects of video engagement workflows,
from landing pages and registration to email follow-ups and sharing video recordings.
Livestorm's powerful analytics capabilities allow users to track and measure audience engagement, providing valuable insights to optimize video engagement strategies.
The platform also seamlessly integrates with popular tools like Pipedrive and Intercom, allowing businesses to manage all their insights in one centralized place, streamlining workflows and improving efficiency.
Marc Boscher: Founder & CEO of Unito, driving seamless collaboration & integration for product dev teams.
Expert in balancing stakeholder needs for great product development.
Marc's expertise lies in listening, translating, and synthesizing the diverse needs of different teams to ensure that everyone can understand, perform, and enjoy the product development journey.
His leadership has helped Unito become a trusted platform for teams looking to streamline their workflows and collaborate effectively across different tools and software.
Tyler Daley is a seasoned business leader with expertise in building GTM teams. A trusted leader in driving revenue growth & building high-performing teams in the SaaS industry.
He has a track record of success in leading sales, customer success, and partner organizations in the SaaS industry.
Tyler's leadership and strategic insights were instrumental in Vend's acquisition by Lightspeed Commerce for $350M, a major milestone for the company.
Jeb Banner a serial entrepreneur & CEO of Opendate. Built successful businesses in auction space, and founded SmallBox as a strategic consultancy.
Passionate about meaningful work & driving success.
In 2018, Jeb Banner joined Boardable, a board management software company, as its full-time CEO.
Under his leadership, Boardable raised $8 million in a Series A funding round in 2020 to invest in team and product development.
Today, Boardable serves over 2,000 organizations worldwide and is experiencing rapid growth.
In 2023, Jeb Banner left Boardable to join Opendate, a venue management and ticketing solution that originated from the Vogue nightclub in Indianapolis during the Covid-19 pandemic.
Excited to work with a great team and product, Jeb brings his entrepreneurial expertise and passion for meaningful work to drive Opendate's success.
John Thornton is the CEO of Black Propeller, With over 10 years of experience in the industry,
John is a creative marketing professional who has a track record of delivering results.
John's expertise spans various industries, including e-commerce, technology, finance, healthcare, and more.
He understands the unique challenges and opportunities that different businesses face and leverages his experience and creativity to develop innovative strategies that deliver measurable results.
Andy Culligan is a seasoned professional with a profound understanding of the symbiotic relationship between marketing and sales in achieving revenue growth.
Possessing a decade of expertise in SaaS martech, Andy is dedicated to fostering seamless collaboration between these two critical functions.
Through his platform, AndyCulligan.com, he assists rapidly expanding SaaS tech startups in achieving commercial triumph by cultivating a harmonious partnership between marketing and sales.
His advocacy for marketing teams embracing revenue targets has proven invaluable, enabling sales teams to attain their objectives effectively.
Andy's accomplishments include building teams from the ground up and skillfully managing both marketing and sales (SDR) teams to drive pipeline success.
His core proficiency lies in forging a cohesive synergy between marketing and sales, harmonizing their objectives and strategies, and fueling revenue growth through a collaborative, results-oriented approach.
Andrew Gazdecki is an accomplished entrepreneur and the current CEO of Acquire.com, a position he has held since July 2020.
Over his 2 years and 9 months in this role, he leads the company with a focus on growth and success.
Furthermore, Andrew serves as a part-time Entrepreneur in Residence at 500 Startups, a renowned venture capital firm.
With nearly 4 years in this capacity, he offers invaluable guidance and mentorship to startup founders, aiding them in achieving their business goals.
With profound experience in the startup and tech sectors, Andrew Gazdecki is a valuable asset to any team, bringing strategic insight and a proven track record of fostering growth.
David Heinemeier Hansson has significantly impacted the programming world as the creator of Ruby on Rails.
As the co-owner and CTO of 37signals, the force behind Basecamp and HEY, he's made substantial contributions.
His authorship includes New York Times bestsellers "REWORK," "It Doesn't Have to Be Crazy at Work," and "REMOTE."
Beyond technology and writing, David excels as a Le Mans class-winning racing driver, displaying his passion for motorsport.
He's also an advocate for antitrust issues, championing fair competition and market regulations.
As an investor in Danish startups, he bolsters the entrepreneurial ecosystem. His frequent podcast appearances showcase his insights.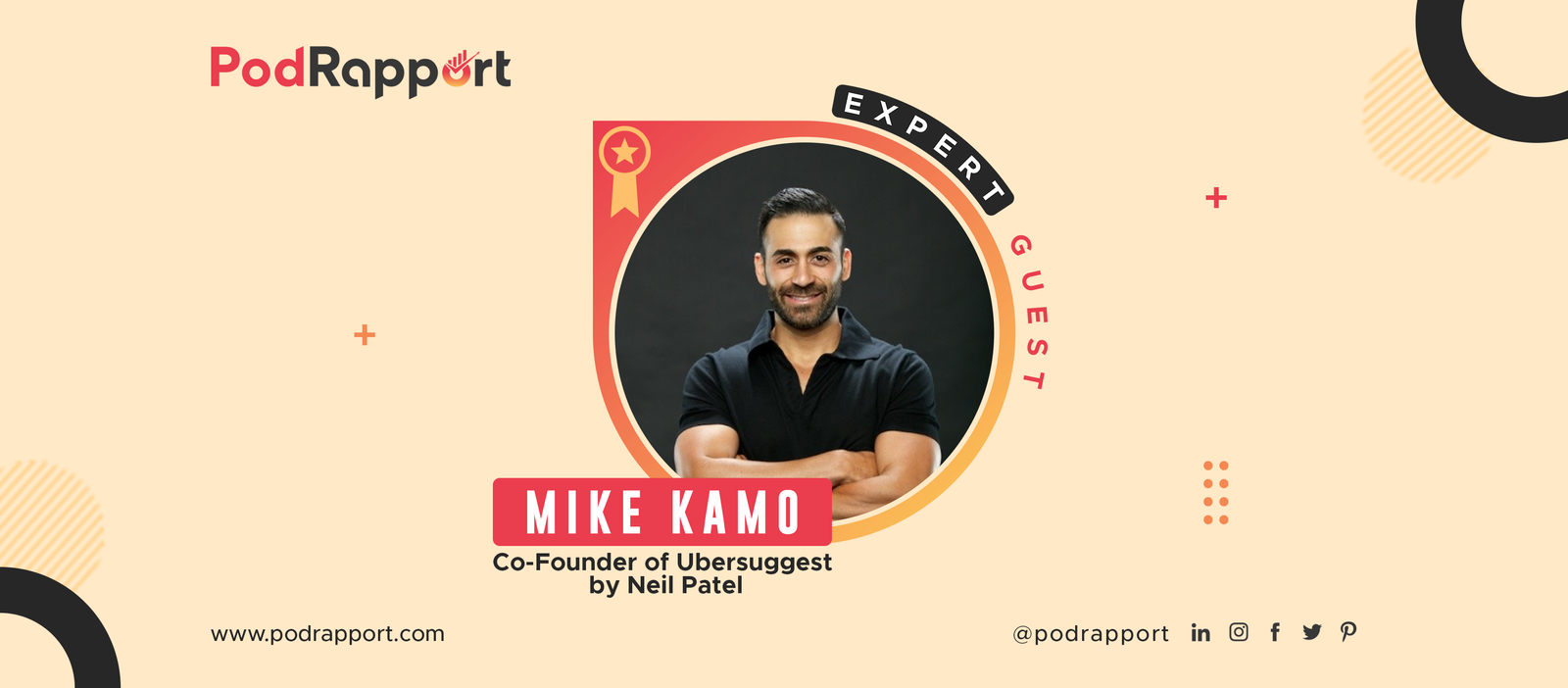 Mike Kamo, a seasoned Hypergrowth Entrepreneur, and Investor, is renowned for his adeptness in elevating businesses from startups to flourishing scale-ups.
With over 12 years in the field, he's been instrumental in propelling one company to $100 million in revenue, two others to $10 million, and guiding numerous ventures from $1 million to $5 million.
Mike's journey commenced in 2012 when he teamed up with Neil Patel, gaining invaluable insights from the renowned figure.
Their partnership led to the creation of multiple prosperous enterprises, interspersed with occasional setbacks.
Despite setbacks, Mike values successes far more, with much credit owed to Neil's mentorship.
He acknowledges Neil's role in his journey to success.
Casey Hill, a Senior Growth Marketing Manager, Institutional Consultant, and Founder, boasts a remarkable career spanning over a decade, marked by propelling software companies into rapid growth.
Renowned as a growth veteran, Casey is driven by a fervor for devising innovative, value-centric approaches that defy conventions and capture attention.
His accomplishments span millions of views on platforms like Quora and LinkedIn, along with pioneering tactics like securing numerous podcast appearances for his team.
Presently at ActiveCampaign, Casey spearheads growth initiatives, constructing organic growth engines to fuel the team's audacious goal of achieving $1 billion in Annual Recurring Revenue (ARR).
Beyond his professional pursuits, Casey forayed into the tabletop gaming sector, successfully founding a gaming business in 2015.
His creation, the game "Arkon," achieved a remarkable 800% funding on Kickstarter and garnered thousands of global sales.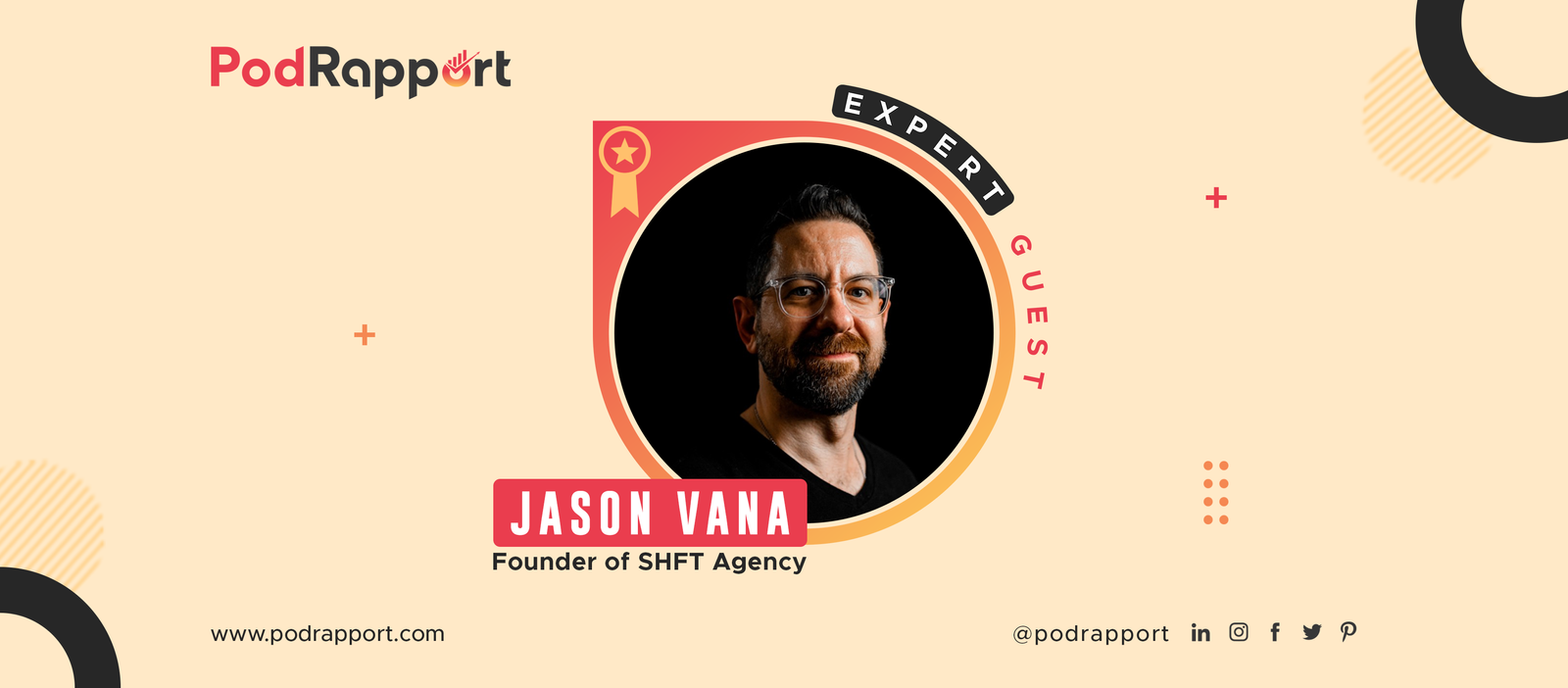 Jason Vana is a masterful brand and content strategist on a mission to elevate both corporate and personal brands to the status of the ultimate choice in their respective markets.
As the founder of SHFT and famously known as #sassyjason, his distinct brand positioning reflects his audacious and confident approach.
Leveraging his proficiency in brand strategy, Jason empowers businesses to forge a captivating and authentic identity that deeply resonates with their target audience, thereby propelling growth and triumph.
Tim Soulo is a  digital marketing expert and the Chief Marketing Officer at Ahrefs, a prominent SEO tool known for harnessing Big Data.
With nearly a decade of hands-on experience in SEO and digital marketing, Tim is a passionate advocate for sharing his expertise and insights with others.
As a sought-after speaker, Tim delivers live talks at various digital marketing conferences worldwide, captivating audiences with his in-depth knowledge.
Additionally, he contributes to the wealth of knowledge at Ahrefs Blog, where he publishes informative blog articles.
Tim's contributions to the industry go beyond speaking engagements and blog posts. 
He is the author of numerous data-driven SEO research studies, providing valuable insights into the ever-evolving world of search engine optimization. 
Justin Jackson is a prominent figure in the tech and podcasting world, known for his entrepreneurial ventures and insightful content.
He is the co-founder of Transistor.fm, a leading podcast hosting and analytics platform, which he established with his friend Jon Buda.
As an avid writer and podcaster, Justin shares his wealth of knowledge and experiences with others.
His areas of expertise cover a diverse range of topics, including bootstrapping, product marketing, mindful technology, podcasting, and learning to code.
Through his podcasts and writings, Justin offers valuable insights into the world of entrepreneurship and tech, providing practical advice and thought-provoking discussions.
His dedication to sharing valuable information has garnered him a significant following and solidified his position as an influential voice in the industry.
Sam Dunning is a dynamic co-owner at Web Choice, a prominent B2B SEO and web development company focused on driving revenue rather than vanity metrics.
With a mission to help businesses thrive, Sam offers a wide range of services to enhance online presence and generate qualified sales leads.
At Web Choice, Sam's expertise lies in crafting custom web designs that establish trust and generate valuable leads and sales.
He also excels in SEO strategies, positioning brands on the first page of Google search results, driving increased website traffic, and positioning clients as industry leaders.
With a keen eye for complex projects, Sam offers fully bespoke web development solutions to cater to unique business needs.
He also provides comprehensive digital marketing strategies that yield tangible results.
Beyond his work at Web Choice, Sam is the host of the Business Growth Show, a top-rated B2B marketing podcast offering actionable tips to grow revenue.
Through this platform, he shares valuable insights and helps entrepreneurs navigate the world of marketing effectively.
Passionate about delivering results, Sam showcases the success of Web Choice by being ranked on the first page of Google for various relevant terms,
outperforming numerous competitors in the web and SEO space.
He strives to replicate this success for clients across various industries.
Sam Kuehnle is the Vice President of Marketing at Loxo, where he excels in helping companies recruit more intelligently and effectively.
Though he initially aspired to become a professional soccer player, physical therapist, or psychologist, these diverse interests shaped a unique skill set that has contributed to his success as a marketer.
Teamwork and discipline, instilled through his soccer background, are foundational in Sam's approach to marketing.
Collaborating with different client groups and working as one cohesive team is essential for creating successful omni-channel campaigns.
Sam's experience as a physical therapist taught him to identify problems and deliver effective solutions.
Applying this mindset to marketing, he comprehends the complete customer journey and understands that addressing root causes is crucial for success.
Claudiu Murariu is the CEO and Co-founder of InnerTrends, a company specializing in data science for product teams.
With a remarkable background in data-driven business, Claudiu is a data hacker, using his expertise in data algorithms to provide profound insights into customer success.
As a keynote speaker, Claudiu shares his knowledge and experiences at product events and conferences worldwide.
From Beijing and Hong Kong to Russia, Hungary, and Romania, he has had the privilege of engaging audiences with his expertise.
Claudiu's passion for data-driven business fuels his mission to continuously elevate the standards of deriving insights from data to drive business growth.
He is committed to leveraging data to unlock valuable opportunities and enable businesses to thrive.
Through his blog, Claudiu shares his insights and expertise in data, providing valuable content to his readers.
Specializing in growth analytics, business intelligence, web analytics, and data-driven marketing automation,
Claudiu Murariu brings a wealth of knowledge and innovation to the field of data science and analytics, helping companies achieve their goals and flourish in the digital age.
Jonathan Gandolf is an entrepreneur, data-driven marketer, and innovator, currently serving as the Founder and CEO of The Juice.
With a unique blend of left-brain analytical skills and right-brain creative thinking, Jonathan's passion lies in leveraging data and analytics to drive innovative marketing strategies.
His career journey began at ExactTarget, where he gained valuable experience in content marketing, relationship marketing, and product management through a rotational program.
Jonathan then transitioned to data analysis for the email, mobile, and social marketing team, leading data infrastructure and strategy for B2B digital campaigns.
Fueling his curiosity for new challenges, Jonathan embarked on a passion project that blossomed into a 3.5-year endeavor as a key player in launching and growing Braxton Brewing Company in Kentucky.
He played a pivotal role in building the brand, raising awareness, growing the audience, executing events, and managing the Marketing and brand Experience team.
Lauren Meyer is an email enthusiast with a passion for deliverability, making her a true "email nerd."
With a dedicated focus on Email Marketing, Strategy, Deliverability, and Compliance, she serves the email industry dutifully.
Originally from NYC, Lauren now resides on the west coast, bringing her expertise and knowledge to new territories.
She has a knack for simplifying complex email-related topics by using creative analogies, making her an effective communicator in the field.
With a diverse skill set, Lauren excels in various areas, including Email Marketing, Public Speaking, Digital Strategy, Customer Support, Customer Success Management, SaaS Operations, People Management, and Business Development.
Her proficiency in these domains stems from her education, having earned a BA in Communications & Advertising from Robert Morris University.
Samar Owais, the Email Strategist & Copywriter specializing in SaaS and eCommerce businesses.
As a conversion-focused email strategist, she is driven to turn subscribers into buyers, free trials into paid subscriptions, and existing customers into loyal fans.
Samar's secret sauce lies in her thorough analysis of customer data, allowing her to design email strategies that speak directly to the audience and bring results.
Her expertly crafted email copy not only resonates with subscribers and free trial users but also drives them to take action and convert.
Her success stories are aplenty, with satisfied clients raving about her work.
Val Geisler, an email strategist and founder of Fix My Churn, trusts Samar wholeheartedly and appreciates her knack for finding the leaks in the funnel and providing effective solutions.
Todd Olson, the CEO and Founder of Pendo, is an accomplished software product development executive with a wealth of experience in the field.
With a proven track record of successfully leading startup product development from ideation to launch, Todd is a visionary in the software industry.
His areas of expertise include software architecture and offshore software development.
Leveraging his vast knowledge, Todd has devised efficient strategies to maximize resource utilization, reduce costs, and accelerate delivery times, ensuring seamless product development processes.
Passionate about entrepreneurship, Todd thrives on creating innovative solutions that address complex business challenges while prioritizing a delightful user experience.
His commitment to excellence and customer satisfaction has been instrumental in Pendo's growth and success as a leading player in the software market.
John Kotowski is a seasoned expert in Product Led Monetization and the Founder & CEO of Buyerson Inc. and PricingSaaS.com.
With an impressive career spanning over a decade, John has played a key role in scaling three successful companies as the Head of Product,
resulting in two lucrative acquisitions totaling $140M+ and over $50M in venture capital funding.
Throughout his journey, John observed a common challenge among product teams - a disconnection from revenue.
This inspired him to take charge of revenue at Format, where he served as the Head of Product and led the company to remarkable success.
Following the successful sale of Format in 2021, John founded Buyerson Inc., a boutique consulting and research company focused on assisting B2B SaaS companies in the $5M-50M range.
At Buyerson Inc., John and his team offer valuable expertise in customer research, pricing & packaging, and Product Led Growth (PLG) implementations, helping SaaS companies unlock their full potential.
Janna Bastow is a passionate and accomplished product manager with a knack for innovation and community building.
Janna's journey in product management led her to identify a need for better tools, which inspired her to create ProdPad,
a cutting-edge product management software designed to streamline roadmap and product backlog management.
Through ProdPad, she empowers product managers to stay organized and efficiently drive their product development process.
Beyond her entrepreneurial endeavors, Janna is committed to sharing her expertise and knowledge with others.
She collaborates with various companies as a trainer and mentor, guiding them on how to build and learn without incurring unnecessary expenses.
Starting with the very first ProductTank meetup in London in 2010, followed by the inception of the Mind the Product Conference in 2012, the community has grown exponentially.
It now boasts a remarkable 50,000 members and hosts sold-out events in 100 cities across the globe.
Andrew Reifman is a seasoned entrepreneur and product leader with an impressive track record in the technology industry.
With over a decade of experience, Andrew is driven by his passion for creating innovative solutions that address real-world challenges while prioritizing outstanding user experiences.
As the co-founder and Chief Product Officer (CPO) of Makeswift, Andrew plays a pivotal role in shaping the company's trajectory.
Makeswift is a cutting-edge website builder platform that empowers individuals and businesses to effortlessly create professional websites without the need for coding expertise.
Since the inception of Makeswift in January 2019, Andrew has been the driving force behind the product's vision and strategy.
Julian Juenemann is a passionate educator and founder of MeasureSchool.com, a leading platform that teaches marketers the data-driven way of digital marketing. 
Julian and his small team of educators are on a mission to empower marketers with essential skills in tracking, data, and analytics.
You may recognize Julian and MeasureSchool.com from their renowned step-by-step video tutorials on Google Tag Manager, Google Analytics, Google Data Studio, and other critical digital marketing tools. 
Their comprehensive training helps marketers gain confidence in using data to enhance their professional skills.
At MeasureSchool, they run a thriving membership site called MeasureMasters, catering to students who aspire to elevate their analytical expertise.
This community is home to freelancers, agency owners, and in-house marketers, all eager to master data-driven marketing strategies.
Many of Julian's students leverage his training to enhance the value of their PPC, SEO, or analytics services for their clients.
John Doherty is a seasoned entrepreneur and veteran digital marketing leader dedicated to making online content better.
As the founder of EditorNinja, John's mission is to assist agencies and in-house marketing teams in scaling their content with professional editing services.
By improving content quality, he aims to drive more traffic, leads, and ultimately revenue for his clients.
With a strong belief in the power of outsourcing and strategic partnerships, John is passionate about helping companies grow and succeed.
At EditorNinja (editorninja.com), his team delivers exceptional editing services to enhance the impact of marketing content.
In addition to his role at EditorNinja,
John is also the mastermind behind Credo (GetCredo.com), a platform that connects growing companies with the right digital marketing firms for their specific needs.
Since its establishment in 2015, Credo has helped over 8,000 companies find and hire the perfect marketing partners.
Andrew Davies is a seasoned marketing and technology executive with a passion for helping software companies scale and succeed.
He currently serves as the Chief Marketing Officer (CMO) at Paddle.
Andrew enjoys problem-solving and supporting young companies in proposition development, team building, marketing strategy, and fundraising.
Mia Mäkipää, a passionate Data & Analytics Strategist, affectionately referred to as a "data dolphin."
 Mia's skills extend to crafting marketing and product analytics dashboards, allowing businesses to make informed decisions based on data-driven insights.
Ryan Law is a content marketer with a rich background in working with a diverse range of startups and enterprise companies.
With a passion for creating compelling content, Ryan has collaborated with renowned brands like Google, GoDaddy, Clearbit, ProfitWell, and Hotjar.
Ryan's diverse experiences also include beer reviewing, t-shirt designing, and tending bar, reflecting his creative and adventurous nature beyond the marketing realm.
Harini Gokul is a globally recognized business leader with an impressive track record in driving innovation and value for a wide range of customers, from Fortune 500 companies to startups.
With two decades of experience at Microsoft and Amazon Web Services (AWS), she has redefined customer experience and successfully scaled organizations during periods of hypergrowth.
As Chief Customer Officer at Entrust, she continues to lead transformational initiatives.
Andy McCotter-Bicknell is a leading expert in Competitive Intelligence, known for his impactful contributions in the field.
As the Head of Competitive Intelligence at ClickUp, he is instrumental in creating winning strategies for competitive deals.
Andy's approach combines practical strategies with real-world experience, empowering companies to achieve success in competitive landscapes.
His work resonates with businesses seeking to enhance their competitive edge and drive growth.
Sophie Hedestad is a seasoned podcast host and a global keynote speaker, Sophie is committed to empowering businesses to achieve new heights.
With a focus on unlocking potential, surpassing goals, and fostering exponential growth, she brings a wealth of knowledge and experience to her endeavors.
Katrina Wong is a marketing executive and visionary leader with a remarkable track record of success.
With over 20 years of experience in customer-facing roles, she has made a significant impact in shaping the strategies and growth trajectories of various companies in the SaaS, Enterprise Software, and B2C marketplace sectors.
Katrina's expertise spans a wide range of areas, including product marketing, demand generation, content marketing, customer engagement, and more.
Her strategic efforts have been instrumental in numerous achievements, such as helping large Enterprise software companies establish new market categories,
assisting growth-stage companies in scaling to meet market demands, and enabling B2B and B2C marketplaces to accelerate growth through innovative subscription revenue models.
Jesus Requena is a results-driven professional specializing in user growth and revenue growth strategies.
With a background in marketing and growth, he has demonstrated expertise in fostering the expansion of companies' user bases and revenue streams.
Throughout his career, Jesus has had the privilege of collaborating with exceptional teams and leaders, from which he has gained valuable insights and experiences.
One of Jesus's core approaches is centered around creating value for users, which forms the foundation for his strategies to attract, activate, and ultimately convert users into paying customers.
His focus on delivering meaningful value resonates throughout his work, contributing to the success of the companies he engages with.
Sam Jacobs is the CEO of Pavilion, a visionary entrepreneur, and a bestselling author.
He is renowned for his dedication to helping revenue executives excel in their careers through community-driven education and support.
Sam's philosophy centers around unlocking and realizing professional potential. He firmly believes that greatness resides within each individual, waiting to be harnessed.
Pavilion, the company he co-founded, embodies this belief by providing a platform for Members, employees, and stakeholders to tap into their inherent greatness.
Through this community, professionals enhance their performance, acquire skills needed for progression, and expand their networks, fostering a strong and collaborative environment.
Sam's inspiration for Pavilion stems from his own journey and the experiences of his peers in the dynamic high-growth community.
His visionary leadership has propelled Pavilion to a global organization, boasting over 9,000 Members and hubs in major cities worldwide.
Frida Ahrenby is a dynamic leader and Chief Marketing Officer at GetAccept, known for her instrumental role in propelling growth and innovation.
With expertise spanning startups, scale-ups, business development, and expansion, she excels in shaping businesses for success.
Frida is a visionary leader adept at building motivated teams and fostering leadership.
Her profound insights into demand generation, revenue marketing, and product-led growth have been pivotal in driving business success. 
Grow your audience through SaaS expert guest network:
When you have guests on your Saas podcast, they come with their own followers and fans.
This means when they talk about being on your podcast, their audience might become curious and check it out.
It's like getting a bonus audience!
So, by having guests, you're not just talking to your listeners, but you're also reaching their listeners too.
It's a smart way to grow your audience without extra effort.
You can find more guests in our Guest Directory.
As you focus on growing your audience through SaaS expert guest networks.
The next step is ensuring your SaaS podcast reaches even more ears by getting it listed in the SaaS podcast directory.
List Your SaaS Podcast in Podcast Directory to Get More Exposure.
When your SaaS podcast is in a directory, listeners can discover it without any trouble.
It's like making sure your podcast is visible to anyone searching for topics you talk about.
Beautiful and SEO-friendly podcast profile:
A beautiful podcast profile is like making a great first impression.
When it looks appealing, people are more likely to stop and check out your podcast.
And by making sure it's SEO-friendly, you're helping search engines understand what your podcast is all about.
This can lead to more people discovering your SaaS podcast when they search for related topics.
New listeners from PodRapport:
PodRapport acts like a bridge that connects podcasters and listeners.
When you're part of this platform, you're opening the door to a whole new group of potential listeners.
People who use PodRapport can easily find your podcast, leading to more listeners tuning in and enjoying your SaaS podcast.
It's like expanding your reach and inviting new fans to join your podcasting journey.
Attract Experts to Be Your Guests:
Inviting experts as guests to your podcast brings a lot of worth.
They share their valuable insights, which enriches your podcast and makes it even more engaging.
The interesting part?
Experts often have their own loyal followers.
So, when they appear on your podcast, their followers might become curious and start tuning in.
It's like a collaboration that benefits both you and your expert guests and creates a win-win situation for everyone involved.
Attract Podcast sponsors:
When your podcast gains popularity and a loyal listener base, it becomes an attractive platform for sponsors.
Because These sponsors want to be associated with your SaaS podcast.
Their support can provide you with resources to enhance your podcast, create better episodes, and engage your audience even more effectively.
You can find sponsors in our Sponsor Directory.
Showcase Guest Highlights for More Impact:
Highlighting your podcast guests is like showing off your all-star lineup.
When you talk with the awesome guests you've had, new guests might be interested in joining too.
Plus, listeners can be excited to hear from these notable personalities.
Feature Sponsor's Banner Ads:
When you have sponsors, they might want to put their ads on your podcast.
It's like having billboards in a popular area – people will notice them.
It's a way to thank your sponsors and let your listeners know about great products or services they might be interested in.
Join as a Guest in the SaaS podcast industry (unless you're a direct competitor )
If you're not a direct competitor, becoming a guest on podcasts is a fantastic chance to share your expertise.
Our podcast listicles and guest directory are like treasure maps, guiding you to podcasts where you can be featured.
It's a win-win – you get to showcase your knowledge while the podcast gets valuable content.
So, whether you're an industry expert or have a unique perspective to offer, this is your gateway to becoming a sought-after guest.
Suggest any recommendations?
Is there an industry expert you feel deserves recognition in this list?
Do you have insights about outstanding SaaS podcast guests who would be a perfect fit here?
I'm eager to hear your thoughts!
Your input is a treasure trove of insights, and I genuinely appreciate your contribution.
Please don't hesitate to share any expert SaaS guests you know of.
Your contributions will help us expand and enrich this valuable collection.
Contact us for your recommendations. 
Thank you for joining us on this journey, and we're excited to see your SaaS podcast flourish and thrive.
Best of luck, and may your podcasting journey be filled with growth, engagement, and meaningful connections.