23 B2B SaaS Podcasts List - For SaaS Founders and Marketer
SaaS industry is booming with podcasting, you heard it, right? SaaS podcasts offer flexible learning that fits into busy schedules and inspires creativity.
This exclusive 23 SaaS podcast list offers valuable insights from SaaS leaders.
Each podcast includes interviews with industry leaders, discussions on growth strategies, practical advice on marketing, product development, scaling SaaS ventures, and more.
Here is our selected podcast list for SaaS leaders aiming to connect with ideal customers or anyone curious about SaaS products.
SaaS Open Mic is hosted by ChartMogul, a podcast that helps businesses utilize data to gain insights into their customers and achieve sustainable growth.
The podcast's primary focus is to interview exceptional innovators who have achieved remarkable success in establishing high-growth subscription businesses.
These engaging conversations delve into the crucial elements that contributed to their achievements, offering valuable insights for listeners.
By exploring the strategies, challenges, and valuable lessons learned from these industry leaders, the podcast provides a wealth of knowledge for aspiring entrepreneurs and enthusiasts alike.
"Confessions of a B2B Marketer | B2B Marketing & Demand Generation" is a podcast hosted by Tom Hunt, who is on a journey to grow his own B2B SaaS business called bCast.fm and his agency called Fame.so.
In a one-of-a-kind podcast, Tom Hunt opens up about his personal experiences and collaborates with close friends, family, and business associates to uncover the secrets behind B2B marketing strategies and demand generation. 
Through this candid documentation of his journey, Tom imparts invaluable lessons and unique perspectives to listeners navigating the dynamic realm of B2B marketing.
Whether you're seeking to foster growth in your own business or seeking expert insights, this podcast offers a treasure trove of wisdom and inspiration.
The "Better Done Than Perfect" podcast by Userlist focuses on exploring what makes a SaaS (Software as a Service) brand special and how SaaS growth processes are approached and managed.
In a distinctive approach, "Better Done Than Perfect" leverages genuine, real-life stories and experiences to empower listeners with actionable takeaways and a wellspring of inspiration for their SaaS businesses.
Whether you're a SaaS founder, product manager, or just intrigued by the dynamic SaaS industry, this podcast delivers valuable insights and fresh perspectives on crafting thriving SaaS brands and optimizing the user onboarding process.
Through engaging narratives and expert analysis, it equips you with the knowledge and motivation needed to excel in the ever-evolving world of SaaS.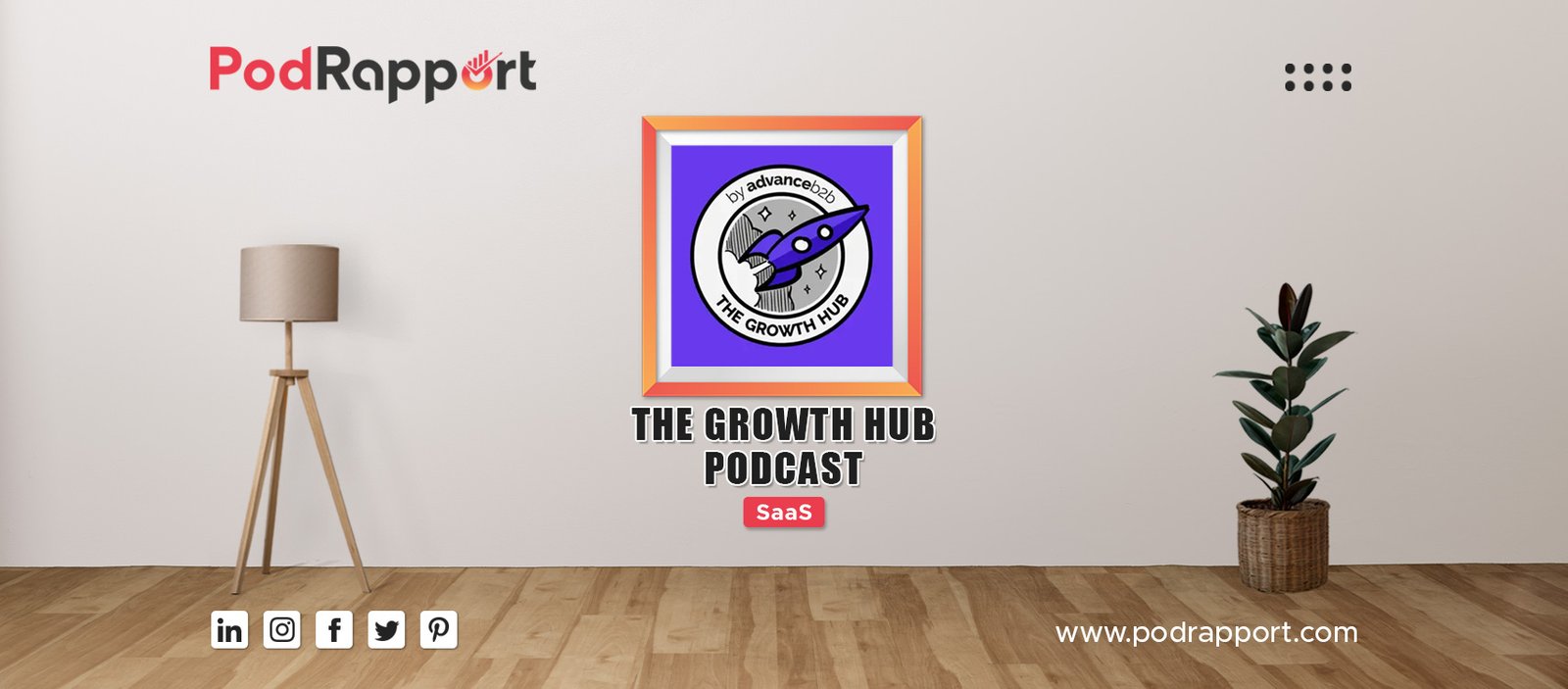 "The Growth Hub Podcast" is dedicated to all things B2B SaaS marketing. It is hosted by Seija Lappalainen and Reeta Westman, who are part of the growth marketing agency, Advance B2B.
Geared toward SaaS marketers, CEOs, and founders seeking to elevate their expertise in creating high-growth SaaS ventures, this podcast offers a distinctive blend of valuable content.
Its episodes encompass strategic frameworks, actionable insights, and captivating anecdotes shared by leading SaaS industry experts from around the globe.
Whether you crave knowledge, skill enhancement, or wisdom, this podcast serves as a valuable resource to unlock your potential and thrive in the dynamic world of SaaS.
SaaS Sessions Podcast hosted by Sunil Neurgaonkar, shares insightful conversations with SaaS leaders, offering valuable perspectives on the industry.
This podcast functions as a dynamic platform for delving into the SaaS industry's treasure trove of valuable insights, experiences, and emerging trends.
Through engaging discussions and thought-provoking content, it unveils a wealth of knowledge, fostering a deeper understanding and appreciation for the ever-evolving world of SaaS.
Lindsey Groepper on "SaaS Half Full" as she serves up insights and conversations with top marketing leaders, crafting unique strategies for B2B SaaS success.
With a distinctive purpose, this podcast strives to empower B2B SaaS marketers with invaluable knowledge and inspiration.
Its mission is to elevate marketing strategies, equipping listeners with the tools they need to achieve resounding success in their endeavors.
Through engaging discussions and expert insights, the podcast serves as a beacon of guidance in the dynamic world of B2B SaaS marketing, unlocking the potential for growth and innovation.
Subscription Entrepreneur podcast, Discover insights, strategies, and lessons from experienced founders, consultants, and innovators in the world of recurring revenue businesses.
With a distinctive focus, this podcast spans a diverse array of topics surrounding the establishment and operation of prosperous subscription-based businesses.
Each insightful interview serves as a mentor and guiding beacon, illuminating the path for listeners embarking on their entrepreneurial ventures.
As a valuable resource, the podcast imparts wisdom and guidance from seasoned professionals intimately familiar with the world of recurring revenue models.
Whether you seek inspiration or practical advice, this podcast is your invaluable companion on the journey toward success in the realm of subscription-based enterprises.
"SaaS Marketing Superstars" is a podcast hosted by Aaron Zakowski that aims to uncover proven growth strategies from Chief Marketing Officers (CMOs) and marketing leaders in the SaaS industry.
This podcast delves into an expansive array of marketing strategies and tactics that have demonstrated remarkable success in propelling growth for SaaS businesses.
Engaging discussions encompass paid advertising, search engine optimization (SEO), content marketing, account-based marketing (ABM), sales techniques, landing page optimization, email marketing, and beyond.
Throughout these conversations, the primary focus remains on comprehending how these strategies can be harnessed most effectively to generate a surge of trial and demo signups for SaaS companies.
By exploring the intricacies of these proven methods, the podcast equips listeners with the knowledge and tools to drive substantial growth and thrive in the competitive SaaS landscape.
"Subscriptions: Scaled - Online subscription services, Subscription business, SaaS subscriptions" is a podcast hosted by Nick Fredrick that covers various aspects of running a successful subscription business.
With a unique approach, this podcast delves deep into the realm of building, growing, and scaling subscription-based companies, delivering a wealth of valuable insights and strategies tailored to startups and established businesses alike.
Beyond that, it explores an array of business strategies meticulously crafted to foster the prosperity and scalability of subscription companies.
Whether you're embarking on a new venture or seeking to optimize your existing business, this podcast serves as an invaluable resource to navigate the challenges and seize opportunities in the ever-evolving world of subscriptions.
"The SaaS Sales Performance Podcast", The podcast acknowledges the evolving nature of SaaS sales and aims to equip listeners with practical tools and insights to excel in this dynamic environment.
This podcast comprehensively explores a spectrum of subjects, embracing emerging trends, groundbreaking sales techniques, and unconventional best practices.
Going beyond the usual wisdom, it equips listeners with indispensable advice through insightful conversations with industry experts deeply engaged in SaaS sales.
With a focus on staying ahead in the fast-paced industry, this podcast delivers valuable insights, empowering its audience to remain at the cutting edge of innovation and success.
"Protect the Hustle" is a SaaS podcast hosted by Paddle. The podcast aims to provide valuable insights into the strategies and tactics of successful SaaS operators scaling their businesses.
Acting as a vital resource for B2B SaaS operators, this podcast assembles a virtual team of advisors, generously sharing their practical knowledge and expertise.
By tuning in, listeners can anticipate invaluable insights across multiple facets of growing a SaaS business, encompassing sales, marketing, product development, and customer success.
With this wealth of guidance at their disposal, operators can navigate challenges and seize opportunities, propelling their SaaS ventures to greater heights of success and impact.
"SaaS Backwards" is a podcast hosted by Ken Lempit, The podcast features interviews with CEOs and CMOs of fast-growing SaaS companies.
In a comprehensive exploration, this podcast delves into the pragmatic and strategic dimensions of operating a SaaS business, offering invaluable insights tailored for SaaS founders and executives.
With a commitment to actionable advice, listeners have the opportunity to learn from real-world experiences shared by industry leaders.
Engaging interviews span a diverse array of topics, encompassing growth strategies, innovative marketing approaches, product development, customer acquisition, and beyond.
As a trusted resource, the podcast equips its audience with the knowledge and wisdom to thrive in the dynamic world of SaaS, propelling their ventures to new levels of success and accomplishment.
The "Tekpon SaaS Podcast" is a platform where SaaS (Software as a Service) founders are given the opportunity to share their stories, showcase their current products, and discuss their future vision.
With a distinctive purpose, this podcast seeks to amplify the voices of SaaS entrepreneurs, while simultaneously serving as a wellspring of inspiration and valuable insights for aspiring entrepreneurs.
By sharing the journeys and wisdom of accomplished SaaS innovators, the podcast empowers both seasoned and budding entrepreneurs to embrace their own ventures with confidence and determination.
It's a platform where stories of success and resilience are shared, igniting motivation and providing the guidance needed to navigate the entrepreneurial landscape successfully.
The "Leaders of Growth" podcast is designed to provide insights and guidance for B2B SaaS companies looking to scale their business to $25M ARR (Annual Recurring Revenue) and beyond.
Tailored to B2B SaaS companies with ambitions of scaling their business to $25M ARR (Annual Recurring Revenue) and beyond, this podcast serves as a valuable compass, providing indispensable insights and guidance.
Whether you're already on the path to growth or just embarking on your journey, the podcast offers strategic direction and practical advice to steer your company toward exceptional success and sustainable expansion.
"SaaS Connect - SaaS Partnerships & SaaS Leaders" podcast Explore SaaS partnerships & leaders, from building ecosystems to achieving revenue goals.
With a unique breadth of content, these podcasts explore a diverse array of topics pertinent to SaaS partnerships.
Engaging discussions revolve around crafting successful partnerships, implementing collaboration best practices, generating revenue, and accomplishing business objectives.
By leveraging these insights, businesses gain a competitive edge in their market, positioning themselves for sustained growth and strategic advantage.
The "SaaS District" podcast, focuses on helping SaaS startup entrepreneurs optimize their growth strategies, covering a wide range of topics from the beta phase of a startup all the way to exit.
With a distinct emphasis on assisting SaaS startup entrepreneurs in refining their growth strategies, this podcast encompasses a broad spectrum of topics, guiding them from the beta phase of their venture to a successful exit.
The podcast delves into critical areas that underpin success, from raising capital and navigating acquisitions to cultivating effective leadership, B2B sales, and growth marketing.
It further explores essential aspects like scaling, strategic hiring, M&A, conversion optimization, productivity, bootstrapping, venture capital, private equity, and fostering innovation.
"SaaS Nordic" is a podcast hosted by Daniel Nackovski. The show focuses on uncovering the secret sauce behind the most successful Nordic SaaS companies and their journey to achieving global success.
This show delves into the essence of success for Nordic SaaS (Software-as-a-Service) companies, shedding light on their journey to achieving global acclaim.
By engaging in insightful interviews with founders and leaders of prominent Nordic SaaS companies, the podcast unravels valuable insights.
Listeners gain access to a treasure trove of knowledge, learning from the pioneers' Go-To-Market strategies, scaling techniques, team-building approaches, and product development strategies.
This firsthand wisdom equips aspiring entrepreneurs and enthusiasts with the tools and inspiration to navigate their own path to success in the competitive world of SaaS.
"Scale Your SaaS" podcast interviews successful and inspiring individuals from the world of software to uncover their strategies for success, provide valuable advice, and discuss future innovations in the industry.
This podcast strives to deliver valuable insights and actionable tips that listeners can readily apply in their own SaaS ventures.
Through engaging discussions, it covers an array of topics, including lead generation, customer acquisition, and effective scaling strategies.
Emphasizing practical advice that directly contributes to business growth, the podcast equips its audience with the tools and knowledge to make informed decisions and succeed in the dynamic world of SaaS.
"SaaScast" is a podcast that covers various topics related to SaaS. The podcast aims to provide insights and guidance on building successful SaaS businesses, from startups to established companies.
This podcast provides invaluable guidance and practical steps, enabling listeners to futureproof their products and skillfully navigate the constantly evolving SaaS landscape.
Through insightful discussions and expert advice, the podcast equips its audience with the knowledge and tools to stay ahead of the curve, ensuring long-term success and relevance in this dynamic industry.
SaasHoles "Rev Ops with an edge" is a weekly podcast focused on revenue operations within the SAAS (Software-as-a-Service) industry.
The podcast embraces a distinctive approach, infusing vibrant and informal elements reminiscent of Barstool Sports into its engaging discussions on revenue operations within the SAAS industry.
By blending an energetic and lively style, the podcast not only educates but also entertains, making it an enjoyable and insightful experience for its audience.
"SaaSy as F**k" is a podcast hosted by Jon McGreevy and produced by Alex Radford. The podcast features conversations with experts from various sectors of the SaaS industry.
With a unique mission, "SaaSy as F**k" sets out to deliver valuable insights and inspiration to those already immersed or aspiring to enter the dynamic world of the SaaS industry.
Through candidly sharing the stories and experiences of industry experts, the podcast unveils a behind-the-scenes perspective, shedding light on the realities of working in SaaS.
It fearlessly explores the challenges, hard-earned lessons, and strategies for success, empowering its audience with the knowledge and motivation needed to thrive in this fast-paced and ever-changing landscape.
"SaaS for Developers" is a podcast hosted by Gwen, focused on providing valuable insights and knowledge to engineers and developers interested in building and scaling SaaS products.
This podcast casts a wide net, exploring a diverse array of topics.
It delves deeply into the intricacies of building and scaling SaaS products, encompassing crucial aspects such as architecture, technology choices, scalability, performance optimization, deployment strategies, security, and beyond.
By delving into these critical subjects, the podcast equips its audience with the insights and expertise necessary to excel in the realm of SaaS product development and thrive in this fast-paced and dynamic field.
"SaaS Whispers: The SaaS Management Podcast" is a podcast series presented by Zluri, focusing on the challenges and risks associated with SaaS adoption and the role of SaaS Management Platforms (SMPs) in mitigating these risks.
With a distinctive purpose, this podcast sets out to unveil the lesser-known facets of SaaS, delving into a variety of critical topics.
Through insightful discussions, it shines a light on subjects like shadow IT, security and compliance risks, and SaaS wastage.
By exploring these often-overlooked aspects, the podcast equips its audience with a deeper understanding of the challenges and opportunities present in the world of SaaS, fostering informed decision-making and strategic growth.
Benefits of this Curated 23 SaaS Podcast List:
Now that you have received the list of 23 SaaS Podcasts.
Let's explore some of the benefits that come with this compilation.
1. Offer Up-To-Date Episodes With New Insights:
Get the latest episodes to listen to regularly. 
This means you won't miss out on new content and can stay informed about the latest trends and insights.
It's like having a constant flow of up-to-date information right at your fingertips.
You can find more podcasts in our Podcasts Directory.
2. Open Doors to SaaS Podcast Guesting Opportunities:
These podcasts offer more than just listening pleasure. 
They present opportunities for you to be a guest.
It's like a unique opportunity to showcase your expertise and connect with a wider audience.
Join our exclusive Guest Directory to access even more opportunities to showcase your expertise.
3. Saving time for Research and Outreach Efforts:
Say goodbye to time-consuming research and reaching out.
With this list, you don't need to spend hours looking for podcasts or contacting them.
It's like having a shortcut to valuable resources without the hassle of searching. 
You can focus your time on listening and engaging instead.
4. Promote Your SaaS Products through Sponsorship:
Promote your stuff by sponsoring these SaaS podcasts. 
If you have products or services, you can get them noticed by supporting these shows.
It's like getting the word out about what you offer to an interested audience.
(Just a little note: if you're a competitor, they might not be too keen on it.)
Join our exclusive Sponsor Directory to access even more opportunities.
Have any recommendations?
Do you have a SaaS podcast recommendation that you would like to have entered here? I'd love to hear from you. 
Your recommendations are valuable and greatly appreciated!
I want to ensure that this resource is as comprehensive and helpful as possible. 
Feel free to share any awesome podcasts you're aware of, so we can continue enhancing this collection.
Contact us for your recommendations. 
Wishing you all the best on your SaaS podcast journey.
Share it with your B2B SaaS friends, colleagues, and peers to help them too. Let's spread the knowledge and make a positive impact together.