20 Podcast List - Showcasing Interviews with Industry Experts
Ready to take your podcasting journey to new heights? Explore our exclusive list of Podcasts tailored just for you.
Introducing our top 20 guest-oriented Podcasts, carefully chosen to help you refine your podcasting skills and unlock creative possibilities.
These podcasts offer more than inspiration – they provide practical insights, perfect for both seasoned podcasters looking to enhance their craft and curious minds venturing into new realms of creativity.
Elevate your podcast in a crowded audio landscape with our handpicked selection.
Don't miss out on this incredible resource to boost your Podcasting success and stand out in the podcasting arena!
"Podcasting Smarter" is a helpful podcast series by Podbean, a top podcast hosting platform. 
It's made for podcasters, offering short, practical episodes (10-50 minutes) full of insights from experienced podcasters. 
Whether you're just starting or a pro, you'll get useful tips on equipment, marketing, and more. 
Released weekly, it's a convenient way to level up your podcasting game. 
Perfect for busy podcasters who want actionable advice on the go. Overall, a must-listen for those serious about making their podcast successful.
"Podcasting for Educators" is a valuable podcast hosted by Sarah Whittaker, designed for those interested in starting or enhancing a podcast for online educators. 
With episodes released weekly and ranging from 10 to 50 minutes, it provides actionable strategies on podcast creation, management, and growth. 
The podcast covers topics like building relationships with listeners and effectively promoting educational resources, courses, and memberships. 
Perfect for TpT authors, teachers, consultants, and parents, this podcast addresses common questions and offers comprehensive insights to help educators succeed in the world of podcasting.
"Between Two Mics: The Remote Recording Podcast," hosted by Zach Moreno and Rock Felder, co-founders of SquadCast, explores the dynamic landscape of podcasting by interviewing industry leaders shaping its future. 
This podcast delves into challenges, opportunities, and groundbreaking ideas, pushing the boundaries of what's achievable in podcasting.
Tailored for both seasoned and aspiring podcasters, as well as those intrigued by the podcasting landscape, the show provides insights into industry trends, along with practical tips for creating top-notch audio content from any location.
"The Podcast On Podcasting" emphasizes the significance of having a successful podcast as a valuable asset for businesses. 
With a substantial audience of over 51 million podcast listeners in the US, podcasting serves as a potent platform for audience engagement and communication. 
Regularly producing and sharing podcast content helps build a dedicated following, fostering brand awareness, customer loyalty, and increased sales.
Podcasting's enduring popularity, proven by its consistent growth and widespread adoption, positions it as a resilient and effective form of media. 
The podcast's accessibility, with new episodes released weekly and an average length of 10-50 minutes, offers a convenient way for busy professionals to stay informed about industry news and trends. 
"Go Pitch Yourself" is a valuable guide for individuals seeking to enhance their visibility through podcast interviews, online publications, speaking engagements, and other platforms. 
Hosted by Angie Trueblood, the podcast delivers practical advice on developing strategies to form authentic connections and propel business growth.
The show explores various topics, including message crafting, audience targeting, and effective self-pitching techniques for podcast hosts, editors, and event organizers. 
Listeners gain insights into leveraging their expertise to increase exposure, establish credibility, and drive traffic to their websites and social media channels.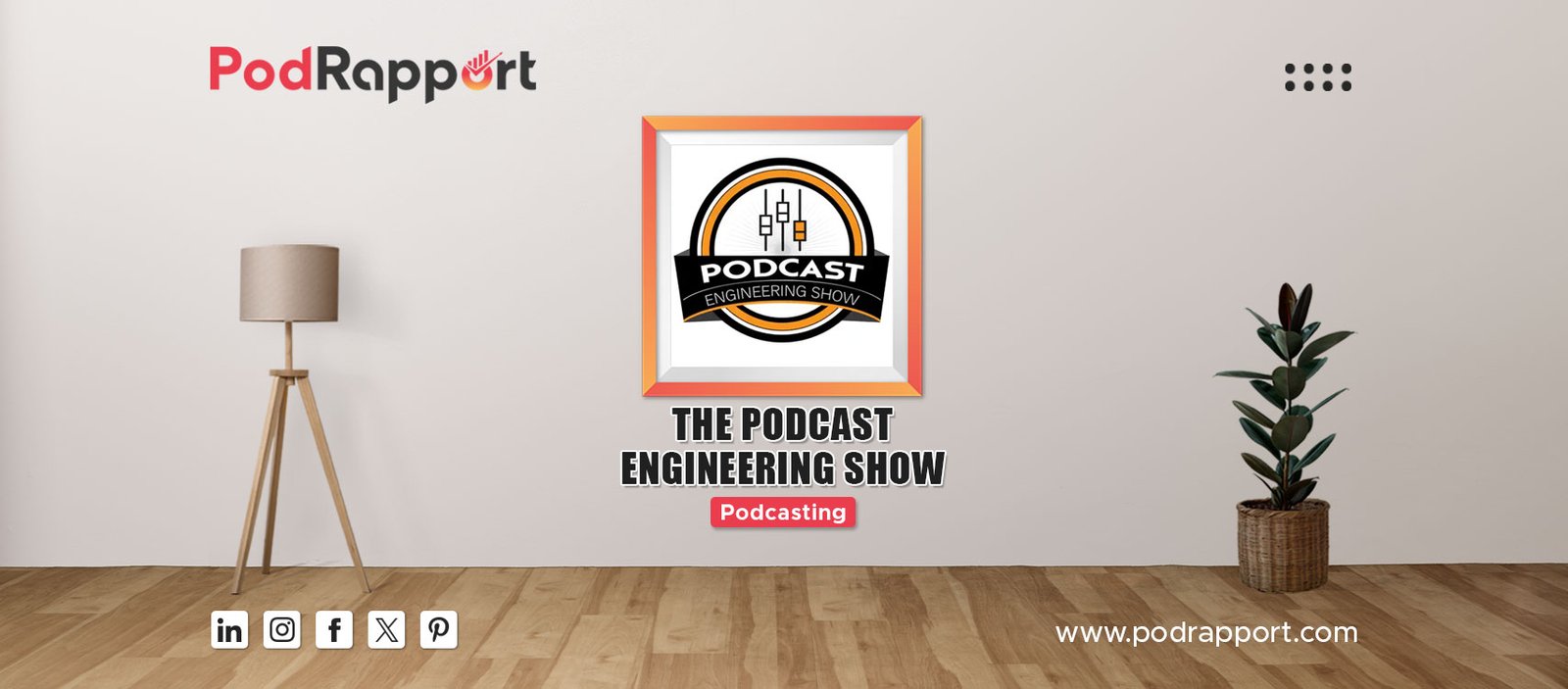 "The Podcast Engineering Show," hosted by Chris Curran, founder of Podcast Engineering School, is a dedicated exploration of the technical intricacies involved in producing audio podcasts.
In each episode, Chris engages with fellow podcasters to delve into the nuances of their audio equipment, software preferences, and production processes. 
The overarching aim is to provide valuable insights and expertise on how to enhance the overall audio quality of podcasts. 
"School of Podcasting - Plan, Launch, Grow and Monetize Your Podcast," hosted by Dave Jackson.
Dave is a Podcaster Hall of Fame Inductee with over 18 years of experience in podcasting and serves as a comprehensive guide for individuals embarking on their podcasting journey.
This podcast is a valuable resource for beginners seeking foundational knowledge, as well as those looking for insights on expanding and monetizing their podcasts. 
"Buzzcast," hosted by the team at Buzzsprout, a leading podcast hosting platform, is a roundtable discussion podcast that covers diverse topics related to podcasting. 
The show provides insights into current events and news within the podcasting sphere, explores podcasting strategies, and delves into the tools and resources used by the team.
One notable aspect of "Buzzcast" is its engagement with its audience by addressing questions from customer support.
"Mind Of A Mentor," hosted by Marla Isackson, CEO and Founder of the Ossa Collective, serves as an engaging platform for discussions about podcasting. 
This podcast is dedicated to providing valuable advice on different facets of podcasting, offering insights into best practices, advertising techniques, effective monetization strategies, and glimpses into the future of the podcasting industry.
Listeners can anticipate episodes dropping every other Wednesday, where the show covers a diverse range of hot topics that hold relevance for both seasoned and aspiring podcasters.
"Oh My Pod | Podcast Strategy, AI, and Content Marketing" stands out as a comprehensive resource catering to individuals at every stage of their podcasting journey. 
Hosted by experienced podcasters Justin J. Moore and Celine Albertini, with the support of Podigy, a prominent podcast production company, the show covers a wide spectrum of topics essential for both beginners and seasoned podcasters.
Listeners can expect practical equipment recommendations, effective strategies for audience growth, and valuable insights into successfully integrating podcasting into businesses.
"Podcast Junkies," hosted by Harry Duran, offers an immersive exploration of the dynamic world of podcasting.
 Harry, the Founder of the podcast agency FullCast, has been engaging in profound conversations with a diverse range of podcasters since 2014. 
With a laid-back and conversational approach, he fosters a relaxed environment where guests feel comfortable sharing their distinctive podcasting journeys.
Listeners are treated to an insider's perspective as accomplished podcasters share their triumphs, hurdles, and the insights they've gleaned from their experiences. 
"Podcast Advertising Playbook," hosted by Heather Osgood, is a specialized podcast that delves into the nuances of podcast advertising.
 Whether you're a professional in the advertising or marketing industry or a podcaster eager to explore the world of podcast advertising, this show is a valuable resource.
Heather Osgood's goal is to provide listeners with the tools and knowledge necessary to navigate and excel in the realm of podcast advertising. 
The podcast covers a variety of topics, including implementing effective ad campaigns, establishing budgets, and setting realistic expectations.
 "New Media Show" is a dynamic video series hosted by Todd Cochrane, the Founder of RawVoice and Blubrry, and Rob Greenlee, a seasoned podcaster and Senior Vice President of Podcast Content and Partnerships at Podbean. 
Both Cochrane and Greenlee are esteemed Podcast Hall of Fame Inductees, bringing a wealth of experience and expertise to the show.
In each episode, the hosts engage in interviews with prominent figures from the podcasting industry, offering viewers invaluable insights and in-depth discussions about the latest trends and developments in the podcasting world. 
"The Startup Podcast," hosted by Chris Saad and Yaniv Bernstein, is a captivating exploration of the unique mindset and strategies that drive Silicon Valley-style disruption at scale. 
The podcast delves into the world of startups, offering listeners valuable insights into the innovative thinking that fuels their success.
Through engaging discussions and interviews, Saad and Bernstein provide a behind-the-scenes look at the entrepreneurial journey.
The podcast uncovers the principles and approaches that contribute to Silicon Valley's transformative impact on various industries. 
"The Podcast Report," hosted by Paul Colligan and The Podcast Partnership team, serves as an authoritative resource for individuals looking to maximize the impact of podcasting. 
With a focus on leveraging technology for audience expansion, the podcast provides valuable insights into the ever-evolving podcasting landscape.
Paul Colligan, a renowned expert in podcasting, brings his extensive experience to the show. 
"The Sound Off Podcast," hosted by Matt Cundill, provides an in-depth exploration of broadcasting, podcasting, and new media. 
With a solid two decades of experience in radio, including roles as an on-air personality and program director, Matt Cundill brings a wealth of knowledge to the discussions. 
Since 2016, he has been actively engaged in assisting podcasters to grow their audience and improve listener engagement. 
Through interviews and conversations, the podcast delivers valuable insights and strategies for individuals and professionals aiming to excel in the dynamic and evolving landscapes of broadcasting and podcasting.
"Podcasting Made Simple," hosted by Alex Sanfilippo of PodPros.com, is a highly regarded podcast dedicated to the art of podcasting. 
With a focus on providing actionable insights, this show is invaluable for both podcast guests and hosts. 
Each week, Alex and a roster of accomplished podcasters and guesting experts share masterclass episodes, offering practical strategies and ideas to thrive in the podcasting sphere. 
"The Accelerators Podcast," presented by The Accelerators, provides Oncology News and Views from Photon Media. 
This podcast likely covers updates, insights, and discussions related to oncology, catering to professionals, researchers, and individuals interested in staying informed about the latest developments in the field.
"More Money Podcast," hosted by Jessica Moorhouse, is a go-to financial resource for those seeking to master their financial journey. 
As an Accredited Financial Counsellor Canada®, Jessica shares practical tips and insights on money management. 
With over 51 million podcast listeners in the US, this podcast taps into the popularity of the medium, featuring guests from diverse financial backgrounds. 
Covering topics from basic budgeting to advanced investment strategies, "More Money Podcast" caters to a broad audience looking to enhance their financial literacy and achieve their money goals.
"Podcasting Success Secrets," hosted by Hector Santiesteban, is a go-to podcast for those seeking to enhance their podcasting journey. 
With a focus on providing systems, strategies, and support, Hector covers various aspects of podcasting, from recording to promotion. 
Whether you're a novice or an experienced podcaster, this show serves as a comprehensive guide. 
Hector's expertise ensures that listeners receive valuable insights and practical tips, making "Podcasting Success Secrets" an essential resource to navigate the world of podcasting successfully.
The Key Benefits of This 20 Podcast List:
Now that you have the inside scoop on these 20 exclusive Podcasts, let's talk about why they're a game-changer for you.
Stay Updated with Fresh Episodes and Industry Insights:
Make it a habit to check out the latest episodes regularly.
It's like having a secret vault of the latest podcasting tips and tricks, always at your fingertips, effortlessly keeping you ahead and in-the-know.
Unlock Podcasting Opportunities:
Podcasts are more than just enjoyable listens; they're your gateway to the spotlight.
Imagine having the platform to showcase your expertise and connect with a broader audience, all through the engaging world of podcasting.
If you're interested in being a guest, step into the scene! 
Register yourself in the Guest Directory and join the podcasting adventure.
Supercharge Your Podcasting Journey by Saving Time and Outreach Effort:
Wave goodbye to endless research and outreach hassles.
With this list, you don't need to spend hours looking for podcasts or contacting them. 
It's like having a shortcut to valuable resources without the hassle of searching.
Promote Your Products through Podcast Sponsorship:
Want to shine in the podcasting arena? 
Sponsor these podcasts strategically. 
It's like putting a spotlight on your episodes, reaching an audience genuinely excited about your content. 
(Just a little note: if you're a competitor, they might not be too keen on it. 😉)
Any Podcast Recommendations? 
We Want to Hear From You!
If there's a podcast in the vast audio landscape that you find captivating and believe deserves a spot on our list, we're all ears! 
Share your go-to podcasts with us.
Your recommendations are like hidden gems, enriching our resources and making them stand out.
Drop us a message and let us know about the podcasts that resonate with you in the podcasting world. We highly value your insights!
Contact us with your podcast recommendations.