31 Entrepreneurship Podcast List - Featuring Expert Guest Stars
Entrepreneurship podcasts are getting popular because they're a convenient way to learn and stay inspired even if you're super busy.
These podcasts can spark your creativity and make you a better entrepreneur.
We've gathered a list of 31 top-notch entrepreneurship podcasts.
They have interviews with successful business people, deep talks about entrepreneurial strategies, and practical tips to improve your business skills.
Explore these podcasts to connect with your ideal audience, boost your entrepreneurship skills, and stay updated in the world of business.
Startup Success: A Podcast for Founders & Investors, proudly presented by Burkland.
The podcast delves into the strategies and insights driving success for scaling founders and investors in the startup ecosystem. 
The podcast features engaging interviews with founders and investors. 
They share compelling stories, along with discussions involving thought leaders and experts with hands-on industry experience.
Startup Stories - Mixergy, hosted by Andrew Warner, is dedicated to uncovering the genuine stories behind successful startups. 
With thought-provoking questions, Andrew delves deep into the founders' journeys to unveil the strategies, obstacles, and breakthroughs that propelled their startups to greatness.
Each episode of Startup Stories presents candid conversations with founders who generously share their firsthand experiences and insights.
The 21st Century Entrepreneurship Podcast, hosted by Martin Piskoric.
The 21st Century Entrepreneurship Podcast is a weekly show that has earned four Gold Awards. 
It offers insightful interviews with visionary leaders and accomplished entrepreneurs. 
The discussions revolve around the core principles of launching and expanding a business,
attaining and sustaining success, and addressing the challenges inherent in entrepreneurship, including its future prospects.
The Hello Seven Podcast is hosted by Rachel Rodgers, a wife, mother, and CEO of an 8-figure business. 
Rachel's mission is to empower every woman she encounters to achieve millionaire status. 
Her podcast was launched with the goal of addressing how women can increase their earnings.
On the Hello Seven Podcast, Rachel engages in conversations with guests who have accomplished the millionaire milestone. 
She shares their stories, including the missteps they took and the transformative moments that altered their trajectories. 
The show also incorporates Q&A segments, coaching sessions, and inspiration, all aimed at assisting listeners in boosting their income.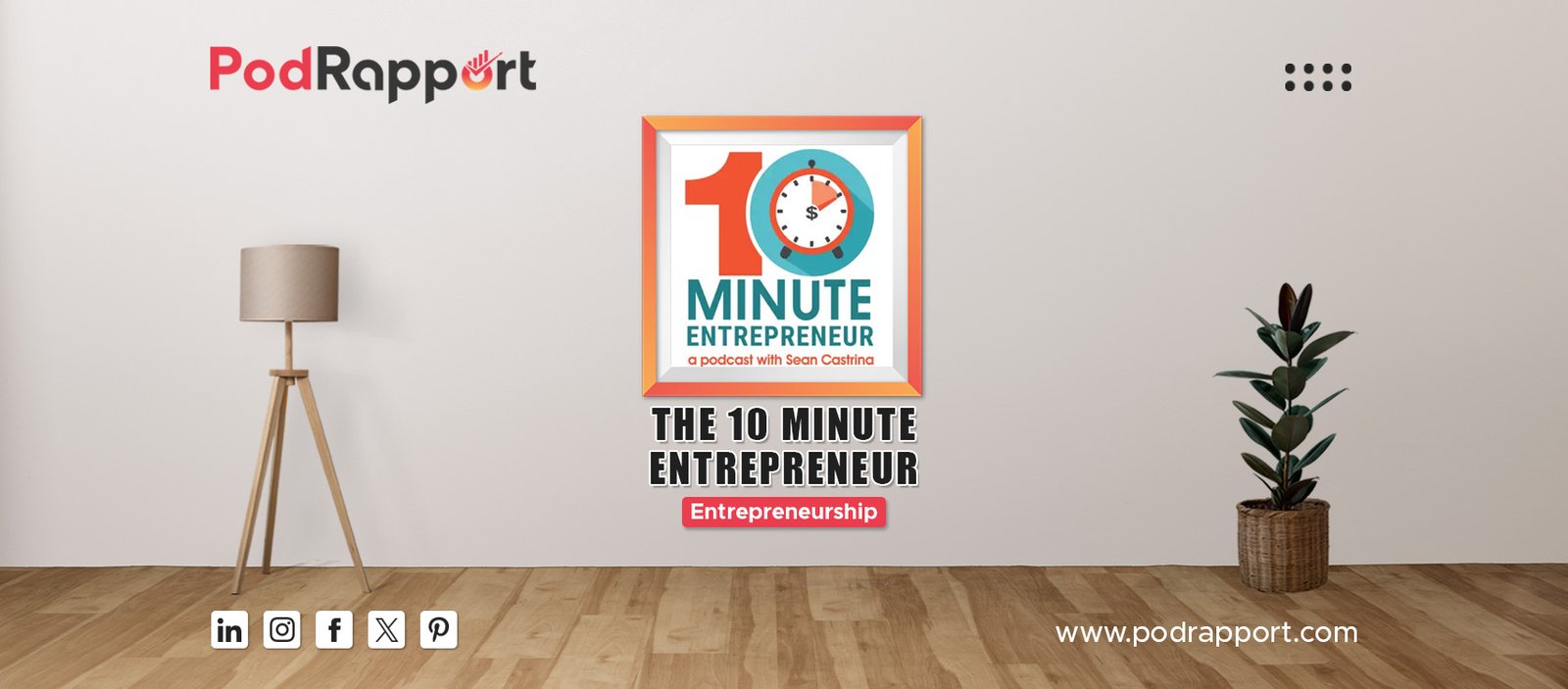 "The 10 Minute Entrepreneur" is a podcast hosted by Sean Castrina, an experienced serial entrepreneur. 
Tailored for entrepreneurs and small business owners, this podcast offers brief, actionable tips to empower them for success in their entrepreneurial pursuits.
Every episode of "The 10 Minute Entrepreneur" provides practical and tactical advice in a concise and time-effective format.
"Interviews with Entrepreneurs Show," hosted by RJ Ahmed, is a podcast dedicated to showcasing the stories and strategies of successful entrepreneurs. 
This podcast provides a platform for entrepreneurs to share their journeys, insights, and secrets to their remarkable success.
RJ Ahmed explores the experiences of entrepreneurs who may have initially had limited knowledge of sales and marketing but ultimately achieved substantial revenue figures, ranging from seven to nine figures. 
The podcast aims to uncover the strategies, tactics, and mindset shifts that played a pivotal role in their success.
Enterprise Podcast Network (EPN), formerly known as the Entrepreneur Podcast Network, is a specialized platform created to inspire and educate entrepreneurs and business owners. 
EPN is designed to offer valuable advice, inspiration, and information to help entrepreneurs thrive and achieve success in their endeavors.
For entrepreneurs and small business owners, EPN serves as a convenient and all-encompassing resource. 
It provides a centralized location where they can access a wealth of guidance and insights to support their business growth and development.
The "WNY Entrepreneur" podcast is a platform that celebrates the synergy between Western New York (WNY) and entrepreneurship. 
The show is hosted by David Schaub and is known for its engaging and insightful interviews with some of the most prominent entrepreneurs in the Western New York region. 
These interviews delve into various aspects of business, providing valuable insights and perspectives for both aspiring and established entrepreneurs.
Sound Advice: Entrepreneurs Unfiltered" is an award-winning podcast that caters to small business owners seeking answers and guidance.
The show is hosted by Kate Bassett, a respected finance journalist known for her expertise in the field. 
This podcast is designed to be a trusted resource for entrepreneurs, providing them with valuable insights and unfiltered advice from accomplished founders and CEOs.
"CallumConnects Podcast" is a micro-podcast hosted by Callum Laing, and it offers daily bite-sized doses of entrepreneurial inspiration.
In each episode, Callum connects with different entrepreneurs from various backgrounds and industries. 
Despite the short duration of these episodes (typically around 5 minutes), they provide valuable insights and inspiration for aspiring and established entrepreneurs.
The format of the podcast allows entrepreneurs to share their personal stories and experiences briefly,
focusing on the challenges they've encountered, the strategies they've used to overcome those challenges, and the important lessons they've learned along the way.
"Founders Unfound" is a podcast hosted by Daniel Kihanya that spotlights the stories of remarkable entrepreneurs and tech founders, with a specific focus on those from underrepresented backgrounds. 
This podcast highlights the achievements of founders, particularly those of African descent, who are working on innovative and high-potential ideas.
Through both its regular podcast episodes and accompanying blog content, "Founders Unfound" seeks to shed light on the diverse and often overlooked landscape of entrepreneurship.
"Entrepreneur Conundrum," hosted by Virginia Purnell.
This podcast takes a unique approach by exploring the experiences of everyday entrepreneurs as they work to grow their startups and establish themselves as experts in their fields. 
Unlike many other podcasts that often feature well-known internet celebrities, this show shines a spotlight on the "average" entrepreneur who is striving for visibility and success in their specific markets.
By focusing on these aspiring entrepreneurs and their journeys, "Entrepreneur Conundrum" provides valuable insights and relatable stories that can resonate with a broader audience.
"Mentor Nation with John Abbas" is a podcast designed to offer valuable mentorship to its audience by featuring interviews with individuals who have achieved notable success in their respective fields. 
The podcast focuses on extracting practical lessons, strategies, and wisdom from these accomplished guests.
Hosted by John Abbas, the podcast follows a format where each guest shares their insights as if they were delivering a keynote speech to a large audience. 
"Radio Entrepreneurs" is a podcast that focuses on sharing the success stories of entrepreneurship. 
It serves as a platform where entrepreneurs and C-suite executives from diverse fields such as legal, social media, employment, medical, non-profit, and others are featured.
The primary goal of the podcast is to offer insights and inspiration to individuals who aspire to become entrepreneurs or advance their careers in the business world. 
"Inter:views | Cracking The Entrepreneurship Code" is a podcast hosted by Laurent Notin, who is recognized as the Bottleneck Coach. 
The podcast is designed to assist entrepreneurs in addressing challenges and realizing their full potential in the business world.
The podcast accomplishes this by conducting interviews with various entrepreneurs and business experts. 
During these interviews, guests share their insights, experiences, and strategies for overcoming obstacles and achieving success as entrepreneurs.
"Super Entrepreneurs Podcast," hosted by Shahid Durrani, is a podcast dedicated to offering practical tips, strategies, and motivation for entrepreneurs, professionals, and individuals looking to enhance their productivity and success in business, career, and personal life.
The podcast accomplishes this goal by engaging in insightful conversations with leaders and experts across different entrepreneurial sectors. 
The featured guests on the show represent a diverse range of professions and backgrounds, including digital marketing, social influencing, writing, executive leadership, healthcare, and entrepreneurship.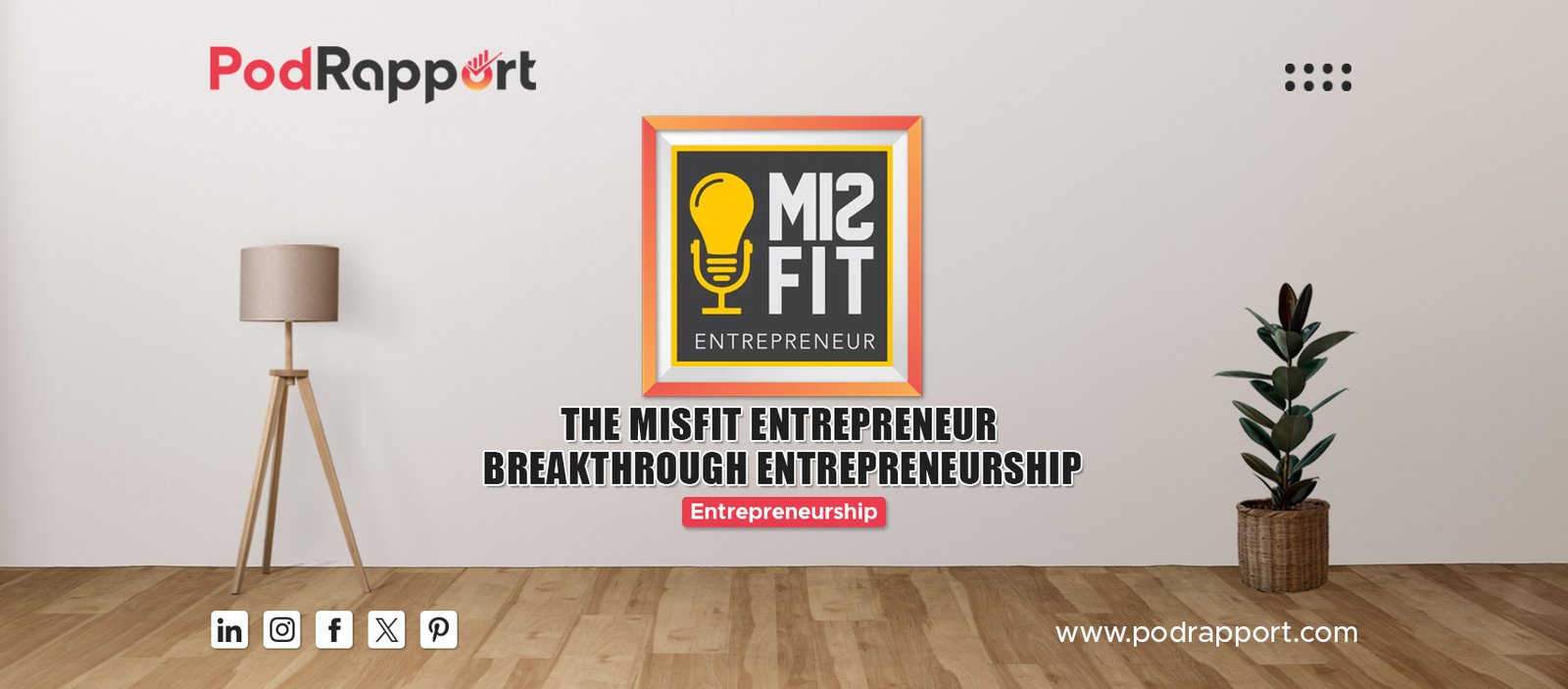 "The Misfit Entrepreneur_Breakthrough Entrepreneurship," hosted by Dave M. Lukas.
This is a weekly podcast designed to provide listeners with valuable insights and unconventional perspectives from some of the world's most successful entrepreneurs. 
The podcast's primary focus is on the unique and non-traditional approaches that these entrepreneurs have taken to achieve their remarkable success, celebrating their "Misfit" qualities.
The podcast employs an open and engaging format, allowing guests to share the strategies, tactics, and tools they have used throughout their entrepreneurial journeys.
18. Breakthrough Success
"Breakthrough Success," hosted by Marc Guberti. This is a podcast tailored for business owners and freelancers who are eager to enhance their revenue through effective content marketing strategies. 
The podcast is a valuable resource for individuals looking to grow their businesses by optimizing their content marketing efforts.
The podcast features a diverse range of content, including interviews with guest experts who share their insights and experiences in content marketing. 
These interviews offer listeners the opportunity to gain knowledge and inspiration from professionals who have successfully leveraged content marketing to achieve business growth.
"Entrepreneurjourney Podcast," hosted by Doug Greathouse. 
This podcast is dedicated to bringing together entrepreneurs who share their personal stories, challenges, and the invaluable lessons they've acquired on their individual business journeys. 
This podcast serves as a valuable resource for aspiring entrepreneurs and business owners seeking inspiration and guidance from those who have already embarked on the entrepreneurial path.
The podcast distinguishes itself by focusing on the authentic experiences of entrepreneurs.
"Entrepreneur MBA Podcast," hosted by Stephen Halasnik.
This is a valuable resource designed to assist established business owners in scaling their companies to reach and surpass the significant milestone of $10 million in revenue. 
This podcast accomplishes this goal by featuring a diverse range of guests, including seasoned entrepreneurs, serial entrepreneurs, and business owners who have experienced successful exits.
The primary focus of this podcast is to provide listeners with actionable insights, strategies, and advice that can be applied to their own businesses. 
"Thriving Practice with Tracy Cherpeski" is a podcast specifically tailored to assist practice owners in the process of building successful and sustainable businesses.
Tracy Cherpeski, the host of the podcast, is an executive coach and consultant who specializes in mindset mastery and time leadership.
The podcast provides a wealth of valuable insights and strategies that practitioners can utilize to not only enhance their professional endeavors but also thrive in their personal lives. 
"Entrepreneur Money Stories," hosted by Danielle Hayden, is a podcast that focuses on empowering women entrepreneurs to overcome limiting beliefs and transform their relationship with money. 
This podcast is designed to help women gain the confidence and knowledge necessary to take control of their finances and achieve financial success in their entrepreneurial endeavors.
Danielle Hayden, co-owner of Kickstart Accounting, shares insights, tips, and strategies to help women entrepreneurs address common money blocks and challenges they may face in their businesses.
"Entrepreneur Perspectives," hosted by Eric Kasimov, offers introspective conversations with inspiring entrepreneurs. 
Eric Kasimov, the Founder and CEO of KazSource, Inc., engages in discussions with entrepreneurs, business owners, and professionals to provide valuable insights and perspectives on building and protecting businesses.
This podcast serves as a platform for listeners to gain a deeper understanding of entrepreneurship through the experiences and stories of successful entrepreneurs. 
Eric Kasimov explores various aspects of entrepreneurship, including the challenges, strategies, and lessons learned by his guests.
"Entrepreneur Rx," hosted by John Shufeldt, is a podcast designed to help physicians transition into successful entrepreneurs by leveraging their medical backgrounds and skills. 
Many physicians have the potential to excel in the business world but may lack formal business training. 
This podcast aims to fill that knowledge gap by offering insights and inspiration from other physicians who have successfully started businesses.
"Entrepreneur Talks," hosted by Yola Bastos, is a podcast that engages in conversations with startup founders, innovators, and thought leaders from around the world. 
The podcast is dedicated to showcasing the stories and insights of these individuals who are disrupting traditional norms, scaling their businesses, and bringing innovative concepts to fruition.
Yola, as the host of "Entrepreneur Talks," adopts a conversational approach, posing thought-provoking questions about the entrepreneurial journey.
"Entrepreneur to Author," hosted by Scott A. MacMillan, is a podcast that offers guidance to aspiring entrepreneurs who wish to write and publish nonfiction books based on their expertise. 
The show takes listeners on a journey through the process of writing and publishing, combining Scott's personal experiences with insights from expert guests. 
This combination creates a clear and compelling narrative for listeners, making the path to becoming an author more accessible.
The podcast delves into various aspects of book writing and publishing, providing valuable advice and strategies to help entrepreneurs effectively communicate their expertise through written content.
"Entrepreneur with Diane Moura" podcast is a valuable resource for entrepreneurs, especially those leading startups and small businesses.
Hosted by Diane Moura, an accomplished marketer and entrepreneur, the show offers a wealth of insights and tips on marketing and leadership.
Diane brings her extensive experience, having consulted with 30 Fortune 500 companies and successfully running her marketing firm, to the podcast. 
Her expertise makes the show a practical and informative resource for entrepreneurs looking to grow their businesses.
The podcast covers a wide range of topics relevant to entrepreneurs, including marketing strategies, leadership skills, and strategies for business growth.
"Entrepreneur's Enigma," hosted by Seth Goldstein and Goldstein Media LLC, is a podcast that offers a platform for entrepreneurs to share their experiences, challenges, and successes. 
The show recognizes that entrepreneurship is often a rollercoaster ride, and it aims to provide insights and inspiration by featuring interviews with a diverse range of entrepreneurs.
This podcast is particularly valuable because it offers a real-world perspective on the entrepreneurial journey.
"Entrepreneurial Appetite," hosted by Langston Clark, is a podcast that evolved from a series of events aimed at fostering community, promoting intellectualism, and supporting Black businesses. 
The podcast focuses on edited versions of Entrepreneurial Appetite's Black book discussions, which involve live conversations between a virtual audience, authors, and Black entrepreneurs.
This podcast is unique in its approach, as it combines elements of book discussions, entrepreneurship, and community building.
"Entrepreneurial Endeavors," hosted by Matthew Nusom and Seamus Galvin, is a podcast that provides an insightful look into the unpredictable journey of startups. 
The show recognizes that startups often encounter numerous challenges and uncertainties on their path to success, and it aims to shed light on the experiences and insights of successful entrepreneurs who have weathered these storms.
The podcast's focus on in-depth interviews allows listeners to gain valuable knowledge from the firsthand experiences of resilient entrepreneurs. 
By exploring the stories and lessons learned by these individuals, "Entrepreneurial Endeavors" offers a realistic and informative perspective on the world of entrepreneurship.
Entrepreneur Lounge of India (ELI), founded by Priya Ranjan Mohanty, is a platform that plays a crucial role in promoting and supporting entrepreneurship in India. 
With a strong focus on inspiring and empowering young individuals to embark on entrepreneurial journeys, ELI contributes significantly to India's economic growth by fostering a vibrant and dynamic startup ecosystem.
The organization understands the vital role that entrepreneurship plays in creating employment opportunities, driving economic development, and enhancing India's reputation on the global stage.
Why Our Curated List of 31 Entrepreneurship Podcasts Is Valuable:
Now that you have our handpicked selection of Entrepreneurship Podcasts, let's talk about why it's a great resource:
Offer Up-To-Date Episodes With New Insights :
Listen to our entrepreneurship podcast for the latest information.
Learn new leadership strategies and stay informed about current trends and insights.
It's like having a constant source of up-to-date knowledge right at your fingertips.
Unlock Entrepreneurship Podcast Guesting Opportunities:
These podcasts aren't just about learning; they're an open door.
They offer you a special invitation to be the star guest.
It's like having an exclusive opportunity to share your wisdom and connect with a friendly community of fellow entrepreneurs and future business leaders.
Saving time for Research and Outreach Efforts:
Say goodbye to time-consuming research and reaching out.
With this list, you don't need to spend hours looking for podcasts or contacting them. 
It's like having a secret shortcut to great resources.
Now, enjoy more time for listening and connecting with ease.
Promote Your Business Products through Sponsorship
If you have valuable products or services to offer, consider sponsorship opportunities on entrepreneurship podcasts. This presents a unique chance to showcase what you bring to the entrepreneurial table.
It's akin to spreading the word about your offerings to an engaged and interested audience.
(Just a friendly tip: If you're a competitor, be prepared for a mixed reception – not everyone may welcome you with open arms! 😉)
Have any recommendations?
Do you have a fantastic Entrepreneurship podcast in mind that you'd like to see featured here? Your suggestions are incredibly valuable to us!
Our mission is to create a resource that's both comprehensive and highly beneficial. 
So, if you're aware of any exceptional podcasts that deserve a spot on this list, please don't hesitate to share them.
Feel free to recommend any outstanding podcasts you know of, so we can continue improving and expanding our collection.
Contact us with your recommendations.
I wish you boundless success on your entrepreneurship podcast journey.
Feel free to share this valuable resource with your fellow entrepreneurs, colleagues, and peers in your professional network.
Let's collectively expand our knowledge and create a positive impact on the world of entrepreneurship.
Together, we can inspire and empower the entrepreneurs of tomorrow.