50 Career Podcast Guests - Bringing Exceptional Insights
Explore Valuable Insights in Our Comprehensive Career Podcast Guest Directory.
Every guest imparts their knowledge through engaging interviews, discussing growth strategies, actionable tips for success, career development insights, and much more.
Get ready to meet our curated lineup of 50 Career Podcast expert guests – a diverse collection of knowledge to support and enrich your career journey.
Robin Ryan, America's Top Career Expert, offers personalized career services including resume writing, LinkedIn profile creation, and interview coaching.
Robin specializes in delivering tailored individualized career solutions, encompassing resume crafting, LinkedIn profile development, cover letter composition, and interview mentoring.
With a history of accomplishments, Robin has crafted more than 5400 resumes and 2100 LinkedIn profiles, equipping clients to distinguish themselves among potential employers and recruiters.
Capitalizing on the insights laid out in her bestselling book, Robin's interview coaching has readied over 3100 individuals for interviews, furnishing them with a distinct competitive advantage within the job arena.
Magalie René, CEO of Workplace Catalyst™, is a Compassionate Leadership & Confidence Expert empowering organizations through her expertise in imposter syndrome, leadership development, and well-being. 
Magalie's achievements have garnered recognition on esteemed platforms such as Good Morning America, CBS News, Forbes, and Cosmopolitan Magazine. 
She boasts a robust portfolio of collaborations with high-profile entities including Fortune 500 enterprises, The Ford Foundation, Senator Mark Kelly, Live Nation, California Institute of Technology (Cal Tech), Kaiser Permanente, and Fictiv.
Jeff Altman, The Big Game Hunter, is a renowned career coach with 40+ years of experience. As a global leader in executive coaching, he provides practical advice on job search, career transitions, management, and leadership.
Jeff is a career coach with a global reputation, renowned for offering pragmatic guidance and coaching in areas such as job search, career shifts, management, and leadership excellence. 
Through his No BS Career Advice approach, he empowers individuals to cultivate their desired leadership qualities and tackle career obstacles head-on. 
Leveraging his background as an executive recruiter, Jeff's expertise is grounded in real-world insights.
Hannah Morgan is a job search strategist with 12+ years of experience.
Featured in USA Today, Huffington Post, and more. Author of "The Infographic Resume" & "Social Networking for Business Success". 
Hannah's methodology places a strong emphasis on clarity in career goals, location preferences, and potential contributions. 
She firmly advocates that showcasing expertise through social media channels like LinkedIn, Twitter, Facebook, and Instagram is a potent means of substantiating skills and cultivating a community of professionals with shared aspirations. 
Alexandra Levit Holding the mantle of founder and CEO of Inspiration at Work.
A woman-led consultancy, Alexandra collaborates with industry titans including Adecco, American Express, Deloitte, and Intuit from the Fortune 500 cohort.
Norma Davila, career coach, facilitates professional transformation with confidence. Expertise in various industries. 
Norma Davila stands as a fervent and dedicated career coach,
driven by a mission to empower her clients' journey toward greater self-assuredness and professional growth. 
Drawing from her own transformative journey,
Norma has navigated an intensive process that has bestowed upon her invaluable insights into her life's trajectory and her career aspirations.
John Tarnoff, Executive & Better Job Coach. Over 10 years of experience in career transition.
Course Creator & Instructor on LinkedIn Learning. Resilient & resourceful. Empowering professionals for purposeful careers.
Boasting a track record spanning over a decade as a self-employed coach and four years as a Course Creator and online Instructor on LinkedIn Learning.
John has finely tuned his expertise in aiding individuals to surmount challenges, meticulously identify their worth,
and forge purpose-driven careers that harmonize with their innate abilities and principles.
Kerry Hannon, Keynote Speaker & Workplace Futurist.
Expert in career management, entrepreneurship, personal finance, and retirement.
Empowering women for financial security and best-selling author.
Kerry Hannon stands as a widely acknowledged keynote speaker on the national stage,
a visionary of the workplace's future, and a maven in the fields of career management,
entrepreneurship, work transitions, personal finance, and retirement. 
Deeply committed to fostering financial security and building money confidence, especially among women,
Kerry tirelessly champions transformative shifts in individuals' lives.
Nickquolette Barrett, 8+ years experience as a Career Coach and certified Executive Resume Writer.
iRock Development Solutions, LLC specializes in mid-career to executive professionals in transition or seeking higher roles in insurance, IT, and DE&I.
As the head of iRock Development Solutions, LLC dba iRock Résumés,
she oversees a team of seven experts, providing top-tier executive resume writing, career development, and management services.
iRock Development Solutions specializes in mid-career to executive professionals in transition,
focusing on diverse sectors like insurance, IT, and DE&I, with a salary range of $100K-$350K and signing bonuses up to $25K or more.
Robin Schlinger is a career consultant. As the owner of Robin's Resumes,
she is passionate about helping job seekers stand out from the crowd and make a lasting impression on potential employers.
Robin Schlinger, a seasoned career consultant, is the proprietor of Robin's Resumes, a prominent resume-writing enterprise. 
Committed to aiding job seekers, Robin has been delivering exceptional, attention-grabbing, and persuasive resume solutions since 2006. 
With proficiency spanning diverse sectors like chemical engineering, quality assurance, process development, and strategic planning,
she has assisted countless clients across career stages, from newcomers to senior executives,
by harnessing her knowledge of resume-writing techniques and industry specifics.
Aimi Elias: Skilled Machine Learning Engineer at Sky. MSc in Computer Science, real-time data specialist.
Passionate about science communication.
Aimi Elias, a proficient Machine Learning Engineer, boasts extensive experience in the field.
Presently employed at Sky, Aimi focuses on providing customers with cutting-edge content recommendation services. 
Her role involves utilizing her deep expertise in machine learning to create innovative solutions that enhance user experiences.
Julia Taylor is the CEO and founder of GeekPack®.
Empowering women in tech through technology, community, and confidence. Bridging the gender gap.
Passionate about empowering women to pursue their dreams. 
Julia Taylor is dedicated to empowering women through the synergy of technology, community, and confidence. 
Striving to close the gender gap in the tech industry, Julia and her GeekPack® team equip women with essential technical and business skills.
Norma Kimber, the proud owner of Pink Spaghetti Brighton & Hove,
specializes in technical support, social media, marketing, project management, and admin services.
Norma Kimber is the dedicated proprietor of Pink Spaghetti Brighton & Hove,
a virtual assistant service renowned for its efficiency and affordability. 
Serving local businesses, nonprofits, and busy individuals,
Norma specializes in offering technical assistance that streamlines operations, including CRM setup, website management, and other tools. 
Her commitment to optimizing businesses' productivity and success is at the heart of her services, making Pink Spaghetti a valuable partner for growth.
Andrew Graczyk is a seasoned data scientist holding a Ph.D. from the University of North Carolina at Chapel Hill. 
He presently holds the position of Practice Director at KForce, Inc.
Andrew's expertise lies in mathematical, statistical, and game theoretic principles, which he skillfully employs to develop analytics solutions. 
His proficiency aids clients in uncovering patterns, pinpointing issues, and swiftly making well-informed decisions using data-driven insights.
 Melody Mack is a seasoned healthcare industry professional with an impressive track record spanning more than eleven years. 
Her journey began as the pioneering employee of a healthcare startup,
where she swiftly advanced through diverse roles encompassing clinical, administrative, business, and strategic functions. 
Amidst her career trajectory, Melody co-founded her own remote healthcare startup, honing her expertise in operations, strategy, and project management.
Her multifaceted experience reflects her commitment to innovation and her capacity to excel in a range of challenging roles.
Kessler Bickford, LCPC, combines over 11 years of proficiency as a psychotherapist and anxiety specialist
with an additional 11 years as an editor for Chesapeake Life magazine. 
This rich background enriches every therapy session they conduct.
Kessler's preferred modality, Intensive Short-Term Dynamic Psychotherapy (ISTDP), has a proven track record of delivering effective and enduring results. 
Samantha Tovera-Agustin stands out as a dynamic and accomplished Human Resources Professional,
known for her successful history of elevating leaders within renowned global brands. 
Boasting an impressive 4 years and 6 months tenure at Target as an executive team leader in sales floor operations and guest experience,
Samantha brings a wealth of expertise to her role. 
Her adeptness spans areas such as talent acquisition, leadership cultivation, and fostering employee engagement,
all of which contribute to her remarkable career trajectory and impact within the industry.
Tom K is an executive at Ruthberg LLC, a prominent international and local legal consultancy
specializing in facilitating relocations to the UAE and KSA. 
Drawing from an impressive 1 year and 10 months tenure as the Director of Business Development at Ruthberg,
coupled with a distinguished 4 years and 10 months as the Director at Berkeley Rowe.
Tom stands as an authority in the realm of commercial legal affairs and expertly navigates residency permit processes. 
19. Bommy Lee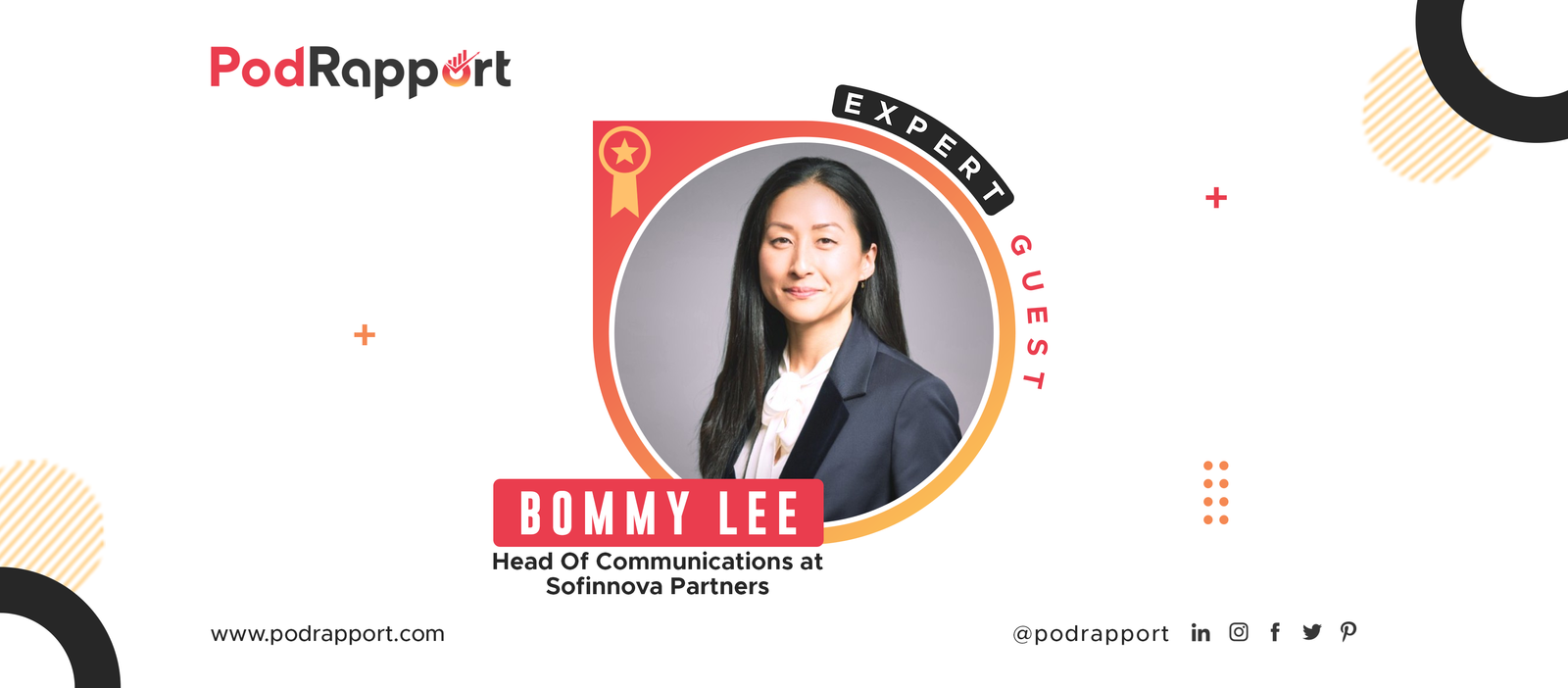 Bommy Lee: Seasoned communication pro at Sofinnova Partners. Expert in VC & media.
Strategic storytelling for healthcare & sustainability investments. 
Presently holding the esteemed role of Head of Communications at Sofinnova Partners,
Bommy expertly steers the company's global communications strategy. 
With a wealth of experience in her arsenal, Bommy's skillful guidance is pivotal in shaping Sofinnova Partners' communication endeavors
and maintaining its reputation as a leader in the industry.
Erika Russi, a skilled data scientist, possesses a remarkable talent for unraveling valuable insights from user behavior. 
With an impressive tenure of 3 years and 9 months at IBM, coupled with 6 years as an Experienced Associate at PricewaterhouseCoopers,
Erika brings forth a distinctive fusion of technical prowess and financial acumen. 
In her dual roles as a Data Scientist and a CPA, she's fervently dedicated to enhancing automation and elevating financial reporting practices. 
Proficient in both English and Spanish, Erika is exceptionally equipped to dissect data, construct models,
and deliver data-centric solutions that foster business triumph.
Eva Sage-Gavin: Talent & innovation leader, Senior MD at Accenture.
Influential in boardrooms, gender research, and the future of work. Advocate for positive change.
As Senior Managing Director of Talent and Human Potential at Accenture,
she advises clients on harnessing digital technologies to evolve their workforces and unleash human potential.
Eva's influence extends beyond her role at Accenture.
She serves on the Advisory Councils of Stanford University's Clayman Institute for Gender Research and the Stanford Center on Longevity,
contributing her insights to important research and initiatives.
John Goldberg holds the esteemed position of Global Director of Recruiting Strategy and Executive Talent Acquisition at Coca-Cola,
showcasing his prowess in executive talent acquisition, strategic formulation, and the establishment of internal search initiatives.
Under his guidance, John orchestrated a groundbreaking internal search program that yielded superior-quality hires at reduced expenses.
Additionally, he conceptualized and executed an innovative executive search model managed internally,
which triumphantly fulfilled more than 90% of external executive search endeavors on a global scale.
Jorge Aisa Dreyfus assumes the role of Executive Vice President of Talent, Capability and Culture at Sage,
where his profound influence extends to shaping innovative talent strategies, nurturing organizational growth, and nurturing a vibrant work culture. 
A specialist in talent management, organizational development, and culture transformation,
Jorge leverages his expertise to orchestrate holistic approaches that empower individuals, drive organizational progress, and
infuse workplaces with positivity. 
His adeptness in fostering dynamic talent ecosystems, fostering development,
and spearheading cultural transformations marks him as a distinguished leader in the realm of talent and culture enhancement.
Chip Conley is an exceptional figure renowned for his pioneering contributions to the hospitality sector,
co-founding the Modern Elder Academy, and making significant strides as a best-selling author and philanthropist. 
His visionary leadership has left an indelible mark on various industries globally.
With a repertoire of successful books including "Emotional Equations" and "Wisdom at Work,"
Chip's literary prowess delves into the depths of emotional intelligence and the fusion of wisdom and workplace dynamics. 
His written insights have resonated with countless individuals seeking personal and professional growth.
Mark Green is a dynamic and influential HR leader who has played a pivotal role
in driving organizational success through his creative and innovative approaches. 
With a deep expertise in leadership development, organizational design, talent management, and coaching,
Mark has consistently demonstrated his ability to shape and elevate teams and companies.
His strategic insights and forward-thinking strategies have not only contributed to the growth and transformation of businesses,
but have also empowered individuals within those organizations to reach their full potential.
Pat Wadors holds the esteemed position of Chief People Officer at UKG, where she also serves as a valued board member.
Renowned for her expertise in the field of human resources and organizational development, Pat's influence extends beyond her corporate role.
She is an accomplished instructor on LinkedIn, where she imparts her vast knowledge and insights to a global audience.
Guided by a deep belief in the potential of individuals, Pat is passionate about effecting positive change in people's lives. 
Her career is a testament to her commitment to empowering employees and fostering an inclusive and engaging work environment. 
Adam R. Wright, M.Ed., Ph.D., is a distinguished expert in the realm of human performance. 
With a deep-rooted passion for understanding and harnessing the intricate interplay
between physical and psychological factors, he has dedicated his career to helping individuals and teams reach their highest potential.
Wright's expertise lies in applying scientific principles to cultivate exceptional performance.
His profound insights and strategic guidance have proven invaluable to elite performers across a spectrum of disciplines,
ranging from sports and business to the performing arts, military, law enforcement, and medicine. 
His impactful work transcends domains, addressing the challenges and demands of extreme, high-stakes, and dynamic environments.
Keith Ferrazzi is a visionary leader and the driving force behind Ferrazzi Greenlight,
a trailblazing organization he founded in 2000. With an unparalleled dedication to unraveling the secrets of team potential.
He has revolutionized the way individuals unite to become a cohesive and high-performing team.
Through Ferrazzi Greenlight's innovative approach, Keith has pioneered the art of unlocking team excellence. 
Over the years, his insights have transformed groups of individuals into tightly-knit teams that drive outstanding outcomes. 
His visionary perspective extends beyond the present,
as he has been at the forefront of exploring how teams can seamlessly integrate hybrid work models to achieve even greater levels of performance.
29. Melissa Anderson
Melissa Anderson is an accomplished leader in the realm of Human Resources,
distinguished by her adept communication skills and a track record of successfully implementing
human capital strategies that foster a vibrant company culture and optimize overall business performance.
With a career spanning nearly three decades in the Human Resources sector,
Melissa has amassed a wealth of experience across diverse industries. 
Her expertise extends to orchestrating cultural transformations that align with evolving business strategies,
spearheading rebranding initiatives, overseeing intricate restructures, providing guidance during acquisitions and divestitures,
and executing global offshoring endeavors.
Harry Elsinga is a globally recognized figure in the realm of Human Resources,
holding the distinguished position of Global Chief Human Resources Officer (CHRO). 
His extensive career spans executive coaching, talent advocacy, and advisory roles, making him a sought-after expert in the field. 
As the Principal Owner of Elsinga Consulting, LLC since June 2020,
Harry has been instrumental in delivering comprehensive HR solutions to businesses and
providing high-level executive coaching services to top-tier executives and emerging talent. 
Residing in the New York City Metropolitan Area, he has been actively engaged in assisting organizations
in refining their talent strategies to achieve optimal outcomes.
Before venturing into consulting, Harry held the pivotal role of Chief Human Resources Officer at Baker Hughes,
where he served from July 2017 to May 2020. Throughout his tenure,
he played a pivotal role in shaping the company's human resources initiatives, driving the advancement of talent development endeavors. 
Latasha James is a dynamic professional with a multifaceted skill set spanning the realms of social media marketing, podcasting, video creation, and digital marketing strategy. 
Her expertise has earned her recognition as an award-winning podcaster and a prominent figure in the digital landscape. 
A true enthusiast for coffee, travel, and community engagement, Latasha is deeply connected to her roots in Detroit and Kalamazoo, Michigan,
where she actively participates in local activities and initiatives. 
Her diverse talents and commitment to both her work and her communities set her apart as a dynamic and influential individual.
D.J. Vanas is a truly remarkable individual whose life experiences have forged a deep connection with the values of the warrior spirit.
As a member of the Ottawa Tribe and a former U.S. Air Force officer,
D.J. draws upon his unique background to inspire others to embody the essence of the warrior spirit in both business and life. 
He emphasizes resilience, courage, and adaptability in the face of challenging and changing environments.
D.J. has shared his dynamic programs with audiences across 49 states and internationally,
delivering his message of strengthening the tribe to organizations like Intel, P&G, IBM, Walt Disney, Costco, NASA, USAA, Subaru, and more,
as well as numerous tribal communities. 
He's been recognized for his insights, being featured in national media
like PBS documentaries and authoring books that inspire personal growth and achievement.
Michael Breus is a distinguished psychologist and sleep specialist who brings his expertise to optimize sleep and circadian
timing for improved productivity and profitability. 
He offers a unique perspective on how sleep patterns and timing can impact individuals and businesses alike.
Michael's focus extends to teaching companies how to leverage sleep and circadian timing to enhance productivity, reduce costs, and ultimately increase revenue. 
He emphasizes the financial impact of sleep-related issues, estimating that each employee can cost a company $3200/year in lost productivity due to sleep and timing challenges.
Liz Fosslien is a work-focused storyteller, author, and keynote speaker with a deep understanding of how to improve work environments. 
She is known for her expertise in helping individuals and organizations navigate emotions in the workplace. 
Liz is the co-author and illustrator of the Wall Street Journal best-seller "No Hard Feelings" and the upcoming book "Big Feelings."
In addition to her role as an author, Liz plays a significant role at Humu, where she leads the communications and content strategy teams. 
Her work involves leveraging her insights to create more effective and positive work experiences for individuals and teams.
Liz is also recognized for her ability to lead interactive workshops that teach practical strategies for effectively managing emotions in professional settings.
Her engaging workshops have been delivered to diverse organizations, including prominent names like Google, NPR, and Viacom.
Liz's expertise and insights have garnered attention from prestigious platforms such as TED, The New York Times, and The Economist.
Her diverse skill set includes content strategy, editorial direction, and team leadership, encompassing brand management, product marketing, and thought leadership.
Story Musgrave is a remarkable individual whose life is characterized by a diverse range of achievements and pursuits. 
With an extensive and varied educational background, Musgrave holds degrees in mathematics and statistics,
operations analysis and computer programming, chemistry, medicine, physiology and biophysics, and literature. 
This multidisciplinary foundation has paved the way for his illustrious career across various fields.
Eric Fleet is a motivated entrepreneur, investor, and advisor known for his diverse range of ventures.
He has made a significant mark in the fashion industry as the founder of Threads 4 Thought.
This company was established with the core goal of producing sustainable and ethically made clothing,
and it has gained acclaim for its strong commitment to environmental and social responsibility.
Joey Pointer is a seasoned business executive who currently holds the position of CEO at Fleet Feet, Incorporated. 
With a career spanning over 19 years with the company, Joey has been instrumental in driving its growth and achievements. 
Before assuming the role of CEO, he served as the Chief Financial Officer (CFO), showcasing his financial expertise and aptitude for fostering financial success.
Joe Moglia is a distinguished figure with a multifaceted career in both the sports and business worlds.
He is renowned as the former head football coach and current chairman of athletics at Coastal Carolina University, where he achieved remarkable success. 
In addition to his sports career, Joe Moglia is a notable business leader, having served as the former CEO and chairman of the board at TD Ameritrade.
Carla Harris is a prominent figure known for her outstanding leadership qualities and dedication to inclusivity and innovation. 
Her professional journey is marked by her tireless efforts to cultivate diverse and inclusive work environments, particularly within the financial industry. 
Her leadership approach is characterized by collaboration, empowerment, and the cultivation of an atmosphere that fosters innovation and creativity.
Guy Raz is a prolific creator and entrepreneur known for his significant contributions to the podcasting world. 
With a diverse range of roles and achievements, he has left a lasting impact on the industry.
Raz is widely recognized as the host and co-creator of several popular podcasts, each catering to different topics and audiences. 
"How I Built This" is a well-known podcast where Raz dives into the stories behind successful businesses and startups. 
This show offers insights into the journeys and challenges faced by entrepreneurs and innovators.
Carson Tate is a seasoned executive coach and trusted advisor with a wealth of experience in leadership development,
organizational effectiveness, and improving employee engagement and productivity. 
With a track record spanning over 20 years,
Tate has played a pivotal role in driving positive change within U.S. Private Equity funds and Fortune 500 organizations.
Tate's expertise lies in strategic planning and execution, transformational change,
employee engagement, C-suite coaching and consulting, leadership and team building, and organizational development.
Eileen McDargh is a highly accomplished CEO, speaker, and expert in leadership, resiliency, and work/life integration. 
As the Chief Energy Officer of The Resiliency Group and McDargh Communications,
she is known for creating an energetic connection that fosters positive change, strong leadership, employee engagement, and the integration of
work and life.
Shellye Archambeau is one of Silicon Valley's first female African American CEOs. 
Formerly an executive at IBM and CMO at two public companies,
Archambeau was recruited to be the CEO of a then-struggling Silicon Valley startup, which is now MetricStream, a recognized global leader in governance, risk, and compliance software solutions. 
She currently serves as a Fortune 500 board member and holds board seats at Verizon, Nordstrom, Roper Technologies, and Okta. 
Her debut book, Unapologetically Ambitious: Take Risks, Break Barriers, and Create Success on Your Own Terms is available to order on shellye.com.
Featured as one of the best business books of 2020 by Fortune.
Nancy Davis Kho is a multi-talented individual known for her impactful work:
She is an engaging speaker who shares insights on various topics.
Her expertise goes beyond speaking, as she's also the author of "The Thank-You Project: Cultivating Happiness One Letter of Gratitude at a Time,"
published by Running Press.
Nancy is the creative force behind "The Midlife Mixtape Podcast," which ran from 2017 to 2021.
The podcast provided a platform for meaningful conversations and connections.
With a solid background in communications,
Nancy Davis Kho possesses proven skills in business development and marketing within the digital content industry. 
Her experience spans cross-channel content development, closing deals, and overseeing projects.
Eve Rodsky is a prominent figure known for her accomplishments.
She is a New York Times Best Selling Author, celebrated for her book "Fair Play," which has garnered wide acclaim. 
Her expertise extends beyond writing, as she is also a sought-after Keynote Speaker, delivering impactful talks.
Eve's journey to writing the book was shaped by her educational background.
She earned her B.A. in economics and anthropology from the University of Michigan, followed by her J.D. from Harvard Law School. 
Her professional journey began with foundation management at J.P. Morgan.
Her commitment to philanthropy led her to establish the Philanthropy Advisory Group. 
Through this venture, she advised high-net-worth families and charitable foundations on harmonious operations, governance,
and fund disbursement.
Christy Noel is a seasoned professional specializing in B2B demand generation and content marketing for SaaS tech companies. 
Her approach is both data-driven and strategic, resulting in a proven track record of delivering measurable results even with limited resources. 
Her expertise shines in boosting lead generation and product recognition through adept orchestration of advertising, sales,
and customer success programs, showcasing her ability to achieve impactful outcomes without the need for substantial budgets.
Demetra Liggins is a distinguished corporate bankruptcy attorney who excels in creating innovative solutions for clients facing financial crises. 
Her expertise lies in employing out-of-court restructuring and bankruptcy options to assist a diverse range of clients
including debtors, creditors, trustees, and committees across various industries.
Tiffany Dufu is a remarkable individual known for her leadership in empowering women and promoting collaboration. 
She is the founder and CEO of The Cru, an innovative platform that utilizes algorithms
to connect groups of women who collaborate to achieve their personal and professional goals. 
Her influential book "Drop the Ball: Achieving More by Doing Less" has garnered significant acclaim,
being described by Gloria Steinem as "important, path-breaking, intimate and brave."
Recognized as one of Entrepreneur's 100 Powerful Women and a member of Fast Company's League of Extraordinary Women,
Tiffany's advocacy for women and girls has resulted in raising nearly $20 million. 
She is a sought-after speaker on women's leadership and has presented at prominent events
such as Fortune Magazine's Most Powerful Women Summit, MAKERS, and TEDWomen.
AmyK Hutchens is a dynamic speaker and consultant who empowers business owners and leaders to communicate effectively and achieve their goals. 
With a wealth of experience, AmyK specializes in helping individuals scale their businesses, build fulfilling relationships, and master their mindsets.
Kate McGuinness is a multi-talented individual known for her roles as an author, speaker, and coach. 
Her recent release, "Confidence Lost / Confidence Found: Strategies to Reclaim the Unstoppable You,"
draws on neuroscience discoveries to provide readers with practical strategies for boosting confidence. 
This book is a product of Kate's extensive experience as a certified coach and the founder of Empowered Women Coaching.
In her coaching practice, Kate empowers women to enhance the quality of their lives by achieving self-identified goals. 
These goals often involve managing perfectionism, overcoming inner critics, and navigating professional and personal transitions. 
With a rich blend of experience, wisdom, and warmth, Kate approaches coaching in a unique and impactful way.
Grow Your Audience with Career Expert Guests:
When you invite guests to your career podcast, their followers and fans come along too.
If they talk about being on your show, their audience might get curious and listen in.
It's like getting a bonus audience!
By having guests, you're not only speaking to your listeners, but you're also reaching theirs. It's a smart way to increase your audience without much extra effort.
You can find more guests in our Guest Directory
As you aim to expand your listenership through connections with career experts,
The next crucial stride is ensuring your career podcast gains wider recognition by securing a spot in the career podcast directory.
List Your Career Podcast in Podcast Directory to Get More Exposure.
As you aim to expand your listenership through connections with career experts,
The next crucial stride is ensuring your career podcast gains wider recognition by securing a spot in the career podcast directory.
Beautiful and SEO-friendly podcast profile:
A beautiful podcast profile is like making a great first impression. 
With an appealing design, you capture people's attention and encourage them to explore your career podcast.
And when it's SEO-friendly, search engines grasp the essence of your podcast's focus.
This ensures your career podcast pops up when people search for related topics, expanding its reach and impact.
New listeners from PodRapport:
PodRapport acts like a bridge that connects podcasters and listeners. 
When you're part of this platform, you're opening the door to a whole new group of potential listeners. 
People who use PodRapport can easily find your podcast, leading to more listeners tuning in and enjoying your Career podcast. 
It's like expanding your reach and inviting new fans to join your podcasting journey.
Attract Experts to Be Your Guests:
Inviting experts as guests to your podcast brings a lot of worth. 
They share their valuable insights, which enriches your podcast and makes it even more engaging. 
The interesting part? Experts often have their own dedicated followers.
When they feature on your podcast, their followers can become intrigued and start listening in.
It's a mutual win-win collaboration that benefits you, your expert guests, and your eager audience.
Attract Valuable Podcast Sponsors to Your Career Podcast:
As your career podcast gains traction and loyalty from listeners, it transforms into an appealing prospect for potential sponsors.
These sponsors recognize the value of being associated with your influential podcast.
Their support brings more than just financial backing.
It opens doors to resources that can help you enhance every aspect of your podcast – from refining content to amplifying audience engagement.
Sponsors' involvement contributes to the overall growth of your career podcast,
enabling you to create even more compelling episodes and provide your audience with enriched experiences.
Showcase Guest Highlights for More Impact:
Highlighting your podcast guests is like showing off your all-star lineup. 
When you talk with the awesome guests you've had, new guests might be interested in joining too. 
Plus, listeners can be excited to hear from these notable personalities.
Display Sponsor Banner Ads on Your Career Podcast:
Once you secure sponsors, they may want to showcase their ads during your podcast.
Consider it as having eye-catching billboards in a bustling location – they catch attention.
This gesture not only expresses gratitude to your sponsors but also introduces your audience to valuable products or services they may find appealing.
Become a Featured Guest in the Career Podcast Space (unless it's your competition 😅):
Unless you're in direct competition, taking the guest seat on podcasts presents a golden opportunity to share your insights.
Our curated podcast lists and guest directory serve as navigation tools, directing you to shows eager to feature you.
It's a mutually beneficial endeavor – you spotlight your expertise while the podcast gains valuable content.
Whether you're a seasoned professional or hold a distinctive viewpoint, this is your entrance to becoming a sought-after guest on career podcasts.
Unlock the Perks of PodRapport's Expert Guest List for Your Career Podcast:
Dive into the advantages of using PodRapport's expert guest list for your career podcast. 
Discover how this curated collection of insightful voices can elevate your content and engage your listeners,
enhancing your podcasting experience.
Handpicked and curated expert guests for Career podcasts:
Benefit from a curated collection of expert guests perfectly aligned with your podcast's themes. 
Each guest is thoughtfully selected to share valuable insights and diverse viewpoints with your audience.
Saving time for research and Podcast guest outreach:
Say goodbye to endless hours of searching for the right podcast guests. 
With PodRapport's expert guest list, you'll reclaim precious time to focus on creating captivating podcast episodes that resonate with your audience.
Effortless Guest Booking:
With PodRapport's user-friendly platform, guest booking is a breeze. No more juggling schedules or dealing with complicated communication.
The platform streamlines the process. so you can focus on creating great podcast episodes.
Networking opportunity with industry experts:
PodRapport goes beyond podcasting, offering a special networking avenue.
Build relationships with experts and thought leaders, expanding your professional circle and creating opportunities that stretch beyond your podcast episodes.
Suggest any recommendations?
Is there an industry expert you feel deserves recognition in this list?
Do you have insights about outstanding Career podcast guests who would be a perfect fit here? 
I'm eager to hear your thoughts! Your input is a treasure trove of insights, and I genuinely appreciate your contribution. 
Please don't hesitate to share any expert Career guests you know of. 
Your contributions will help us expand and enrich this valuable collection.
Contact us for your recommendations.
Thank you for being a part of this journey. We're excited to witness your career podcast thrive and blossom.
Wishing you the best of luck, and may your podcasting adventure bring growth, engagement, and valuable connections.