33 Leadership Podcasts List - Featuring Expert Guest Appearances
Leadership podcasts are becoming increasingly popular. They offer a convenient way to learn and get inspired, even if you have a busy schedule. 
These podcasts can ignite your creativity and help you become a better leader.
We've put together a list of 33 outstanding leadership podcasts. 
They feature interviews with successful leaders, deep discussions on leadership strategies, and practical tips for improving your leadership skills.
Explore our selected podcasts to connect with your ideal audience, develop your leadership skills, and stay updated in the world of leadership.
The People Managing People Podcast is a platform that features a diverse array of guests and seeks to inspire people leaders, managers, and HR professionals. 
It covers a broad spectrum of topics related to effective team management and leadership. These topics include the future of work, employee engagement, retention strategies, leadership development, workplace culture, and productivity. 
The podcast serves as a valuable resource for professionals looking to enhance their management and leadership skills while staying informed about the latest trends and best practices in HR and people management.
"Leadership Next" is a podcast presented by Fortune CEO Alan Murray and Editor-at-Large Michal Lev-Ram. 
This podcast delves into the evolving role of CEOs and their profound influence on both the business world and society as a whole. 
It examines how CEOs are adapting their leadership approaches to inspire and energize their workforce while also becoming more engaged in addressing pressing issues such as climate change, employee reskilling, diversity, and inclusion.
The podcast showcases interviews with CEOs and notable figures from the business realm, shedding light on how they are instigating transformation within their organizations and sectors. 
These conversations also delve into the strategies these leaders employ to effect positive change in society at large.
"Unlabeled Leadership" is an engaging podcast, spearheaded by the host, Gary DePaul. It diverges from conventional leadership discussions that often rely on labels, which might obscure the genuine essence of leadership. 
This volunteer-driven podcast boasts a global reach, with a dedicated audience spanning 87 countries and 963 cities worldwide.
Its core mission centers on presenting personal leadership stories, offering a profound source of wisdom and motivation for leaders and those on the leadership path.
"The Global Leadership Podcast" caters to the curiosity of leadership enthusiasts by providing them with engaging conversations featuring dynamic guests. 
These discussions delve deep into the personal leadership journeys of these guests, offering a glimpse into their values, learning from their mistakes, and benefiting from their valuable advice.
The show is skillfully hosted by Lori Hermann, Vice President of Summit Experiences & Production at Global Leadership Network, and Jason Jaggard, Founder & CEO of Novus Global. 
"Take Command: A Dale Carnegie Podcast" places leadership at the forefront of the ever-evolving modern landscape.
As the CEO of Dale Carnegie, Joe Hart hosts engaging discussions with a diverse array of leaders hailing from different industries. 
These conversations are a wellspring of wisdom and practical knowledge, poised to empower listeners and propel their growth as leaders.
The podcast's strength lies in its capacity to draw insights and experiences from real-life stories and unique perspectives.
In doing so, it provides invaluable guidance and a wellspring of inspiration, ultimately paving the way for leadership success.
The "Vanderbloemen Search Group" podcast is a dedicated resource designed to support leaders in the task of building, operating, and sustaining exceptional teams. 
It narrows its focus on engaging with church leaders deeply entrenched in ministry.
In each episode, the podcast hosts enrich their audience with dialogues featuring leaders whose narratives are both inspiring and instructive. 
These seasoned leaders come armed with firsthand experiences, ranging from team triumphs to conquering setbacks,
managing through turbulent periods, or diligently pursuing personal growth as leaders. 
"The Leadership Habit" podcast, brought to you by Crestcom International, is a dynamic platform crafted to offer motivation and invaluable perspectives. 
It is tailored to empower individuals in reshaping their behaviors, instigating enduring transformations, and attaining triumphs in their leadership voyage.
The podcast leverages the profound expertise and extensive know-how of the Crestcom Leadership Institute, a globally recognized entity renowned for nurturing leadership teams.
By orchestrating immersive dialogues, illuminating interviews, and a rich tapestry of enriching content,
"The Leadership Habit" podcast unveils actionable counsel and strategies. 
"The Unburdened Leader" podcast, led by Rebecca Ching, LMFT, spotlights the expedition of leaders who've confronted personal tribulations,
persevered, and emerged as fortified and more influential figures.
The podcast serves as a wellspring of insights, tactics, and motivation, tailoring its content to assist leaders in maneuvering their own challenges,
evading burnout, and championing leadership characterized by authenticity and efficacy.
In every episode, "The Unburdened Leader" engages in dialogues with leaders who've triumphed over an array of hurdles and cultivated both
personal and professional ascendancy. 
"The Engineering Leadership Podcast," presented by The Engineering Leadership Community (ELC),
serves as an illuminating resource tailored to enhance leadership within the tech industry. 
Its primary objective is to furnish valuable insights, habits, and real-world examples exemplifying exemplary software engineering leadership.
Every episode embarks on an exploration of the narratives and journeys of prominent figures in software engineering leadership. 
This firsthand knowledge imparts firsthand wisdom and viewpoints on what it takes to thrive as a successful leader in the tech field. 
"An Imperfect Leader: The Superintendents and Leadership Podcast" is hosted by Peter Stiepleman,
a leader who openly acknowledges his imperfections. 
This podcast offers a platform for leaders to engage in introspection, reflecting on their past choices and sharing invaluable insights and wisdom
gleaned from their diverse experiences.
"Building Better Leaders" is a podcast brought to you by Scaffold Coaching, hosted by the founders of Scaffold Coaching,
Rachael Sullivan and John Tattersall. 
This podcast is a valuable resource dedicated to empowering leaders to achieve optimal results not only for themselves but also for their teams and organizations.
The content of "Building Better Leaders" spans a wide array of topics pertinent to the realms of work and leadership. 
The podcast features engaging interviews with guests hailing from diverse backgrounds,
offering audiences a glimpse into their personal journeys of leadership.
"Leaders & Learners," presented by Sand and Shores Production, is a thought-provoking podcast hosted by Tonya McKenzie. 
This platform serves as a conduit for engaging and enlightening conversations with a diverse array of individuals. 
Among the guests featured on the show are elected leaders, organizational leaders, experts, authors, and artists. 
In each episode of "Leaders & Learners," listeners have the opportunity to delve into the captivating narratives of these remarkable individuals.
"The Evolving Leader" is a thought-provoking podcast hosted by Jean Gomes,
a New York Times bestselling author, and Scott Allender, an award-winning leadership development specialist. 
This show is positioned within the context of the world's ongoing "great transition,"
characterized by rapid technological advancements, pressing environmental challenges, and profound societal changes. 
These transformations demand a higher level of commitment and depth from leaders.
In recognition of the urgency matching the pace of change, Jean and Scott delve into intricate subjects that leaders confront in today's swiftly evolving world. 
"The Team Anywhere Leadership Podcast," hosted by Mitch Simon and Ginny Bianco-Mathis,
is committed to featuring leaders who are pioneering the development of teams and cultures
where the majority of employees are dispersed across various locations. 
These remote leaders are redefining the way teams collaborate and connect, whether they are located within a city, state, country, or even globally.
The podcast explores the innovative strategies and practices employed by these leaders to cultivate engagement, trust, authenticity,
and a profound sense of community among their geographically dispersed teams.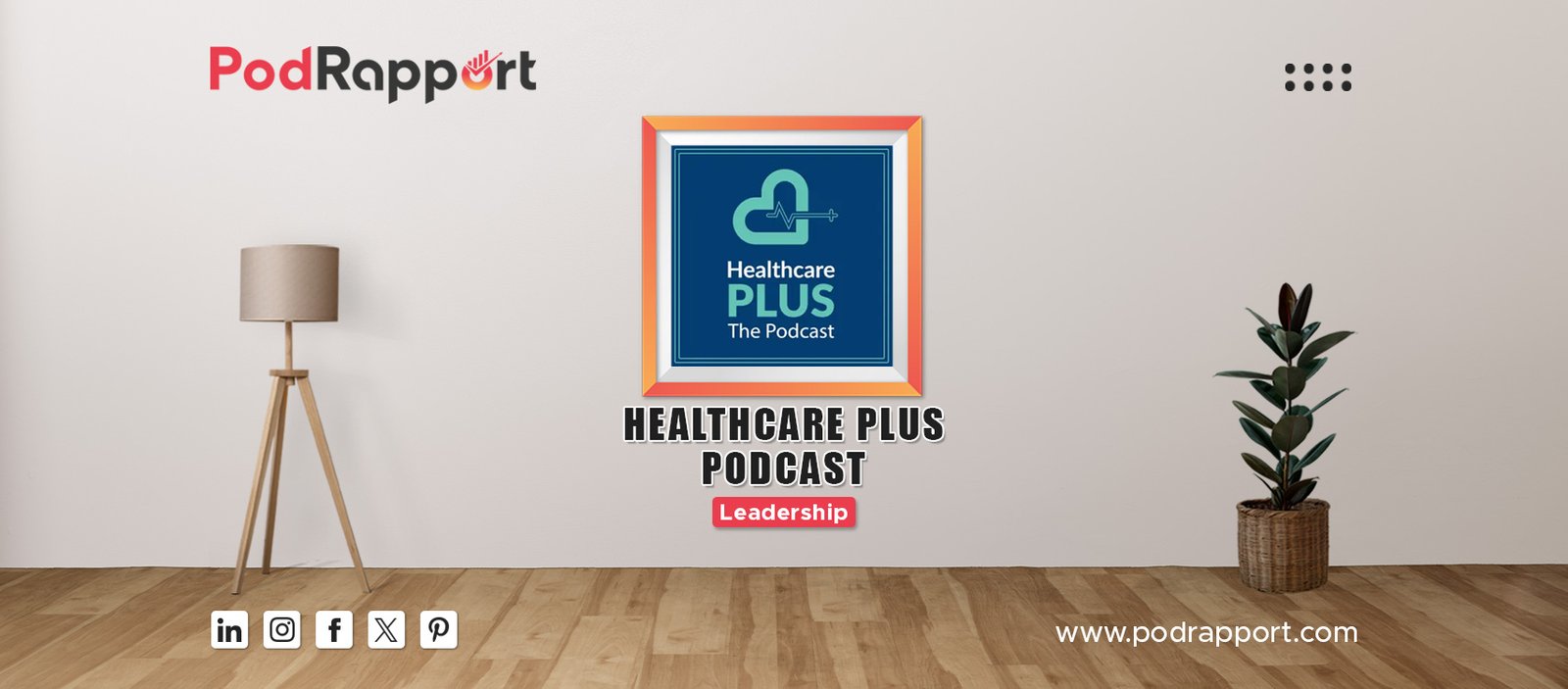 "The Healthcare Plus Podcast," hosted by Quint Studer and Dan Collard, has evolved to better serve its audience and highlight the healthcare
changemakers who are driving the industry forward.
As a podcast ranked in the top 10% in the U.S., it has garnered significant support.
The show features weekly discussions with healthcare leaders and changemakers who share valuable insights about the industry. 
Quint Studer and Dan Collard, co-founders of Healthcare Plus Solutions Group, lead these conversations,
facilitating meaningful dialogues that empower listeners in the healthcare field and beyond.
"Framework Leadership," hosted by Kent Ingle and a part of the SEU Media Network,
is a podcast dedicated to exploring the journeys and wisdom of highly successful and innovative leaders from diverse fields. 
In each episode, Kent engages in thoughtful conversations with these leaders, delving into their backgrounds,
the evolution of their leadership abilities, and their strategies for steering their organizations toward achievement.
The podcast offers listeners a unique chance to glean insights from accomplished leaders and gain a deeper understanding of their individual experiences and philosophies.
"The X Factor: The Human Performance & Leadership Podcast with Dr. Stephen Long" is an engaging podcast that assembles leaders from
diverse fields, including business, military, sports, and academia. 
Dr. Stephen Long hosts this dynamic show, which delves into various themes encompassing human performance, effective leadership, talent
maximization, and strategic implementation.
"Innovating Leadership: Co-Creating Our Future" is a podcast by the Innovative Leadership Institute. 
This podcast is carefully crafted to empower leaders with the most current insights and concepts essential for nurturing innovation,
fostering learning, and facilitating growth, whether for their teams, businesses, or personal development.
Maureen Metcalf hosts the show, and each episode introduces a new interview with notable individuals from diverse backgrounds. 
"Leaders on Leadership" is a podcast presented by Academic Search Inc. 
This captivating series showcases contemporary leaders in higher education, allowing them to share their personal journeys and provide
invaluable insights into leadership within academia. 
Jay Lemons serves as the host, guiding each episode's thoughtful conversations and bringing forth diverse perspectives. 
Through these discussions, listeners gain a deeper understanding of the unique challenges and successes associated with leadership roles in the
realm of higher education.
"Leadership 2050" hosted by Andrew White. Each episode features insightful conversations with visionary leaders from
the business community who are at the forefront of shaping a more equitable and sustainable future.
"Leadership 2050" is dedicated to showcasing the innovators and change-makers who are setting the agenda for the years ahead.
Through these discussions, listeners gain access to the experiences and perspectives of these exceptional leaders as
they tackle pressing global challenges and uncover innovative solutions.
"Leadership Amplified," hosted by Dr. Karen Morley, is a podcast that explores leadership as a valuable resource for organizations. 
It provides practical insights to help leaders engage and inspire their teams while emphasizing leadership as a service. 
The podcast covers key themes, including emerging inclusive leadership, leadership in a virtual world, developing leadership skills, and sharing leadership stories and insights through interviews.
"Leadership at the Edge," a monthly podcast hosted by John Mark Williams.
John Mark the CEO of the Institute of Leadership & Management.
In this podcast, senior leaders from diverse industries gather to delve into genuine leadership experiences and dilemmas. 
The podcast serves as a means to challenge antiquated leadership methods and provide a new outlook on the intricacies confronted by leaders in the ever-evolving contemporary landscape.
"Leadership BITES," hosted by Guy Bloom, is a podcast dedicated to engaging conversations with extraordinary individuals who leave an indelible mark on the world. 
The heart of the podcast lies in leadership, aiming to motivate and celebrate leaders' constructive impacts,
all the while encouraging them to refine their leadership style.
In the course of thought-provoking discussions, Guy Bloom explores multifaceted facets of leadership, navigating through diverse viewpoints and imparting valuable wisdom. 
"Leadership Conversations with Inspirational People," hosted by Rishan Barat, is a podcast committed to delivering valuable content and wisdom
to assist individuals in their personal growth, professional pursuits, and leadership quests.
Through captivating dialogues with inspirational figures, Rishan Barat delves into a wide array of leadership-related subjects,
providing listeners with a trove of insights and actionable guidance. 
"The David McQueen Podcast," hosted by David McQueen, is a dynamic show that explores leadership across various domains,
including the workplace, academia, and civic society. 
With unapologetic insights and thought-provoking interviews, this podcast delves into effective leadership strategies and challenges common leadership misconceptions.
David McQueen, drawing from his extensive experience and expertise, shares proven methods that have the potential to revolutionize your approach to leadership.
"The Leadership Excellence Podcast," hosted by Danny Langloss, is committed to unlocking the potential of individuals and organizations by
emphasizing the critical role of leadership. 
Understanding that leadership is a key factor in determining success, this podcast seeks to inspire listeners to take charge and contribute to a brighter future.
The podcast embraces the idea that leaders worldwide are actively shaping the course of the future through their actions and decisions.
"Leadership in Action" is a podcast brought to you by eoleadershipinaction. 
Hosted by Mark Stiles, the podcast features enlightening discussions with entrepreneurs from the EO Boston community. 
This show delves into the experiences of emerging entrepreneurs as well as established leaders who have achieved remarkable success in their businesses.
Through candid and firsthand narratives, the podcast offers valuable insights into the trials and triumphs that these leaders have encountered on their entrepreneurial journeys.
"Leadership in the Digital Enterprise" is an insightful podcast presented by ITWC. 
This show is tailored for executives and entrepreneurs seeking valuable insights and resources to successfully lead organizations in the digital era. 
It zooms in on the critical junction of leadership and technology, uncovering the essential strategies and skills required to steer organizations
that heavily rely on technology for innovation and expansion.
"Leadership Lane with Rita Cincotta" is a captivating podcast that delves deep into the realm of leadership. 
Whether you're actively seeking leadership roles or have found yourself unexpectedly in leadership positions,
this podcast is a valuable resource for exploring various facets of leadership. 
Hosted by Rita Cincotta, the show features conversations with leaders from diverse fields, offering insights, experiences, and unique perspectives on leadership. 
"Leadership LIVE @ 8:05! Podcast - Talking Small Business" is a dedicated podcast aimed at helping business owners enhance their leadership skills. 
Hosted by Andrew Frazier, known as The Business Growth Pro and CFO, the podcast brings together accomplished entrepreneurs and business owners
who generously share their insights and experiences concerning effective leadership in the realm of small businesses. 
Each episode features engaging conversations with guests who have achieved notable success in their respective industries,
offering valuable takeaways for business owners and leaders.
The "Leadership Loading Podcast," presented by Go Heroes Inc., serves as a valuable resource for individuals looking to enhance their leadership abilities. 
Hosted by Jason McClaren, the podcast delivers insightful interviews with experts and offers practical guidance
on the journey toward personal and professional growth through effective leadership. 
Jason engages with guests who generously share their expertise, tools, and techniques, providing motivation and encouragement to listeners. 
"Leadership Purpose with Dr. Robin," hosted by Robin L. Owens, Ph.D., is a podcast
tailored for purpose-driven women consultants and trainers aiming to amplify their impact through non-fiction books. 
Dr. Robin, an esteemed college professor, author, speaker, and leadership purpose coach, leads invigorating discussions with industry experts. 
These engaging conversations, combined with solo episodes, provide practical tips, valuable tools, and essential advice
on leveraging non-fiction books to enhance one's business and achieve a more profound sense of purpose in leadership.
"Leadership Re-Imagined," hosted by Dr. Jane Lovas, is a podcast that welcomes leaders to engage in impactful and enjoyable conversations
aimed at exploring fresh possibilities and re-imagining their leadership approach. 
Dr. Jane, a visionary thought leader, author, and speaker, emphasizes the pivotal point in leadership journeys
where leaders can shape a new future instead of being passive recipients of external forces. 
Active participation in these conversations can lead to the creation of a powerful vision for companies and inspire employees and stakeholders to partake in this transformative journey.
Benefits of this Curated 33 Leadership Podcast List:
Now that you have access to our curated list of Leadership Podcasts, let's explore the benefits it brings:
Offer Up-To-Date Episodes With New Insights :
Enjoy the latest episodes regularly, ensuring you're always up-to-date.
This means you won't miss out on new leadership strategies and can stay informed about the latest trends and insights.
It's like having a constant flow of up-to-date information right at your fingertips.
You can find more podcasts in our Podcasts Directory.
Open Doors to Leadership Podcast Guesting Opportunities:
These podcasts offer more than just insightful listening.
They present you with remarkable chances to become a featured guest.
It's like an exclusive invitation to showcase your expertise and connect with a broader audience of fellow leaders and aspiring professionals.
Join our exclusive Guest Directory to access even more opportunities to showcase your expertise.
Saving time for Research and Outreach Efforts:
Say goodbye to time-consuming research and reaching out.
With this list, you don't need to spend hours looking for podcasts or contacting them. 
It's like having a shortcut to valuable resources without the hassle of searching. 
You can focus your time on listening and engaging instead.
Promote Your Business Products through Sponsorship:
If you have valuable products or services to offer, sponsoring these shows provides a unique opportunity to showcase what you bring to the table.
It's like getting the word out about what you offer to an interested audience.
(A friendly tip: If you're a competitor, remember that the welcome might not be as warm! 😉)
Join our exclusive Sponsor Directory to access even more opportunities.
Have any recommendations?
Do you have a great Leadership podcast in mind that you'd like to see featured here? Your recommendations are like gold to us!
We're dedicated to making this resource as comprehensive and beneficial as it can be.
So, if you know of any outstanding podcasts that deserve a spot on this list, please don't hesitate to share them.
Feel free to share any awesome podcasts you're aware of, so we can continue enhancing this collection. 
Contact Us for your recommendations. 
I wish you the utmost success on your leadership podcast journey.
Don't hesitate to share this valuable resource with your fellow leaders, colleagues, and peers in your professional network. 
Let's collectively expand our knowledge and create a positive impact on the world of leadership. 
Together, we can inspire and empower the leaders of tomorrow.