20 Marketing Podcast List - Featuring Expert Guest Appearances
Ready to supercharge your marketing skills? We've curated an exclusive list of marketing podcasts just for you.
Introducing our handpicked selection of the top 20 guest-focused Marketing Podcasts.
Check out our handpicked top 20 guest-focused Marketing Podcasts. 
These podcasts are packed with useful tips and ideas. 
They're great for experienced marketers looking to level up and for anyone curious about the world of marketing.
Don't miss out on this fantastic resource to boost your marketing podcast journey!
"Marketing Smarts from MarketingProfs" is a 30-minute podcast presented by MarketingProfs. 
It offers in-depth interviews with intelligent marketers from various backgrounds. 
This podcast serves as a valuable resource for subscribers, providing actionable insights and practical advice to enhance their marketing strategies. 
By complementing the content available on marketingprofs.com, it equips listeners with the knowledge and expertise needed to market more intelligently and effectively.
"The Brave Marketer" Podcast, marketers are confronting the task of achieving greater results with limited resources while adjusting to evolving consumer preferences in an unpredictable economic environment. 
This podcast delves into the field of advertising within this bold new reality, addressing themes like ethical advertising,
consumer privacy, Web3 marketing, cryptocurrencies, the creator economy, and beyond.
Audiences can anticipate engaging conversations with marketing trailblazers who are skillfully and thoughtfully maneuvering through this uncertain terrain, showcasing courage in their strategies and tactics.
AdExchanger Talks is a well-received podcast focused on advertising and marketing technology. 
Hosted by AdExchanger, a leading voice in the ad tech sector, this podcast offers valuable insights into the ever-evolving advertising and marketing landscape. 
Through extensive interviews with key figures in the industry, the podcast, led by senior editor Allison Schiff,
explores critical topics and emerging trends that hold significance for brand marketers, ad agencies, publishers, media companies, and technology providers alike.
"Brainfluence" is a podcast hosted by Roger Dooley, renowned author of "Brainfluence: 100 Ways to Persuade and Convince Consumers with Neuromarketing." 
This podcast serves as a fascinating exploration of the convergence between psychology, behavior research, neuroscience, and marketing.
Its primary goal is to provide actionable insights and strategies that empower individuals to enhance their persuasive abilities across various aspects of life.
"The Revenue Marketing Report" podcast, hosted by industry expert Camela Thompson. 
This podcast is a valuable resource designed to support marketers in their journey from being subject matter experts to becoming strategic business partners. 
With an impressive 15 years of experience in revenue operations within the tech industry, Camela Thompson brings a wealth of knowledge to the podcast.
The podcast is squarely focused on the world of B2B marketing, offering actionable insights and strategies. 
"The Marketing Intelligence Show," presented by Supermetrics, is a podcast tailored to assist marketing leaders in unlocking the potential of data to fuel growth and enhance the effectiveness of their marketing endeavors.
In each episode, listeners can expect to hear from experts at Supermetrics who provide actionable insights and strategies for harnessing data to optimize marketing investments and achieve superior results.
The 'All Things Book Marketing' podcast, hosted by Smith Publicity, offers a comprehensive exploration of the intricacies of book publicity and marketing. 
Featuring expert guests from the industry, the podcast provides valuable insights and strategies specifically tailored for authors and publishers. 
Topics covered include book promotion, enhancing visibility, and effectively reaching the intended readership. 
This podcast serves as a valuable resource for individuals navigating the challenges of promoting and generating interest in books.
The How To Do Marketing Show, hosted by marketing consultant and author Jane Hillsdon.
This podcast serves as a valuable resource for small business owners aiming to navigate the complexities of marketing effectively. 
With a straightforward approach and a genuine passion for the field of marketing, Jane combines her expertise with insights from accomplished marketers. 
The podcast offers practical advice, thought leadership, and simple yet powerful strategies to help businesses achieve outstanding results in their marketing efforts.
The Life of a Social Media Manager podcast, presented by Socialinsider, offers a unique glimpse into the daily lives and experiences of professionals working in the dynamic field of social media management. 
Through candid conversations and expert insights, this podcast serves as a valuable resource for individuals seeking to build a rewarding and successful career as a social media manager.
Listeners can expect to gain practical tips, industry advice, and a deeper understanding of the challenges and opportunities in the world of social media management.
The Marketing Rules Podcast, hosted by James Whitelock, is a dedicated resource for professionals in the field of Recruitment Marketing. 
Produced by ThinkinCircles Ltd, this podcast delivers valuable insights, strategies, and engaging discussions on all facets of Recruitment Marketing. 
Through informative conversations with leaders and influencers in the Recruitment Marketing field,
each episode offers a comprehensive exploration of the latest trends, emerging technologies, and best practices. 
Marketing Over Coffee is a dynamic marketing podcast hosted by John Wall and Christopher Penn. 
This engaging show offers weekly discussions on the latest developments and trends in the marketing industry. 
Recorded at a local coffee shop in Natick, MA, just outside of Boston, the hosts infuse their expertise and insights into a diverse array of marketing subjects. 
Whether you're a seasoned marketer or just starting in the field, Marketing Over Coffee provides valuable insights and updates to keep you at the forefront of the marketing landscape.
"This is Product Marketing" is an insightful podcast brought to you by Product Marketing Hive. 
The show delves into a wide array of topics related to product marketing, product management, and technology marketing.
Led by seasoned industry experts, each episode of the podcast showcases engaging interviews with thought leaders and distinguished
professionals within the realm of marketing and product management.
"Content and Conversation: SEO Tips from Siege Media" is a podcast hosted by Siege Media and helmed by its founder, Ross Hudgens. 
This engaging podcast is dedicated to equipping listeners with practical insights and strategies aimed at enhancing their prowess in content marketing, search engine optimization (SEO), and associated areas. 
By tuning in, you can glean valuable advice and stay up-to-date with the latest developments in these fields.
"The Long Game" is a podcast hosted by Allie Decker, David Ly Khim, and Alex Birkett. 
This podcast centers around the theme of long-term thinking and showcases personal and business success stories that emphasize the value of this perspective. 
The hosts engage in insightful discussions to uncover the frameworks, principles, and key takeaways that contribute to success in various business endeavors. 
"The Digital Marketing Podcast" is a highly regarded weekly podcast hosted by Ciaran Rogers and Daniel Rowles. 
This podcast boasts a global audience, with listeners spanning over 180 countries worldwide. 
The show is a valuable resource for digital marketers, offering a wealth of insights, interviews, news, tools, strategies,
and techniques to help elevate your digital marketing endeavors.
Listeners can expect comprehensive coverage of diverse digital marketing topics, including but not limited to SEO (Search Engine Optimization),
social media marketing, content marketing, email marketing, paid advertising, analytics, and much more.
"The Copyblogger Podcast" is a well-respected and widely followed weekly podcast presented by Tim Stoddart and Ethan Brooks.
Produced by Copyblogger Media LLC, this podcast is a go-to resource for professionals in the fields of content marketing,
copywriting, email marketing, conversion optimization, mindset, and related topics.
Every episode of the show features a lineup of rotating experts who bring their wealth of knowledge to the forefront. 
They offer valuable insights, analysis, and actionable tips on a wide range of digital marketing subjects,
making this podcast a must-listen for anyone looking to upskill in the digital marketing sphere.
"Marketing Made Simple" is a weekly podcast that packs a powerful marketing punch. 
Hosted by J.J. Peterson and April Sunshine Hawkins, this podcast is your go-to source for simplifying and mastering marketing.
Every episode is a treasure trove of practical tips and strategies designed to make marketing feel like a breeze. 
From honing your message to crafting a compelling website, from launching successful email campaigns to turning leads into loyal customers,
J.J. and April cover all the marketing essentials.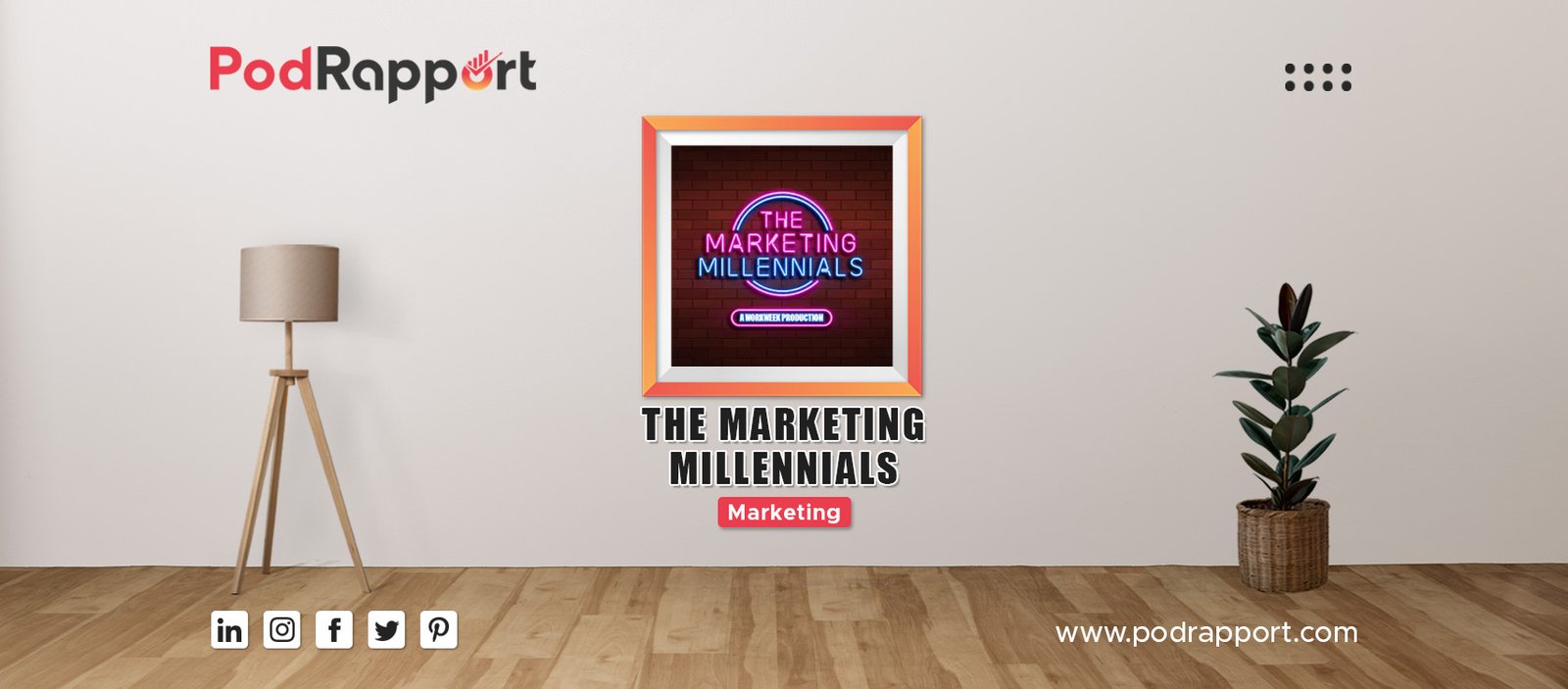 "The Marketing Millennials," hosted by the energetic and unapologetically candid Daniel Murray, is your ticket to a no-holds-barred exploration of marketing. 
Say goodbye to stale, conventional marketing podcasts and get ready for fresh perspectives from the brightest minds in the field.
Daniel dives headfirst into conversations with marketing's crème de la crème, peeling back the layers of their playbooks and uncovering the secret ingredients to their success.
"Marketplace Tech," presented by the knowledgeable Marketplace Tech staff, is your daily ticket to unraveling the complexities of the digital economy. 
In easily digestible episodes, each lasting less than 10 minutes, this podcast offers a concise yet profound exploration of how technology shapes not only our individual lives but also the larger economic landscape.
Expect this podcast to venture beyond the obvious, delving into the surprising and nuanced ways in which technology, business, and the digital realm intersect and impact our world.
"The Brendan Burns Show," curated by the charismatic Brendan Burns, serves as a roadmap to personal transformation and progress in various life domains.
Whether your goals encompass financial prosperity, personal satisfaction, enriching travel escapades, or holistic self-improvement,
this podcast presents high-caliber coaching strategies that can unlock your full potential.
Benefits of this Curated 20 Marketing Podcast List:
Now that you have received the list of 20 Marketing Podcasts, let's explore some of the advantages it brings to your marketing journey.
Stay Informed with Fresh Insights:
With this list, you'll always have access to the newest podcast episodes. This means you can keep up with the latest trends and insights in the world of marketing.
Open Doors to Marketing Podcast Guesting Opportunities:
These marketing podcasts provide more than just enjoyable listening experiences.
They offer you the chance to become a guest.
It's like a special opportunity to display your expertise and engage with a broader audience.
interested in becoming a guest? You can register yourself in the Guest Directory.
Saving time for Research and Outreach Efforts:
Say goodbye to time-consuming research and reaching out.
This list means you don't have to spend hours searching for marketing podcasts or trying to contact them.
It's like having a quick and easy way to find valuable resources, so you can focus on listening and engaging instead.
Promote Your Marketing Podcasts through Sponsorship:
Want to get the word out about your products or services? Consider sponsoring these marketing podcasts.
It's like having a loudspeaker for your offerings, reaching a highly interested audience.
(Just a little note: If you're a competitor, they might not be too thrilled about it 😉)
Have any recommendations?
If you have a marketing podcast that you enjoy and would like to see included in our list, please share it with us. I'd love to hear from you. 
Your recommendations are incredibly valuable and will help make our resources even better.
Feel free to reach out to us and tell us about the marketing podcasts you love. Your input is highly appreciated!
Contact us for your recommendations. 
Best of luck on your exciting marketing podcast adventure!
Don't forget to share it with your fellow marketing coworkers, and peers to extend our collective knowledge and create a positive influence together.