50 Management Consultant Podcast Guests - Unlocking Exceptional Insights
Navigate the World of Management Consulting with Ease - Explore a Constellation of Expertise in Our Management Consultant Podcast Guest Directory.
Each podcast features insightful interviews with experts in management consulting. 
They share valuable tips on topics like strategic planning, effective leadership, and more.
Introducing our carefully curated lineup of 50 Management Consultant Podcast expert guests.
It's a valuable repository of industry wisdom to help you refine your consulting skills, stay current with industry trends, and excel in the dynamic world of management consulting.
Roberta Fusaro is a highly accomplished Executive Editor at McKinsey & Company, a renowned global management consulting firm. 
With over nine years of experience in her role, Roberta has honed her expertise in a wide range of areas, including writing, editing, research, reporting, and podcast production.
Roberta's primary objective is to engage and enlighten audiences through the creation of meticulously crafted content. 
This content spans various mediums, including articles, books, blogs, and podcasts.
Mina Alaghband is a distinguished business leader renowned for her achievements in steering technological and commercial advancements. 
She has held the esteemed position of Partner at McKinsey & Company, a world-leading management consulting firm, since January 2018.
In her role as a Partner at McKinsey & Company, Mina takes on the crucial responsibility of providing strategic guidance to clients on a wide spectrum of issues related to technology and commercial growth.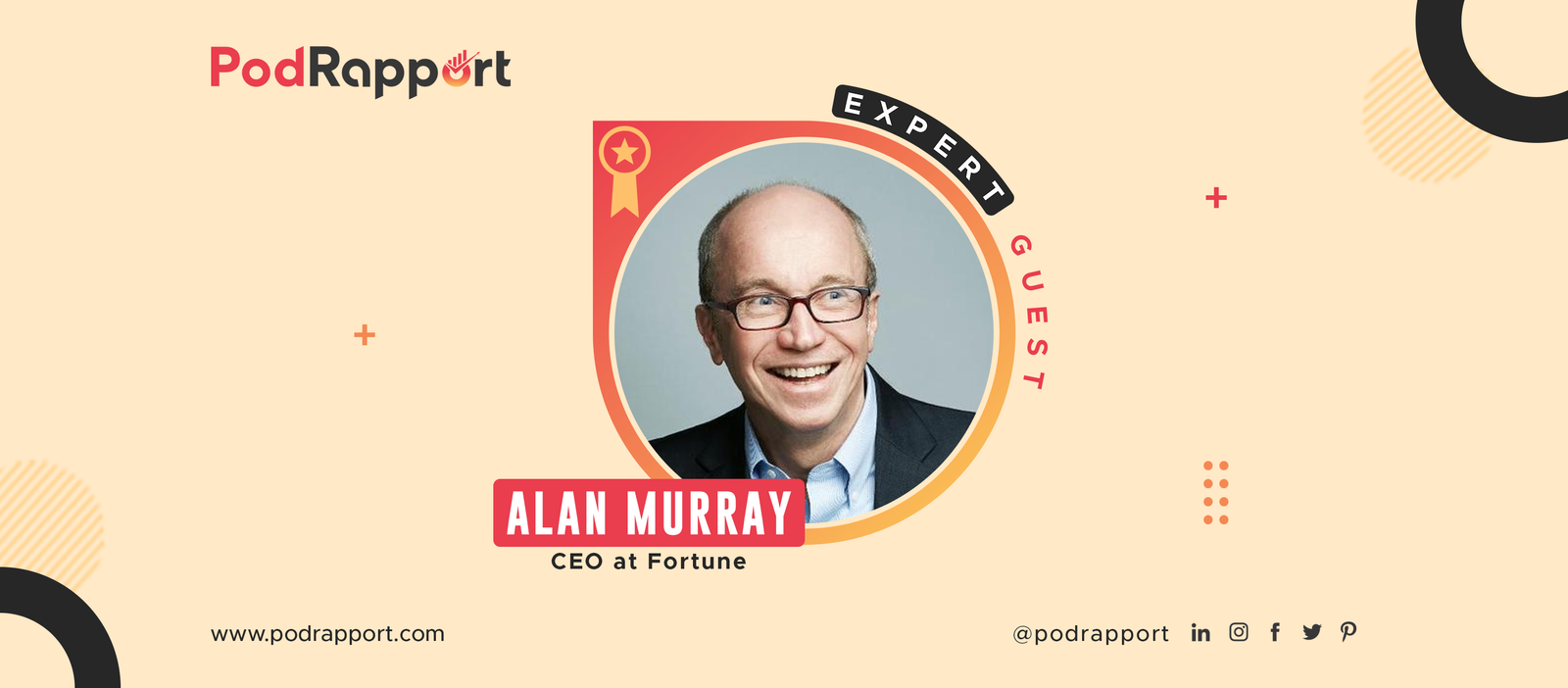 Alan Murray is a prominent business executive renowned for his illustrious career in journalism. 
He has served as the CEO of Fortune Media for over four years, where his leadership has played a pivotal role in the company's growth and achievements.
With a lifelong passion for journalism that began at the tender age of 9, Alan Murray boasts extensive experience in covering various facets of business and politics across diverse media platforms.
These include newspapers, magazines, digital media, television/video, and conferences.
Brooke Weddle is a distinguished business leader and Partner at McKinsey & Company. 
In this company, her expertise lies in driving significant change through digital transformation, organizational model reconfiguration, fostering organizational agility, and nurturing leadership development.
During her tenure at McKinsey, Brooke has been instrumental in establishing the global OrgSolutions practice, which encompasses over 15 assets utilized by numerous clients worldwide.
Shelley Stewart III is a distinguished Senior Partner at McKinsey & Company, a prominent global management consulting firm. 
He holds leadership roles within McKinsey's Marketing & Sales and Private Markets Practices. 
Shelley specializes in providing expert counsel to clients in the industrial and technology sectors across the United States and Europe. 
His extensive advisory portfolio encompasses privately held and publicly traded clients and spans a wide array of marketing and sales topics.
Aaron De Smet is a distinguished Senior Partner at McKinsey & Company, based in the firm's New Jersey office. 
With a remarkable career spanning over 25 years in the consulting field, Aaron has established himself as a leading expert in driving transformational change within large institutions. 
His extensive consulting expertise centers on enhancing organizational health and performance, making him a sought-after advisor for clients across a wide spectrum of industries.
Bill Schaninger is a Senior Partner at McKinsey & Company, stationed at the firm's Philadelphia office. 
Boasting more than two decades of experience in the field, Bill is a recognized expert in talent management, workforce analytics, and orchestrating large-scale organizational transformations. 
His work primarily revolves around assisting clients in enhancing business performance by leveraging aspects such as culture, values, and talent.
In addition to his consulting role, Bill Schaninger is a prominent international speaker, author, researcher, and consultant. 
Jesse Klempner is a Partner at McKinsey & Company, one of the world's foremost management consulting firms, headquartered in the United States. 
With over a decade of experience in the consulting industry, Jesse has established himself as a seasoned and accomplished business leader known for consistently delivering outstanding results.
Jesse's expertise encompasses various aspects of management and strategy consulting.
He excels in assisting clients in achieving growth, optimizing their organizational structures, and enhancing their operational efficiency.
Gretchen Berlin is a Senior Partner at McKinsey, based in Washington DC. 
She possesses a wealth of expertise in healthcare, the public sector, and operations practices. 
With a unique background as a registered nurse, Gretchen plays a vital role in advising and serving public and private healthcare organizations.
Alexis Krivkovich is a highly accomplished Senior Partner and holds the role of Managing Partner at the Bay Area Office of McKinsey & Company, a renowned global management consulting firm. 
With an extensive and impressive career, Alexis specializes in assisting financial institutions and technology companies in optimizing their organizations for growth and efficiency.
Her expertise lies in driving transformative change at scale through various strategies, including customer experience redesign, innovation, organizational agility, and change management.
Stephen Woodhouse is a seasoned professional in the energy industry, serving as a Director at AFRY Management Consulting.
With a career spanning over two decades, he possesses extensive expertise in navigating the intricacies of the energy sector.
Stephen's specialization lies in comprehending the evolving energy markets and devising strategic approaches for commercial entities to thrive within them. 
His contributions have been instrumental in driving the dialogue on energy market design, especially in the context of global energy market reform.
Tamsin is a highly accomplished executive with a wealth of experience in driving business transformation, growth, and performance, particularly within the energy and industrial sectors.
Her career is characterized by a consistent ability to lead teams to deliver exceptional results even in rapidly evolving environments.
One of Tamsin's standout qualities is her visionary leadership style.
She possesses a unique talent for instilling a culture of ambition, resilience, teamwork, agility, and ongoing development within the organizations she leads.
Nick Eyre is a distinguished academic known for his expertise in energy and climate policy. 
He currently holds the esteemed position of Professor of Energy and Climate Policy at the University of Oxford.
His work is centered on leading-edge research projects pertaining to sustainable energy systems, low-carbon transitions, and energy demand.
Beyond his academic role, Eyre serves as the Director of the Centre for Research into Energy Demand Solutions (CREDS), a prominent UK research hub. 
Eva Blixt is a seasoned Senior Advisor with a proven track record in the mining and metals sector. 
Her educational background in economics from Stockholm University has equipped her with a solid foundation in economic principles. 
Eva boasts a diverse skill set encompassing policy analysis, sustainability, strategic communications, and proficiency in Microsoft Office tools like Excel.
Lucy Field is an accomplished Manager at AFRY Management Consulting.
Over her remarkable career spanning 26 years, Lucy has excelled as a Senior Consultant at AFRY, amassing a wealth of experience in the realms of management consulting, energy, and sustainability.
In her current role, Lucy serves as a pivotal figure, entrusted with leading teams on a diverse array of projects that orbit the critical spheres of energy transition, decarbonization, and sustainability.
Her illustrious career has seen her collaborate with clients hailing from various sectors, including energy, industry, and transport.
Antony Green boasts an illustrious career in the realm of engineering and asset management that spans a remarkable three decades. 
His professional journey has been primarily rooted in the domains of gas and water utilities. 
Over the years, Antony has garnered extensive experience both in the United Kingdom and on the global stage, where he has consistently showcased his prowess as a consultant in the fields of engineering, software, and management.
John Williams stands as a distinguished authority in the realm of hydrogen advisory and services, particularly within AFRY's Management Consulting Division.
In his role, he offers valuable guidance to clients on various aspects of the hydrogen value chain, investment opportunities, and strategies to achieve decarbonization goals.
John brings to the table a wealth of experience that spans more than 25 years in the energy industry. 
Dr. Angela Needle's professional journey has been marked by a diverse and accomplished career in senior roles spanning various sectors, including water, energy, home services, and gas. 
Her current focus centers on leading the transition from natural gas to hydrogen, underscoring her deep expertise in corporate strategies and operating models.
Angela is widely recognized for her unique talent in navigating ambiguous situations and transforming them into opportunities for growth and efficiency.
Graham Cooley is an accomplished leader in the energy industry with over 30 years of experience. 
He's known for his expertise in developing innovative technology solutions for power, energy storage, and hydrogen sectors. 
Graham is also highly skilled in deal-making, having structured successful corporate transactions and raised over £600 million in funding from various sources, including venture capital, private equity, and public markets. 
Johan Leuraers is an accomplished international executive with a strong track record in implementing strategic change and transformation in complex, global organizations. 
He is a strong advocate for authentic leadership and has consistently delivered results through effective collaboration and leadership. 
Leuraers is highly skilled in driving successful outsourcing initiatives and leading transformation efforts across various business functions.
Peter Reid is the CEO of MSQ Partners Ltd, a global network of nine leading agencies offering a wide range of services. 
With over 850 employees across 13 offices worldwide, MSQ Partners helps brands grow by providing flexible and agile agency relationships that combine multiple disciplines. 
Peter co-founded MSQ Partners in 2011, focusing on delivering connected and personalized experiences for brands and their customers.
James O'Sullivan is the CEO of Project One Consulting, a company specializing in change and transformation program delivery. 
With over 9 years of experience at the company, James is recognized as an expert in this field and is known for providing strategic counsel at the board level. 
Before becoming CEO, he held the position of Director of Consulting Services, where he managed complex consulting projects in various industries.
Ashley Chapman is an accomplished business leader, currently serving as the CEO of inlumi, a prominent provider of enterprise performance management solutions. 
In this role, Ashley is responsible for driving the company's growth and success by providing businesses with data-driven decision-making capabilities. 
With his extensive experience and expertise, he has played a vital role in leading the company toward achieving its objectives.
Simon Clark is a freelance scientific video producer who has a deep passion for researching and conveying captivating topics related to our world and the universe. 
His video content spans a wide spectrum of subjects, ranging from climate and mathematics to science, history, etymology, and even video games.
Simon's content often reflects his academic background and the subjects he studied during his degrees. 
He has also authored a book that serves as an introduction to the complexities of Earth's atmosphere and how scientific knowledge about it is acquired.
Catherine Crump is a highly accomplished business executive with a strong passion for innovation and technology. 
Her extensive background in technology, media, and consulting has equipped her with a wealth of knowledge and expertise that she brings to her role at WIRED.
Throughout her career, Catherine has consistently demonstrated a deep commitment to excellence. 
She is known for her ability to drive innovation and transformation within every organization she has been a part of. 
As a thought leader in her field, she is widely respected for her knack for identifying emerging trends and seizing new opportunities.
Andrew Zimmerman is an innovative business executive with a strong entrepreneurial spirit. 
He has a track record of launching new businesses within large enterprises, including Accenture and PwC. 
Additionally, he has experience in starting up new ventures at idealab, an incubator known for fostering innovative startups.
One of Andrew's notable achievements was serving as the CEO of frog design for seven years. 
During his tenure, he successfully launched new design studios in emerging markets and garnered 35 international design awards. 
He also founded frog ventures, a venture associated with frog design, which gained recognition for its pioneering business model by Fast Company.
Manfred Abraham serves as a Co-CEO at Yonder Consulting, where he plays a pivotal role in guiding businesses toward transformation and sustainable growth. 
His extensive experience in advising leaders spans diverse industries and geographical regions, with a particular focus on hospitality, retail, luxury, and professional services.
Manfred's approach to business transformation places a strong emphasis on gaining a deep understanding of customer perspectives, potential markets, and broader industry dynamics.
This customer-centric approach is central to driving success and creating lasting value for organizations.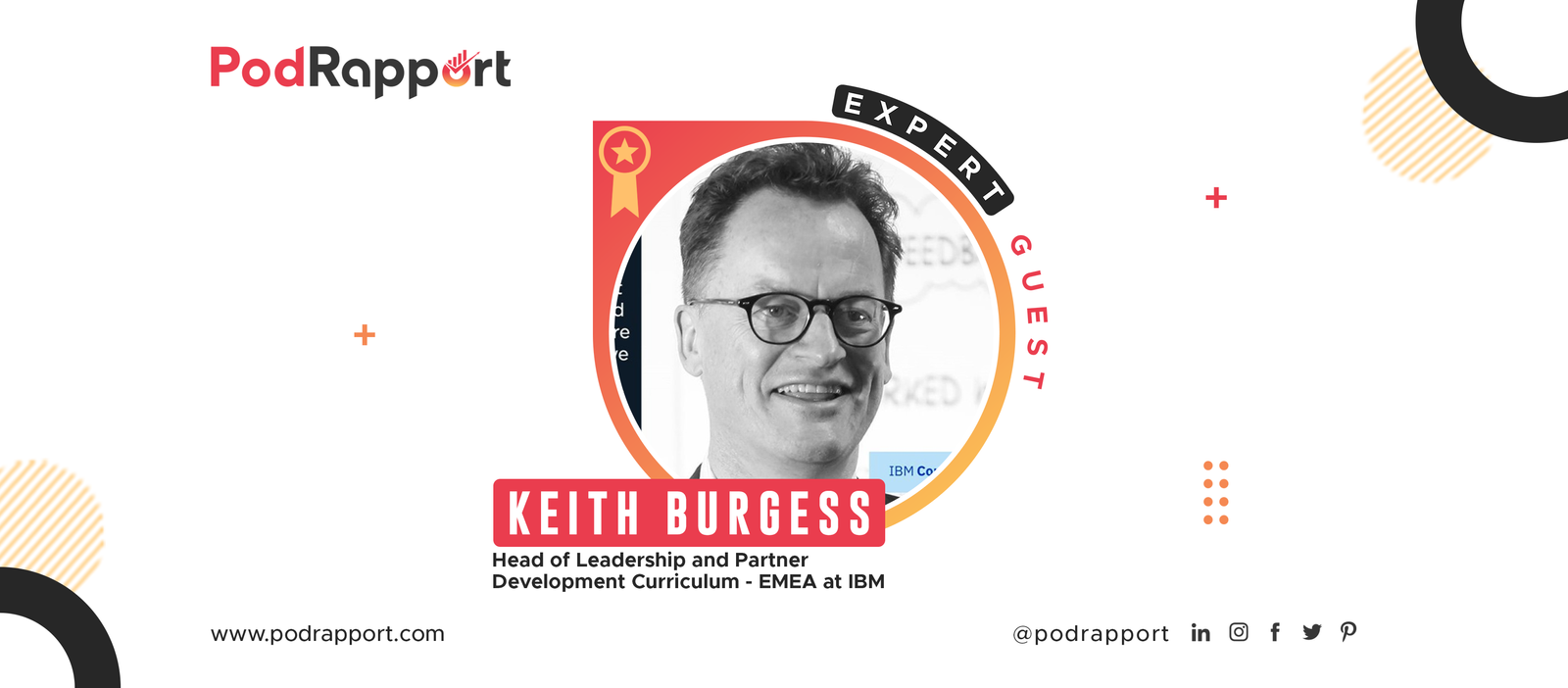 Keith Burgess is a seasoned management consultant and training expert.
Keith currently overseeing the Management Consulting training curriculum at IBM Consulting, EMEA (Europe, Middle East, and Africa). 
His role involves designing and delivering training programs tailored to professionals at all levels within these regions.
Keith's extensive background encompasses management consulting and project management, particularly in driving significant business change initiatives in supply chain and customer relationship management.
Joe O'Mahoney is a seasoned consultant and accomplished professor at Cardiff University. 
His focus is on assisting founders and partners in their efforts to expand their consulting practices. 
With a rich and diverse background in the consulting industry, Joe has held key roles as a senior corporate consultant, head of internal consultancy, and solo consultant.
Over the past two decades, Joe has established himself as a leading authority in consultancy growth. 
Mark Campbell is a seasoned business leader with over 25 years of experience in various senior leadership roles. 
His career has seen him hold positions as a Partner, Chief Executive, Senior Vice President, and Board Executive. 
With a track record of success, Mark has excelled in different corporate environments.
His expertise spans a wide range of areas, including strategy development and execution, team building and coaching, business improvement, and transformation programs. 
Throughout his career, he has consistently delivered impressive results. 
Cesar Hasselmann is a seasoned professional with more than 24 years of experience in sales, marketing, and business development. 
He leverages his extensive expertise to offer mentoring, coaching, and consultancy services designed to enhance customer performance and drive overall business growth.
Cesar's specialization areas include assisting real estate agents and agencies in achieving growth and success. 
He provides consultancy, coaching, and mentoring services tailored to the unique needs of the Australian real estate industry. 
As the founder of AMH Consultancy, Cesar is dedicated to elevating industry standards by helping his clients reach their financial objectives.
Candyce Edelen is a leading expert in social selling and LinkedIn strategies, making her a valuable resource for entrepreneurs, business owners, and sales professionals. 
She specializes in human-to-human social selling, highlighting the significance of leveraging social media to convert connections into meaningful conversations. 
By doing so, she assists B2B professionals in creating robust sales pipelines.
Candyce's extensive knowledge and experience have been shared through more than 40 speaking engagements over the past two years.
Her presentations have had a transformative impact on business owners and sales leaders, altering their perspectives on outreach and empowering them to optimize their revenue cycles.
Stefan Debois is a seasoned software entrepreneur who established Pointerpro in 2012. 
His vision was to assist professional services firms in the digital transformation of their crucial process: delivering advice to clients.
Drawing on his extensive 14-year consulting background, Stefan recognized a gap in automating the delivery of advice, despite the digitization of back-office processes.
Lindsay Lapaquette possesses a unique professional background as a former Speech-Language Pathologist who specializes in social interactions.
Leveraging this expertise, she now assists organizations in identifying and resolving communication challenges that have a direct impact on their performance.
Lindsay's approach is distinct in that she doesn't merely address surface-level symptoms but delves deeper to uncover the root causes of communication issues.
Lauren Jane Heller is deeply passionate about the art of storytelling and its potential to help individuals discover their authentic selves. 
In her role as a coach, she specializes in guiding entrepreneurs and executives toward greater alignment and fostering conscious cultures within their lives and organizations. 
Lauren firmly believes in the transformative power of stories as instruments for shedding societal and cultural conditioning and achieving personal growth.
Her mission is to awaken others to fresh perspectives on themselves and the world around them, empowering them to actively shape the future they envision.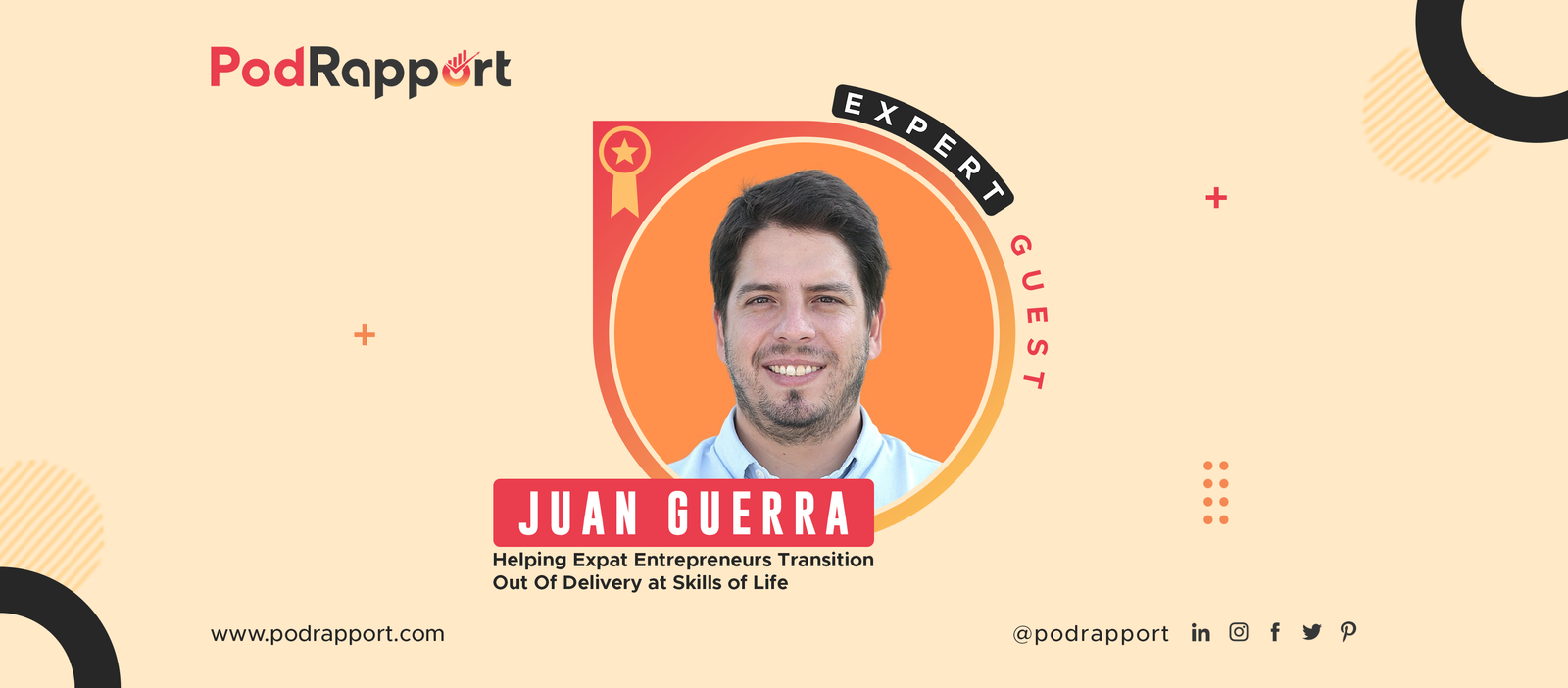 Juan Guerra is the visionary founder behind a company dedicated to assisting self-employed expatriates in successfully transitioning from service delivery roles to building and scaling businesses that operate independently of their direct involvement. 
Juan's multifaceted approach includes daily insights shared on LinkedIn, a valuable weekly newsletter, as well as comprehensive training and the impactful SCALE Accelerator Program.
David Ledgerwood, often known as Ledge, is a Managing Partner at Add1Zero. 
He specializes in helping tech-enabled B2B services companies scale their revenue from six to seven digits, focusing on lead-to-close sales execution. 
Ledge is also a co-host of the Leaders of B2B podcast.
With a career spanning over a decade in sales, Ledge has an impressive track record, having secured sales exceeding $50 million, with an average deal size exceeding $150,000.
Nikolaus S. Lang serves as a Managing Director and Senior Partner at Boston Consulting Group (BCG), holding the role of Global Leader for the Global Advantage practice within the firm. 
Over a career spanning more than 25 years, Lang has been dedicated to advising clients on topics related to globalization and mobility in over 50 markets worldwide.
His expertise extends to areas such as connectivity, self-driving vehicles, car-sharing, and fleet management.
Lipi Sarkar is a seasoned Programme and Digital Transformation Professional with a wealth of experience spanning various sectors, including both public and private companies in the FTSE 100 and FTSE 250.
Her background is marked by strengths in strategic planning, adept stakeholder engagement, and notable leadership competencies. 
Lipi has made significant contributions to various organizations in realizing their commercial and operational objectives.
Ross Marshall is a highly motivated individual with a mission-driven mindset to empower smarter, data-driven pathways to success. 
He specializes in using analytics to connect people and organizations toward achieving their goals. 
With his vast experience in designing, building, and leading measurable and scalable programs and initiatives for complex organizations, he has become adept at creating practical solutions that drive results.
Drew Sloan is an experienced professional in agricultural sales and business development. 
He's been with Semex, a leading company in bovine genetics and livestock improvement, for over 7 years. 
Before that, he was the Vice President of Corporate Development at Semex for 1 year and 7 months. 
Drew also served as the Vice President of International Sales for 1 year and 9 months.
He has international experience as the Chief Executive Officer at Silent Herdsman/ Afimilk Ltd in Glasgow, UK, where he contributed to agricultural advancements.
Richard Collins is a seasoned professional with a strong background in the agriculture and dairy sector. 
Currently, he holds the position of Head of Agriculture at Muller Milk & Ingredients, where he has been for over 6 years.
Before this role, he served as the Head of Farm Supply at Muller Milk & Ingredients from August 2017.
Richard also has significant experience, with a 15-year tenure at Dairy Crest, where he worked as a Commercial Manager for 2 years, overseeing South East England.
Sophie Throup is an experienced professional who has dedicated her career to WM MORRISON SUPERMARKETS P L C.
In her current role as Technical and Sustainability Director - Manufacturing, which she has held since February 2023, Sophie plays a crucial role in the organization.
Her history at WM MORRISON SUPERMARKETS showcases a series of positions with increasing responsibility, including her 3-year tenure as the Head of Agriculture,
Fisheries, and Sustainable Sourcing, a role she took on in January 2020.
Sophie's experience and dedication make her a valuable asset to the company.
Paul Savage is an accomplished professional who prioritizes acting with integrity and consistently delivering results.
Throughout his career, he has built a reputation for his ability to cultivate strong relationships and his keen attention to detail. 
Strategic thinking is another of his key strengths.
Since October 2021, Paul has been dedicated to his role as the Arla UK Agricultural Director, where he actively supports dairy farming and champions dairy as a long-term, nutritious food source.
Lucas Fuess is a seasoned professional in the field of dairy analysis.
He holds the position of Senior Dairy Analyst at Rabobank, a prominent global financial institution.
Within Rabobank's RaboResearch Food & Agriculture group, Lucas plays a crucial role in monitoring and evaluating events in the dairy market that have wide-ranging impacts on the global food and agriculture sectors.
His expertise lies in distilling key insights related to both US and global dairy markets. 
Lucas excels in conducting comprehensive analyses of the factors that are instrumental in determining the success or failure of the dairy industry.
Will Jackson has played pivotal roles within the AHDB (Agriculture and Horticulture Development Board) that underline his significant contributions to the organization.
His journey within AHDB started as the Strategy Director for Beef & Lamb.
In this company, he made substantial contributions from September 2018 to August 2020 by actively participating in developing sector-specific strategies.
James Bolesworth is the Founder and CEO of CRM AgriCommodities.
His company specializes in providing valuable assistance to businesses that are vulnerable to the fluctuations of the commodity market, particularly in the realms of grains and oilseeds.
CRM AgriCommodities offers a range of services including independent market insights, training, and trading strategies. 
These services are designed to aid businesses in effectively navigating the intricate and often unpredictable landscape of the commodities market, ultimately mitigating risks and making informed decisions.
Hayley Campbell-Gibbons is a seasoned professional with extensive experience in the agricultural and rural policy landscape. 
Her career is marked by her commitment to driving positive changes within these sectors.
Currently, she serves as a Founding Director at Campbell Gibbons Consulting Ltd, a self-employed role she has held since March 2021.
Nick Evans is an accomplished entrepreneur with a strong background in finance and a deep passion for agriculture. 
He has undertaken significant entrepreneurial ventures that are deeply ingrained in the agriculture and finance sectors.
He is the Co-Founder and Managing Director of Oxbury Bank Plc, a UK-based financial institution with a unique and pioneering focus on supporting British food and farming.
Kevin White is a highly experienced journalist specializing in reporting on the retail fresh foods sector.
For over seven years, he has been serving as the Fresh Foods Editor at The Grocer, a prominent publication. 
In this role, he provides extensive coverage of the retail fresh foods sector, with a keen focus on segments such as meat, fish, fruit, vegetables, and eggs.
Boost Your Management Consultant Podcast's Reach through Expert Guests:
When you invite guests to join your management consultant podcast, you're opening doors to their well-established networks of followers and enthusiasts.
As they share their podcast experience with their audience, it sparks curiosity, encouraging new listeners to tune in to your show.
Think of it as an extra bonus audience that you can reach effortlessly!
By featuring guests, you're not only engaging with your regular audience but also broadening your reach to their dedicated followers.
This strategic approach cleverly expands your podcast's listener base without requiring extra work on your part.
You can find more guests in our Guest Directory.
To keep growing your audience through the networks of Management Consultant expert guests, 
the next step is to ensure your Management Consultant podcast gets listed in the Management Consultant podcast directory.
Showcase Your Management Consultant Podcast in the Podcast Directory for Maximum Exposure:
When your management consultant podcast is listed in a directory, you're ensuring that it's easily discoverable by eager listeners seeking expert insights.
It's like ensuring your podcast is visible to anyone looking for topics related to management consulting.
Beautiful and SEO-friendly podcast profile:
Having an attractive podcast profile is akin to making a great first impression. 
When it looks polished, more people are inclined to stop and explore your podcast.
Moreover, if you make it search engine-friendly (SEO-friendly), it helps search engines comprehend the essence of your podcast.
This means more individuals can discover your management consultant podcast when they search for topics related to management consulting, ultimately expanding your reach and influence.
New listeners from PodRapport:
Running a Management Consultant podcast means you're eager to share your insights with a wider audience. 
PodRapport is like a magic bridge that links podcasters and potential listeners in the management consulting field.
When you become part of PodRapport, you're essentially inviting a whole new group of listeners to join your podcast. 
People using PodRapport can easily find your show, which means more listeners will discover and enjoy your Management Consultant podcast.
It's like expanding your podcast's reach and welcoming fresh fans to your journey of sharing management wisdom.
Attracting Management Experts to Your Podcast:
Bringing management experts to your podcast is a smart move that boosts your content quality. These experienced professionals bring valuable insights that captivate your audience.
Here's the exciting part:
Management experts often have their own followers. When they join your podcast, their fans are likely to start listening.
This collaboration benefits both your podcast and your expert guests, making it a win-win for everyone.
It's a partnership that resonates with your audience and fosters growth for all.
Attract Sponsors for Your Management Consultant Podcast:
As your management consultant podcast becomes more popular, it becomes an attractive option for sponsors.
Sponsors understand the benefits of being associated with your influential podcast. Their support goes beyond money – it also provides resources to improve your content and engage your audience.
With sponsors on board, your management consultant podcast can grow further, allowing you to create even better episodes and deliver a richer experience to your audience.
Showcase Guest Highlights for More Impact in Your Management Consultant Podcast:
In your Management Consultant podcast, highlighting remarkable guests is like showing off your star players.
When you showcase these impressive leaders, it grabs the attention of potential future guests who want to join the conversation.
And your audience eagerly looks forward to hearing from these influential personalities.
Display Sponsor Ads on Your Management Consultant Podcast:
When you team up with sponsors for your management consultant podcast, they might want to feature their ads in your episodes.
Think of it as putting up big, attention-grabbing signs in a busy city - they immediately catch the eye.
This not only shows your appreciation for sponsors but also introduces your audience to valuable products or services that are relevant to their management consulting journey.
Take the Stage on Management Consultant Podcasts (unless you're the competition😉):
Unless you're a direct competitor, becoming a guest on management consultant podcasts lets you share your valuable insights.
Our carefully selected podcast lists and guest directory help you find shows that want to highlight your expertise.
It's a win-win – you get to showcase your management consulting skills, and the podcast gets great content.
Whether you're an experienced consultant or have a unique perspective, this is your chance to be a sought-after guest on management consultant podcasts.
Discover the Advantages of Using PodRapport's Expert Guest List for Your Management Consultant Podcast:
Learn about the benefits of leveraging PodRapport's handpicked expert guest list for your management consultant podcast.
Explore how these carefully chosen insightful voices can enhance your content, engage your audience, and enrich your podcasting journey.
Meet Our Expert Guests for Your Management Consultant Podcast:
We've chosen each guest with care to match your podcast's core themes.
These experts bring valuable insights and diverse perspectives to keep your audience engaged and informed.
Simplify Your Search with PodRapport:
No more wasting time searching for ideal podcast guests.
With PodRapport's expert management consultants, you'll save time in crafting engaging podcast episodes that connect with your audience.
Effortless Guest Booking for Management Consultant Podcasts:
With PodRapport's user-friendly platform for management consultant podcasts, booking guests becomes a breeze. No more schedule juggling or complex communication.
Our platform streamlines the process, so you can concentrate on creating excellent podcast content.
Networking opportunity with industry experts: 
PodRapport is more than just podcasts; it's a great way to network. 
As a management consultant, you can meet industry experts and thought leaders, growing your professional circle and opening doors to new opportunities beyond your podcast episodes.
Suggest any recommendations?
Is there an industry expert you feel deserves recognition in this list?
Have you ever had exceptional management consultant podcast guests you believe would be a great fit for our collection?
We'd love to hear from you!
Your input is precious and enriches our collection of outstanding management consultant podcast guests. 
Please share any outstanding individuals you've encountered, and let's celebrate their insights together.
Feel free to get in touch and contact us to share your recommendations.
Thank you for joining us on this exciting journey. 
We're delighted to see your Management Consultant podcast not only survive but thrive.
We wish you the best of luck, and may your podcasting adventure bring you substantial growth, engaging discussions, and priceless connections. 
Your wisdom and experience will undoubtedly leave a lasting mark in management consulting.